A growing number of young women—driven by feminist politics and the #MeToo movement—are being drawn to a new brand of witchcraft, according to a report by NBC News. Here are nine things you should know about Wicca and modern witchcraft.
1. Witchcraft refers to the worldview, religion, and practices associated with using rituals that are believed to harness and focus cosmic or psychic energies to bring about some desired change. Modern witchcraft is the largest and most common subset of neo-paganism, a diverse group of religious movements that claim to be derived from historical pagan religions.
2. Within the witchcraft revival movement, the largest subset is Wicca. The 2008 American Religious Identification Survey estimated that in the United States there were about 600,000 neo-pagans, with about half identifying as Wiccan. Some estimates conclude that in 2017 there were more than 3 million practicing Wiccans.
3. In modern usage, the term "witch" is considered gender-neutral and can apply to either men or women. The term "warlock" is often considered a derogatory term as the original usage of the term meant "oath-breaker." A group of witches who meet together regularly are known as a "coven." Some witches believe a coven must have 13 or fewer members, though not less than three.
4. Wicca was created in the 1940s by Gerald Brosseau Gardner (1884-1964), a retired British civil servant an ordained minister in the Christian sect known as the Ancient British Church. Gardner is considered the "father of modern witchcraft," though his neo-pagan beliefs had almost not connection to older forms of witchcraft. His brand of wiccanism (sometimes referred to as Gardnerian Wicca or Gardnerian witchcraft) was taken from more modern influences, such as Freemasonry, the Hermetic Order of the Golden Dawn, and the English occultist Aleister Crowley. Gardner referred to his belief-system as "witchcraft" and a "witch-cult," and the term "Wicca" didn't appear until 1962.
5. In the 1960s and 1970, Wicca spread from the U.K. to other English-speaking countries, became associated with the burgeoning feminist and environmental movements, and split into various "traditions." From Gardnerian Wicca sprang such offshoots as Alexandrian Wicca, Algard Wicca, Georgian Wicca, Druidic Wicca, Seax-Wica, and Eclectic Wicca.
6. The U.S. government first officially recognized Wicca as a religion in 1985. In a court case involving a prisoner (Dettmer v. Landon), the federal government argued that the doctrine of the Church of Wicca was not a religion because it is a "conglomeration" of "various aspects of the occult, such as faith healing, self-hypnosis, tarot card reading, and spell casting, none of which would be considered religious practices standing alone." The court noted that the government was essentially arguing "that because it finds witchcraft to be illogical and internally inconsistent, witchcraft cannot be a religion." The appeals court ruled that, "the Church of Wicca occupies a place in the lives of its members parallel to that of more conventional religions. Consequently, its doctrine must be considered a religion."
7. A commonly shared core belief of Wicca (as well as other forms of modern witchcraft) is the acceptance and practice of magic. The Wiccan view is similar to that of Aleister Crowley, who defined magic as "the science and art of causing change to occur in conformity with will." As Wesley Baines says, "Many believe magic to be simply another law of nature, albeit one that is poorly understood and written off as fakery. As such, magic is not supernatural, but just as natural as gravity and wind, and often involve a combination of invocations, movement, music, meditation, and tools." And as one Wiccan site explains, "Magick [sic] is another word for transformation, creation, and manifestation. Wicca magick is a tool we use to act on the subtle—or energy, or quantum—level of reality. The quantum level is the causal realm. It is the subtle influences at the quantum level that decide which way reality will go."
8. Aside from a belief in magic, there are few beliefs that all Wiccan traditions share. The belief most commonly associated with Wicca is a variation of the Wiccan Rede ("rede" is from the Middle English, meaning "advice" or "counsel"). Believed to have been formulated by the Wiccan priestess Doreen Valiente in the early 1960s, the Wiccan Rede is stated as, "An' it harm none, do what ye will." Variations on the rede include "That it harm none, do as thou wilt" and "Do what you will, so long as it harms none."
9. In its older forms, Wicca holds a duotheistic belief system that includes a female Mother Goddess and a male Horned God. As Wicca has became more influenced by feminism, though, it has become more oriented toward goddess worship. As Jone Salomonsen concludes, "Witches perceive of themselves as having left the Father's House (Jewish and Christian religion) and returned 'home' to the Self (Goddess religion) with a call to heal western women's (and men's) alienation from community and spirituality and to become benders of human and societal developments." This flexibility in excluding/including deities has, as Michael F. Strmiska says, "allowed people with interest in different deities and religious traditions to customize Wicca to suit their specific interests, thus enhancing the religion's appeal to a broad and growing membership."
Other posts in this series:
Jerusalem • Christianity in Korea • Creation of Modern Israel • David Koresh and the Branch Davidians • Rajneeshees • Football • The Opioid Epidemic (Part II) • The Unification Church • Billy Graham • Frederick Douglass • Memphis Sanitation Strike of 1968 • Winter Olympics • The 'Mississippi Burning' Murders •  Events and Discoveries in 2017 • Christmas Traditions • Sexual Misconduct • Lutheranism • Jewish High Holy Days • Nation of Islam • Slave Trade • Solar Eclipses • Alcohol Abuse in America • History of the Homeschooling Movement • Eugenics • North Korea • Ramadan • Black Hebrew Israelites • Neil Gorsuch and Supreme Court Confirmations • International Women's Day • Health Effects of Marijuana • J. R. R. Tolkien • Aleppo and the Syrian Crisis • Fidel Castro • C.S. Lewis • ESV Bible • Alzheimer's Disease •  Mother Teresa • The Opioid Epidemic • The Olympic Games • Physician-Assisted Suicide • Nuclear Weapons • China's Cultural Revolution • Jehovah's Witnesses • Harriet Tubman • Autism • Seventh-day Adventism • Justice Antonin Scalia (1936–2016) • Female Genital Mutilation • Orphans • Pastors • Global Persecution of Christians (2015 Edition) • Global Hunger • National Hispanic Heritage Month • Pope Francis • Refugees in America • Confederate Flag Controversy • Elisabeth Elliot • Animal Fighting • Mental Health • Prayer in the Bible • Same-sex Marriage • Genocide • Church Architecture • Auschwitz and Nazi Extermination Camps • Boko Haram • Adoption • Military Chaplains • Atheism • Intimate Partner Violence • Rabbinic Judaism • Hamas • Male Body Image Issues • Mormonism • Islam • Independence Day and the Declaration of Independence • Anglicanism • Transgenderism • Southern Baptist Convention • Surrogacy • John Calvin • The Rwandan Genocide • The Chronicles of Narnia • The Story of Noah • Fred Phelps and Westboro Baptist Church • Pimps and Sex Traffickers • Marriage in America • Black History Month • The Holocaust • Roe v. Wade • Poverty in America • Christmas • The Hobbit • Council of Trent • Halloween and Reformation Day • Casinos and Gambling • Prison Rape • 16th Street Baptist Church Bombing • Chemical Weapons • March on Washington • Duck Dynasty • Child Brides • Human Trafficking • Scopes Monkey Trial • Social Media • Supreme Court's Same-Sex Marriage Cases • The Bible • Human Cloning • Pornography and the Brain • Planned Parenthood • Boston Marathon Bombing • Female Body Image Issues • Islamic State
Get your FREE 7-day devotional!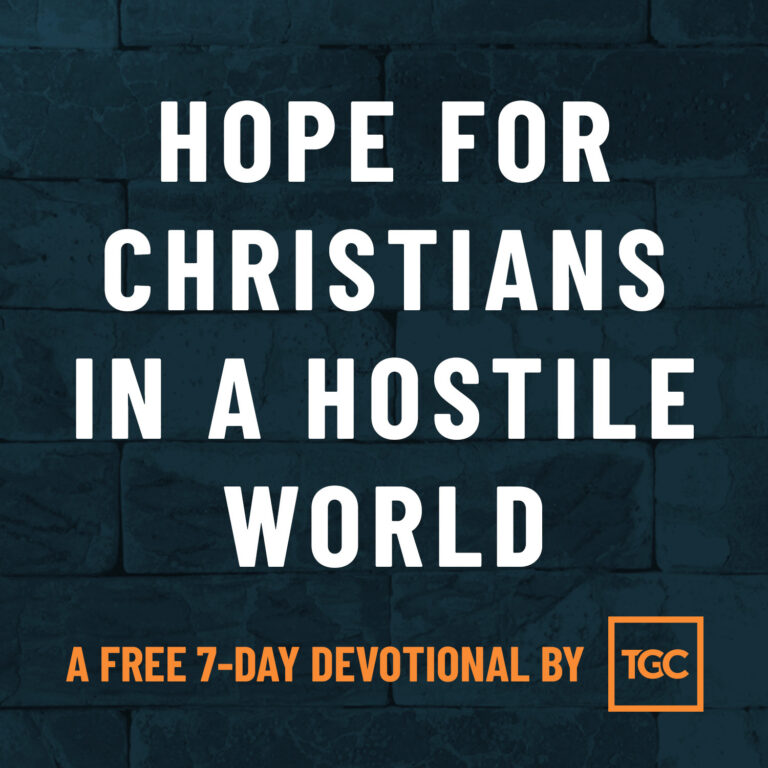 God's people have always been strangers and sojourners in this world. Do you feel that way, too?
You're not alone. Since the church's beginnings, Christians have often felt ostracized. And the Bible offers great encouragement for how to live with hope.
If you're feeling the weight of cultural exile today, our new 7-day devotional, Hope for Christians in a Hostile World, will encourage you.
If you sign up for this FREE resource, we'll send you an email each day for a week with a daily devotional featuring Bible readings and reflections written by TGC staff and friends.