Last week the media reported on an unusual religious wedding-like ceremony by an offshoot of the Unification Church that involved AR-15 semiautomatic rifles. Here are nine things you should know about the Unification Church and its controversial founder and leader:
1. The Unification Church is a religious movement founded in South Korea by the Reverend Sun Myung Moon. Originally known as "The Holy Spirit Association for the Unification of World Christianity," the religious sect shifted in the 1990s into a collection of independent organizations associated with the "Unification movement." Since its founding in 1954, the movement has attracted hundreds of thousands of members in more than 100 countries, mostly in Korea, Japan, and other East Asian nations. (For much of their history, the group was known as "Moonies." The term is now considered derogatory.)
2. When Moon was a child in what is now North Korea, his family converted from Confucianism to Christianity and joined the Presbyterian Church. As a teenager Moon studied the Bible and even taught Sunday school. When he was 16 years old Moon says he had a vision in which Jesus appeared and told him to complete the task of establishing God's kingdom on Earth and bring peace to the world. After he began preaching his new religious message in the mid-1940s, he was arrested by the Communist North Korean government on charges of spying for South Korea. He was given a five-year prison sentence in a labor camp.
3. Moon fled to South Korea near the end of Korean War, where he founded his church and began to formulate his doctrinal views. The result was a religion based on marriage and family values that included a mix of Confucian and Christian beliefs. Three years after creating his church, Moon published Exposition of the Divine Principle, a reinterpretation of the Bible that his followers treat as holy scripture.
4. The teachings of the Divine Principle include (1) God is all powerful, and all knowing but is "humanized" because he cannot be happy and complete without the reciprocal love of his children; (2) God's original plan was that all men and women are to be sons and daughters of God just as Jesus was God's son (i.e., divine, but not God), and that if Adam and Eve had not fallen, "all men and women would have been of the same perfection as Jesus"; (3) that all men and women should "become messiahs" (i.e., persons who are one in mind and body with God); and that (4) all of God's providential work in history is to establish one God-centered family, and that the family is the foothold that will turn the world around.
5. The Unification movement also believes that God's original intent was for Jesus to form a perfect marriage in order to redeem humanity, and undo the harm perpetrated by Adam and Eve. Because Jesus (the second Adam) was executed before accomplishing his mission, a third Adam was needed to form this perfect marriage and complete Jesus's task. This "third Adam" would be recognized as the second coming of Christ. As the perfect man he would marry the perfect woman and become the "true spiritual parents of humankind." Members of the Unification Church regard Moon and his second wife, Hak Ja Han, as these "True Parents." Married couples and their families within the movement are regarded as the "True Children" and linked to God through the "True Parents."
6. This emphasis on marriage is the reason for Moon's infamous mass weddings. The "Holy Marriage Blessing Ceremony" is a core ritual by which couples are "removed from the lineage of sinful humanity and engrafted into God's sinless lineage." Some of the people who get the blessing are already married, though many are arranged marriages because Moon rejected the idea of romantic love. A blessing ceremony in 2009 included 20,000 couples from around the world.
7. In 2004, Moon held a coronation ceremony in an office building of the U.S. Senate in which he was crowned "King of Peace" by Rep. Danny K. Davis of Illinois. (Several other members of Congress were also in attendance, though many of them say they didn't know it was a coronation.) The event was the finale of Moon's "tear down the cross" tour, an effort to remove Christian crosses from almost 300 churches in poor neighborhoods (Moon considered the cross to be an obstacle to uniting religions under his leadership). A promotional video released by Moon's International and Interreligious Federation for World Peace claimed the ceremony marked the dawn of "the era of the Eternal Peace Kingdom, one global family under God."
8. After Moon's death in 2012, the movement split into various competing factions. His widow, Hak Ja Han Moon, is considered by many in the movement to be the a "messiah" and the "Mother of humankind." She founded the Women's Federation for World Peace International. Moon's eldest living son, Hyun Jin Preston Moon, leads the Family Peace Association, while the youngest son, Hyung Jin Sean Moon, started the Sanctuary Church.
9. On February 28, 2018, the Unification movement offshoot, Sanctuary Church, held a special "blessing ceremony." As the invitation noted, the couples were asked to "bring the accouterments of the nation of Cheon Il Guk." (The Cheon Il Guk is a "Nation of Cosmic Peace and Unity," a universal group of individuals "aspiring to build a world centered on principles of True Love and True Service.") Along with crowns, the members were to bring a "rod of iron," which was "designated by the Second King [Moon's son, Hyung Jin] as an AR15 semiautomatic rifle or equivalents such as an AK semiautomatic rifle, representing both the intent and the ability to defend one's family, community and 'nation of Cheon Il Guk.'" Couples unable to purchase and legally transport such a "rod of iron" because of laws barring the purchase of such weapons, or other reasons, were "invited to purchase a $700 gift certificate from a gun store, as evidence of their intent to purchase a 'rod of iron' in the future." To not do so, if one is legally and personally able, the announcement says, "would be a sign of great disrespect to the Second King of Cheon Il Guk and to True Father himself. As the parable of the Ten Virgins spoken of in Matthew 25:1-13 explains, believers should be prepared internally and externally to receive the grace of the bridegroom's arrival so they can be welcomed into the 'wedding banquet.'"
Other posts in this series:
Billy Graham • Frederick Douglass • Memphis Sanitation Strike of 1968 • Winter Olympics • The 'Mississippi Burning' Murders •  Events and Discoveries in 2017 • Christmas Traditions • Sexual Misconduct • Lutheranism • Jewish High Holy Days • Nation of Islam • Slave Trade • Solar Eclipses • Alcohol Abuse in America • History of the Homeschooling Movement • Eugenics • North Korea • Ramadan • Black Hebrew Israelites • Neil Gorsuch and Supreme Court Confirmations • International Women's Day • Health Effects of Marijuana • J. R. R. Tolkien • Aleppo and the Syrian Crisis • Fidel Castro • C.S. Lewis • ESV Bible • Alzheimer's Disease •  Mother Teresa • The Opioid Epidemic • The Olympic Games • Physician-Assisted Suicide • Nuclear Weapons • China's Cultural Revolution • Jehovah's Witnesses • Harriet Tubman • Autism • Seventh-day Adventism • Justice Antonin Scalia (1936–2016) • Female Genital Mutilation • Orphans • Pastors • Global Persecution of Christians (2015 Edition) • Global Hunger • National Hispanic Heritage Month • Pope Francis • Refugees in America • Confederate Flag Controversy • Elisabeth Elliot • Animal Fighting • Mental Health • Prayer in the Bible • Same-sex Marriage • Genocide • Church Architecture • Auschwitz and Nazi Extermination Camps • Boko Haram • Adoption • Military Chaplains • Atheism • Intimate Partner Violence • Rabbinic Judaism • Hamas • Male Body Image Issues • Mormonism • Islam • Independence Day and the Declaration of Independence • Anglicanism • Transgenderism • Southern Baptist Convention • Surrogacy • John Calvin • The Rwandan Genocide • The Chronicles of Narnia • The Story of Noah • Fred Phelps and Westboro Baptist Church • Pimps and Sex Traffickers • Marriage in America • Black History Month • The Holocaust • Roe v. Wade • Poverty in America • Christmas • The Hobbit • Council of Trent • Halloween and Reformation Day • Casinos and Gambling • Prison Rape • 16th Street Baptist Church Bombing • Chemical Weapons • March on Washington • Duck Dynasty • Child Brides • Human Trafficking • Scopes Monkey Trial • Social Media • Supreme Court's Same-Sex Marriage Cases • The Bible • Human Cloning • Pornography and the Brain • Planned Parenthood • Boston Marathon Bombing • Female Body Image Issues • Islamic State
Get your FREE 7-day devotional!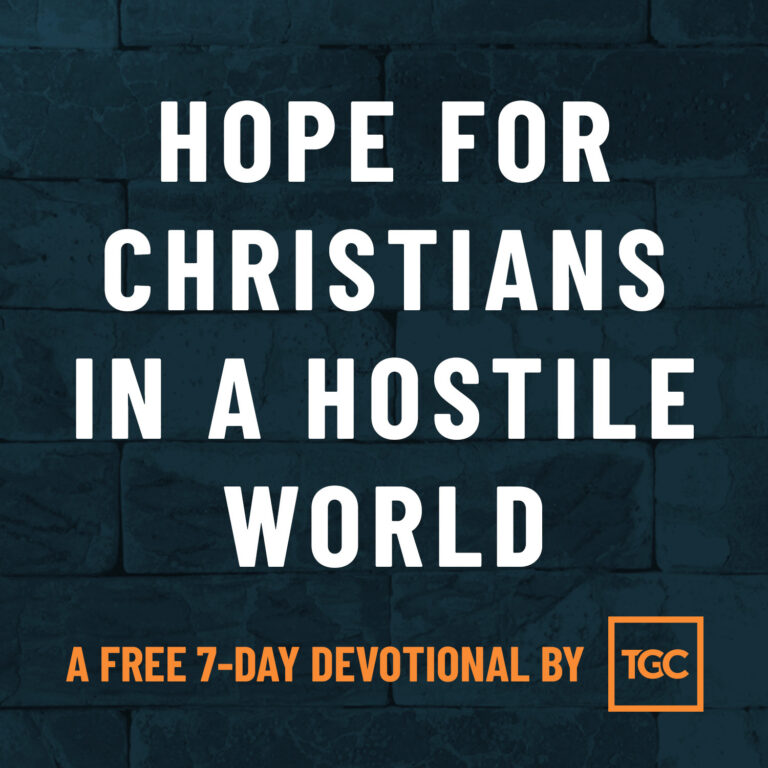 God's people have always been strangers and sojourners in this world. Do you feel that way, too?
You're not alone. Since the church's beginnings, Christians have often felt ostracized. And the Bible offers great encouragement for how to live with hope.
If you're feeling the weight of cultural exile today, our new 7-day devotional, Hope for Christians in a Hostile World, will encourage you.
If you sign up for this FREE resource, we'll send you an email each day for a week with a daily devotional featuring Bible readings and reflections written by TGC staff and friends.