On Thursday, Edgar Ray Killen died in prison at the age of 92. Killen, a former pastor and Ku Klux Klan leader, was the only person to face state murder charges in the killings of three civil-rights workers in 1964.
Here are nine things you should know about the case known as the "Mississippi Burning" murders.
1. The Mississippi Burning murders (also known as the Freedom Summer murders) involved three civil-rights activists—James Chaney, Andrew Goodman, and Michael Schwerner—who were abducted and murdered in Neshoba County, Mississippi, in June 1964. Michael Schwerner and James Chaney worked for the Congress of Racial Equality (CORE) in nearby Meridian, Mississippi, and, Andrew Goodman was a college student who volunteered to work on voter registration, education, and civil rights as part of the Mississippi Summer Project.
2. On Memorial Day 1964, Schwerner and Chaney spoke to the congregation at Mount Zion in rural Neshoba County about setting up a Freedom School, a type of alternative middle and high school that helped to organize African Americans for political and cultural engagement. State-level Klan leadership had previously decided to murder Schwerner, and so attacked and beat members of the church thinking he was there at a meeting. The Klan returned that night and burned the church in an attempt to lure the CORE activist back to the area.
3. On June 21, Schwerner, Chaney, and Goodman drove from Meridian to Neshoba County to talk to the church members at Mount Zion. As they were passing through Philadelphia, Mississippi, they were pulled over a deputy sheriff and arrested for speeding. They arrived at the jail at 4 p.m. and were released around 10 p.m. that night. The activists were followed by a lynch mob of at least nine men, including a deputy and a local police officer.
4. When the Klansmen caught up to Schwerner, Chaney, and Goodman, they forced the men into one of the mob's vehicles and drove them to a secluded county road. Chaney a black man, was beaten with chains, castrated, and shot while Schwerner and Goodman, the two white activists, were forced to watch. When Schwerner cradled Chaney in his arms (see image below) a Klansman asked, "Are you that n***** lover?" When Schwener replied, "Sir, I understand your concern" he was shot in the heart. Goodman attempted to run and was also shot. The bodies were then taken to a farm pond where Herman Tucker was waiting. Tucker used a bulldozer on the property to cover the bodies with dirt. An autopsy revealed that Goodman was likely buried alive since there was red clay dirt in his lungs and in his grasped fists. Evidence at the burial site appears to show he was trying to dig his way out.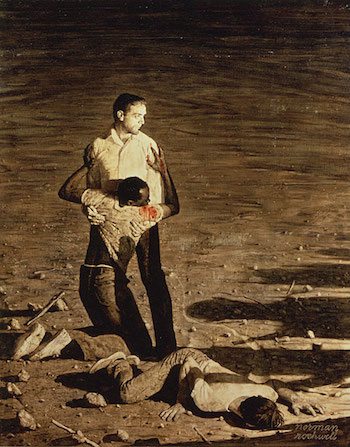 5. The next day the FBI began searching for the three men, and U.S. Attorney General Robert F. Kennedy ordered 150 federal agents to be sent from New Orleans to Mississippi. FBI agents found the remains of the car driven by the activists near a river in northeast Neshoba County. The car was abandoned and burned, which led the FBI to name the case "MIBURN," for Mississippi Burning.
6. Fearing the men were dead, the federal government sent hundreds of sailors from a nearby naval air station to search the swamps for the bodies. Although they didn't find the bodies of Chaney, Goodman, and Schwerner, the Navy divers who dragged the river discovered two other young black activists, Henry Hezekiah Dee and Charles Eddie Moore; a 14-year-old named Herbert Oarsby, found wearing a CORE T-shirt; and five other black men who remained unidentified.
7. Acting on a tip from an informant, the FBI discovered the bodies in the earthen dam. The agents also arrested more than a dozen suspects, including Deputy Price and his boss, Sheriff Rainey. Three years later, seven of the 18 defendants were found guilty of conspiring to deprive the three activists of their civil rights. The judge who sentenced them later said, "They killed one n******, one Jew, and a white man. I gave them what I thought they deserved." None of the convicted Klansmen served more than six years in prison. One major conspirator, Edgar Ray Killen, a klansman and part-time pastor, went free after the jury deadlocked 11-1. The lone holdout told them she could "never convict a preacher."
8. The case against Killen was reopened after Jerry Mitchell, an investigative reporter from Mississippi, located new witnesses. Mitchell was assisted by a high school teacher and a team of three high school girls from Illinois. The students and teacher were able to convince Killen to do a taped interview for a history documentary they were putting together about the murders. On June 21, 2005, the 41st anniversary of the three murders, a jury rejected the charges of murder, but found Killen guilty of recruiting the mob that carried out the killings and convicted him of manslaughter. He served 12 years of his 60-year sentence before dying on Thursday night.
9. Rather than cowing African Americans into silence and scaring off civil rights activists, as the Klan had intended, the murders outraged the nation. As the FBI says on their webpage about the Mississippi Burning murders, "In the end, the Klan's homicidal ways backfired. The murders galvanized the nation and provided impetus for the passage of the landmark Civil Rights Act of 1964 on July 2."
Other posts in this series:
Events and Discoveries in 2017 • Christmas Traditions • Sexual Misconduct • Lutheranism • Jewish High Holy Days • Nation of Islam • Slave Trade • Solar Eclipses • Alcohol Abuse in America • History of the Homeschooling Movement • Eugenics • North Korea • Ramadan • Black Hebrew Israelites • Neil Gorsuch and Supreme Court Confirmations • International Women's Day • Health Effects of Marijuana • J. R. R. Tolkien • Aleppo and the Syrian Crisis • Fidel Castro • C.S. Lewis • ESV Bible • Alzheimer's Disease •  Mother Teresa • The Opioid Epidemic • The Olympic Games • Physician-Assisted Suicide • Nuclear Weapons • China's Cultural Revolution • Jehovah's Witnesses • Harriet Tubman • Autism • Seventh-day Adventism • Justice Antonin Scalia (1936–2016) • Female Genital Mutilation • Orphans • Pastors • Global Persecution of Christians (2015 Edition) • Global Hunger • National Hispanic Heritage Month • Pope Francis • Refugees in America • Confederate Flag Controversy • Elisabeth Elliot • Animal Fighting • Mental Health • Prayer in the Bible • Same-sex Marriage • Genocide • Church Architecture • Auschwitz and Nazi Extermination Camps • Boko Haram • Adoption • Military Chaplains • Atheism • Intimate Partner Violence • Rabbinic Judaism • Hamas • Male Body Image Issues • Mormonism • Islam • Independence Day and the Declaration of Independence • Anglicanism • Transgenderism • Southern Baptist Convention • Surrogacy • John Calvin • The Rwandan Genocide • The Chronicles of Narnia • The Story of Noah • Fred Phelps and Westboro Baptist Church • Pimps and Sex Traffickers • Marriage in America • Black History Month • The Holocaust • Roe v. Wade • Poverty in America • Christmas • The Hobbit • Council of Trent • Halloween and Reformation Day • Casinos and Gambling • Prison Rape • 16th Street Baptist Church Bombing • Chemical Weapons • March on Washington • Duck Dynasty • Child Brides • Human Trafficking • Scopes Monkey Trial • Social Media • Supreme Court's Same-Sex Marriage Cases • The Bible • Human Cloning • Pornography and the Brain • Planned Parenthood • Boston Marathon Bombing • Female Body Image Issues • Islamic State