In a recent roundtable discussion in New York, President Trump called MS-13 a "menace" and said about the gang members, "They're not people. They're animals." The controversial statement was the first time many Americans have heard about the group that has been called the "world's most dangerous gang." Here are nine things you should know about MS-13.
1. MS-13 (also known as Mara Salvatrucha, Mara, or MS) is an international criminal gang that originated in Los Angeles in the 1980s and has since spread throughout the United States, as well as to Mexico, Canada, Guatemala, El Salvador, and Honduras, and other Central American countries. In 2012 MS-13 became the first—and remains the only—street gang designated by the U.S. government as a "transnational criminal organization."
2. Because of ongoing conflicts in Central America during the 1980s, both refugees and guerrilla fighters from El Salvador, Guatemala, and Nicaragua fled to the United States. Many settled in the Rampart area of Los Angeles, where they were frequently victimized by the Mexican Mafia, a Hispanic gang that dominated the area at the time. Some of the Salvadoran youth banded together to protect themselves and formed the gang "Mara Salvatrucha."
3. The gang's name comes from "mara," a Central American term for gang; "salva," referring to El Salvador; and "trucha," which means "trout" in English and is a slang term for "clever" or "sharp." The meaning is roughly translated as street-smart Salvadorans.
4. In 1993 leaders of Mara Salvatrucha formed an alliance with the Mexican Mafia. They added the number 13 to their name—standing for "M," the 13th letter of the alphabet—and marking them as Sureños, an alliance of gangs in the southwest United States and Mexico. During this time MS-13 began accepting members of other nationalities, such as Ecuadorians, Guatemalans, Hondurans, Mexicans, and Peruvians.
5. MS-13 frequently recruits boys and girls from middle schools, high schools, and juvenile detention centers. Members are initiated into the gang through a ritual called "beating in" where prospective members are beaten by current members for at least 13 seconds. Female members are usually initiated through sexual rituals, such as having sex with 13 members of the gang, but sometimes have the option to be beaten instead. Once in MS-13, the only way they can get out is through death.
6. The group is considered exceptionally violent, even by the standards of street gangs. One of their mottos is "Mata, roba, viola, controla" ("Kill, steal, rape, control"), and their symbol is a machete. Members frequently use machetes in their crimes, such as in "initiation killings" (i.e., an act of murder as part of the gang's initiation rituals). Members are expected to kill when instructed, and subordinate leaders are killed for simply refusing to obey an order given by their local leader.
7. In 1996, the U.S. government passed the Illegal Immigration Reform and Immigrant Responsibility Act, which established that non-citizen immigrants convicted of felony offenses would be deported back to their home countries. Many MS-13 members were sent back to Central American countries, where they built new gangs and recruited new members, before returning back to the United States. As Rodrigo Avila, El Salvador's vice minister of security, told the Los Angeles Times in 2005, the deportations have helped create an "unending chain" of gang members moving between the United States and Central America.
8. In Central America, where the gang is estimated to have about 60,000 members, MS-13's operations include extortion, kidnapping, selling drugs, and sex trafficking. In El Salvador, they extort about 70 percent of businesses, and their violence costs the country $4 billion a year, according to a study by the country's Central Reserve Bank. In the United States the gang's business activities are focused primarily on drug dealing and human trafficking and prostitution, including child prostitution.
9. In 2013, as part of the National Strategy to Combat Transnational Organized Crime, the Obama administration declared MS-13 to be a transnational criminal organization. As a result of the designation, any property or property interests in the United States, or in the possession or control of U.S. persons in which MS-13 has an interest, are blocked, and U.S. persons are prohibited from engaging in transactions with MS-13. Last year, Attorney General Jeff Sessions also said MS-13 would be a priority for the Organized Crime Drug Enforcement Task Forces—alliances that coordinate law enforcement agencies such as the Drug Enforcement Administration, the International Revenue Service, and the Bureau of Alcohol, Tobacco and Firearms. "[The task forces] all have one mission: to go after criminal gangs and drug traffickers at the highest levels," Sessions told the International Association of Chiefs of Police conference. "Now, they will go after MS-13 with a renewed vigor and a sharpened focus. I am announcing that I have authorized them to use every lawful tool to investigate MS-13—and not just our drug laws, but everything from RICO racketeering to our tax laws to our firearms laws. Just like we took Al Capone off the streets with our tax laws, we will use whatever laws we have to get MS-13 off the streets."
Other posts in this series:
Wicca and Modern Witchcraft • Jerusalem • Christianity in Korea • Creation of Modern Israel • David Koresh and the Branch Davidians • Rajneeshees • Football • The Opioid Epidemic (Part II) • The Unification Church • Billy Graham • Frederick Douglass • Memphis Sanitation Strike of 1968 • Winter Olympics • The 'Mississippi Burning' Murders •  Events and Discoveries in 2017 • Christmas Traditions • Sexual Misconduct • Lutheranism • Jewish High Holy Days • Nation of Islam • Slave Trade • Solar Eclipses • Alcohol Abuse in America • History of the Homeschooling Movement • Eugenics • North Korea • Ramadan • Black Hebrew Israelites • Neil Gorsuch and Supreme Court Confirmations • International Women's Day • Health Effects of Marijuana • J. R. R. Tolkien • Aleppo and the Syrian Crisis • Fidel Castro • C.S. Lewis • ESV Bible • Alzheimer's Disease •  Mother Teresa • The Opioid Epidemic • The Olympic Games • Physician-Assisted Suicide • Nuclear Weapons • China's Cultural Revolution • Jehovah's Witnesses • Harriet Tubman • Autism • Seventh-day Adventism • Justice Antonin Scalia (1936–2016) • Female Genital Mutilation • Orphans • Pastors • Global Persecution of Christians (2015 Edition) • Global Hunger • National Hispanic Heritage Month • Pope Francis • Refugees in America • Confederate Flag Controversy • Elisabeth Elliot • Animal Fighting • Mental Health • Prayer in the Bible • Same-sex Marriage • Genocide • Church Architecture • Auschwitz and Nazi Extermination Camps • Boko Haram • Adoption • Military Chaplains • Atheism • Intimate Partner Violence • Rabbinic Judaism • Hamas • Male Body Image Issues • Mormonism • Islam • Independence Day and the Declaration of Independence • Anglicanism • Transgenderism • Southern Baptist Convention • Surrogacy • John Calvin • The Rwandan Genocide • The Chronicles of Narnia • The Story of Noah • Fred Phelps and Westboro Baptist Church • Pimps and Sex Traffickers • Marriage in America • Black History Month • The Holocaust • Roe v. Wade • Poverty in America • Christmas • The Hobbit • Council of Trent • Halloween and Reformation Day • Casinos and Gambling • Prison Rape • 16th Street Baptist Church Bombing • Chemical Weapons • March on Washington • Duck Dynasty • Child Brides • Human Trafficking • Scopes Monkey Trial • Social Media • Supreme Court's Same-Sex Marriage Cases • The Bible • Human Cloning • Pornography and the Brain • Planned Parenthood • Boston Marathon Bombing • Female Body Image Issues • Islamic State
Get your FREE 7-day devotional!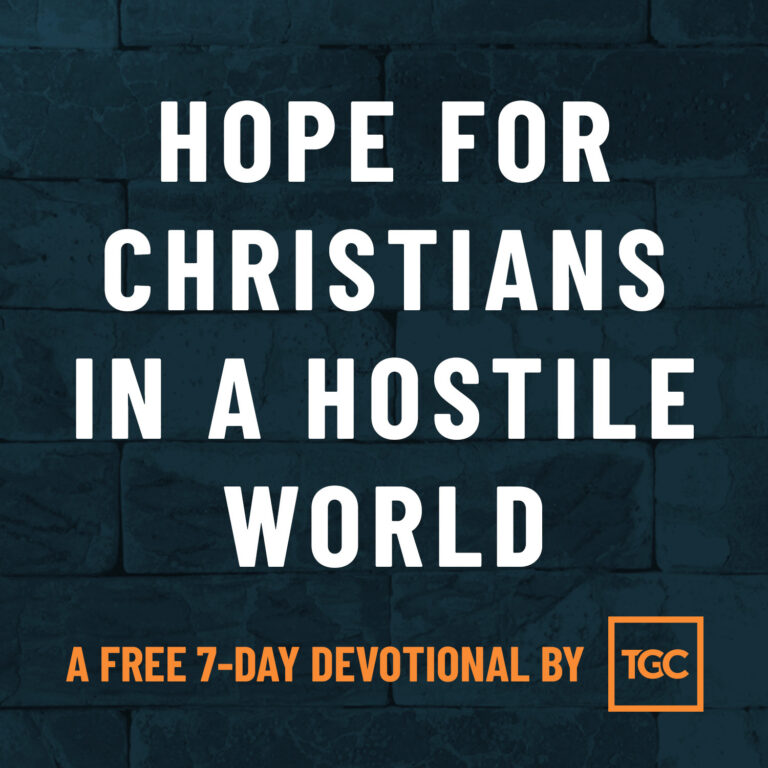 God's people have always been strangers and sojourners in this world. Do you feel that way, too?
You're not alone. Since the church's beginnings, Christians have often felt ostracized. And the Bible offers great encouragement for how to live with hope.
If you're feeling the weight of cultural exile today, our new 7-day devotional, Hope for Christians in a Hostile World, will encourage you.
If you sign up for this FREE resource, we'll send you an email each day for a week with a daily devotional featuring Bible readings and reflections written by TGC staff and friends.