Rod Dreher's 2017 bestseller The Benedict Option captured a wide Christian readership for two main reasons. The first was its wake-up call to conservatives trying to hold the line against an avalanche of anti-Christian animus. "It's too late," Dreher announced. "There's no going back to Judeo-Christian America." And in our collective gut, we knew he was right. Ready or not, things were about to change.
But Dreher's second point was equally important: The way forward is to go backward. Constructing a new Christian culture is going to require drawing on the resources of the past. Who could have guessed that Benedict of Nursia, a sixth-century monk, would suddenly be our solution? Yet Dreher was right: The future is ancient. Christians have been here before, and we would do well to learn history's lessons as we face a new Dark Age.
The subtitle of The Benedict Option promises "A Strategy for Christians in a Post-Christian Nation." But is it just our nation that no longer exemplifies basic Christian principles? What if the evangelical church has become post-Christian, too? Perhaps 40 years of trying to "contextualize" the faith to fit the zeitgeist actually transformed, not the social and moral fabric of our society, but the church itself. We became more like them, while relatively few of them became one of us. And pastors haven't been immune to the pull.
When a pastor looks outside long enough—even with the noble goal of contextualizing the faith to unbelievers—he inevitably starts to change. "You are what you love," James K. A. Smith says. More specifically, you become what you look at. When society worships power, money, and sex, you can only gaze at those idols for so long without being drawn in. When pop culture elevates glitzy superstars or the guru du jour, you start to follow their strategies. When corporations go global and birth new movements, your inner entrepreneur takes over. Somewhere along the way, the pastor become a celebrity, a globetrotter, a CEO. The world "out there" seems to matter more than the sheep in your pen.
But things weren't always this way. It's time for the post-Christian church to return to its parochial roots. The bishops and presbyters of the ancient church aspired to nothing more than faithful ministry—possibly ending in martyrdom—in their assigned parish. The paroikia was their focus: a "sojourning community" in a particular time and place. The early Christians knew how to live small lives. Inward lives. Local lives. Humble lives. Yet not ineffective lives. Despite their deliberate self-diminishment, those first believers upended an empire. Could their wisdom, steadily applied over time, do so again?
Augustine Project
Augustine exemplified the ancient pastoral vocation like no one else. Who was he, really? The narrative trajectory of Augustine's Confessions has given many the impression he was nothing but a wild playboy who eventually found God in a Milanese garden. His conversion scene is indeed dramatic. Anguished and burdened by sins, Augustine quit resisting and bowed the knee to God. At last, his restless heart had found its true desire.
The early Christians knew how to live small lives. Inward lives. Local lives. Humble lives. Yet not ineffective lives.
But what happened next? The truth is, Augustine's remaining life as a pastor was anything but restful. To learn of it, we look not to his Confessions, but to his sermons and writings, and especially the biography of him by his secretary Possidius. What can pastors glean from Augustine that could guide us today?
Here are three admonitions that emerge from his pastoral practice, offering a wise way forward in a new pagan age.
1. Live Like a Monk
When Augustine was grabbed at church and pressed into pastoral service at the African city of Hippo, he was actually trying to recruit brothers for his remote monastery. Even after he accepted the unexpected pastoral call, he never forgot his monastic vocation.
Possidius describes how Augustine was sober in his use of food and clothing, seeking the balance between greedy indulgence and false humility. When luxuries or land were donated to the church, Augustine sold them and gave the proceeds to the poor. His diet was always moderate—enough to sustain him, yet not so much as to be gluttonous like the rich. The conversation at his table was intellectual and uplifting. A sign there read, "He who injures the name of an absent friend / May not as a guest at this table attend."
Personal holiness was an important virtue for Augustine. Women weren't allowed to live in his house, nor be alone with him or the brothers, lest temptation overcome them or scandalous gossip arise. Likewise, Augustine remained aloof from money. His financial records were kept by trustworthy clerks, over whom Augustine had only indirect control. At the end of the year, the accounts were shown to him for approval. Augustine drew a modest daily means from the church, and no more.
2. Focus on Your Flock
Pastor Augustine shepherded his own congregation. This doesn't mean he was unconcerned about the broader world; he often attended church councils in Africa's capital city of Carthage. Yet his assigned flock in Hippo remained his primary concern.
One of Augustine's most important duties was to serve as a judge (1 Cor. 6:1–8), a difficult and onerous task, yet one he took seriously. In this way he dispensed justice to the poor when the corrupt pagan courts were unlikely to do so without bribes. Augustine often advocated for his church members before the powerful city fathers with wisdom and tact. The church's widows, orphans, and sick all received his tender pastoral touch.
Augustine had the wisdom to discern sound doctrine, the courage to defend it, and the pastoral love to demand it from his people.
Augustine also shepherded his flock doctrinally. He was a high-level thinker who could discern the times and see through the cultural fog of his day. When heresies such as Pelagianism or Donatism cropped up, Augustine was quick to protect his people from bad theology. He had the wisdom to discern sound doctrine, the courage to defend it, and the pastoral love to demand it from his people. The shepherd cared for both the minds and also the bodies of his sheep.
3. Don't Fear the Barbarians
In the last years of Augustine's life, the Vandals began roving across North Africa. The marauders had crossed from Spain and were capturing Roman towns one by one. Their attacks were violent, accompanied by murder, rape, torture, arson, enslavement, and the pillaging of Christian churches. Back then, the word vandalism meant much more than graffiti! Many believers were asking Augustine if it was acceptable to flee such a dreadful foe.
His answer was wise and brave. Possidius preserved Augustine's letter of reply. In it, he says everyday Christians are allowed to flee the barbarians. But the pastors must stay behind until no one is left in their flock. "The love of Christ," Augustine writes, "[which] has bound us not to desert the churches which we ought to serve, should not be broken." Terror of the barbarian horde must never overcome the pastor's holy vocation.
Admittedly, Augustine was influenced here by his view that the sacraments must be offered by an ordained minister for salvation. Yet this consideration was part of a broader concern for pastoral care and evangelism. The shepherd of God's flock holds an office "without which men could neither live a Christian life, nor become Christians." When a pastor remains with his people in the face of persecution, he fulfills 1 John 3:16: "By this we know love, that [Christ] laid down his life for us, and we ought to lay down our lives for the brothers."
Pastor to the End
In AD 430, the elderly Augustine lay on his sickbed, meditating on the penitential psalms while the Vandals clamored outside the city walls. His last 10 days were spent in constant, solitary prayer. "Up to the very moment of his last illness," Possidius recalls, "he preached the Word of God in the church incessantly, vigorously, and powerfully, with a clear mind and sound judgment."
Augustine died among his pastoral brethren and was honorably buried. He didn't bother to make a will, for as a "poor man of God," he had nothing substantial to bequeath. The only things Augustine left behind were faithful disciples and powerful words. May every pastor die so well: honored for his legacy, and confident that the next generation is ready continue the gospel task—even when the barbarians are at the gates.
Get a FREE eBook to strengthen your family discipleship!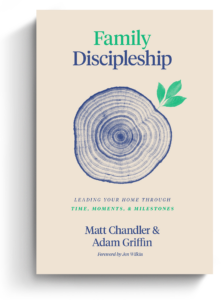 The back-to-school season is stressful for moms and dads. New rhythms of school, sports, and other extracurricular activities can quickly fill up a family's already busy calendar. Where do busy parents look for resources on discipling their family well? Aside from prioritizing church, what else can Christian parents do to instill healthy spiritual habits in their household?
Matt Chandler and Adam Griffin cover these questions and more in Family Discipleship: Leading Your Home through Time, Moments, and Milestones. And we're excited to offer this book to you for FREE as an eBook today.
Click on the link below to get instant access to your FREE Family Discipleship eBook now!