"The scandal of the evangelical mind is that there is not much of an evangelical mind."
So begins Mark Noll's The Scandal of the Evangelical Mind, published nearly 30 years ago. What Noll calls "an epistle from a wounded lover" landed as a bombshell in the 1990s that has continued to reverberate in the last few decades. With the publication of an anniversary edition, containing a new preface and afterword by Noll, I asked various scholars across institutions to reflect on the book's significance and ongoing relevance for the church today.
---
James Eglinton
When The Scandal of the Evangelical Mind was first released, I was 13 years old, living in the Highlands of Scotland, and altogether oblivious to its significance.
Although I was unaware of Noll's work, I did grow up hearing common sentiments about our evangelical brothers and sisters across the Atlantic—often from American evangelical missionaries who would tell us to look beyond the overwhelming scale of American evangelicalism and see that it was "a mile wide but an inch deep." However, as far I can recall, that lack of depth was presented in terms of the life of the heart, rather than of the mind: in America, we would hear, "evangelical" was often a nominal identity more tied to politics than to deep personal piety.
The critique, though, did not overlap with Noll's focus on American evangelicalism as a disaster zone for the life of the mind. Growing up in British evangelical circles, I don't recall much high-minded criticism of blue-pill American Christianity on this point. I suspect this was because British evangelical culture is also shot through with a deep vein of anti-intellectualism. We were in no position to be critical on this point. Indeed, we were probably poorly equipped even to notice that shared failing—at least those of us, like me, who were oblivious to Noll's analysis.
Years on, when I eventually discovered Noll's work, I was struck by how key aspects of his American analysis also applied to the British context. According to Noll, the evangelical mind's failure to thrive is rooted in an earlier acceptance of "the philosophy of common sense, the moral instincts of republicanism, the science of Francis Bacon, and a disposition towards evidential reasoning." The ensuing disaster began as Christians accepted an epistemology that naively treats humans as neutral and unbiased in their reasoning. Alongside this, 18th-century Christians imported Francis Bacon's empirical reasoning from its native terrain (the natural sciences) into theology, which left theology struggling to speak properly in a foreign kind of logic. Evangelical theology began addressing people as though blind to the disordered desire that clouded all of their willing and believing, as though they just needed more proof of the gospel. The evangelical use of the mind that followed has indeed been "disastrous."
The features Noll identifies remain painfully recognizable in British evangelicalism, and account well for its own failure to cultivate a richly Christian life of the mind. In 2022, the book remains instructive in considering British evangelical failings.
The features Noll identifies remain painfully recognizable in British evangelicalism, and account well for its own failure to cultivate a richly Christian life of the mind. In 2022, the book remains instructive in considering British evangelical failings. It also highlights why, on both sides of the Atlantic, young evangelicals—including me—are increasingly turning their minds from theologies based on the anglophone philosophical tradition (common sense, empiricism, and evidentialism) to the Netherlands and the neo-Calvinist tradition exemplified by the likes of Herman Bavinck. Free from naive delusions of reasonableness and neutrality, Bavinck's tradition values empiricism on its own native terrain, but doesn't allow it to supplant theology's own native logic, which in turn sets Christianity free from the pitfalls of evidentialism. It offers much more fertile soil for the life of the mind.
Unsparing in his indictment, Mark Noll asks why the largest single group of religious Americans—who enjoy increasing wealth, status, and political influence—have contributed so little to rigorous intellectual scholarship. While nourishing believers in the simple truths of the gospel, why have so many evangelicals failed to sustain a serious intellectual life and abandoned the universities, the arts, and other realms of "high" culture?
More than 25 years since its original publication, The Scandal of the Evangelical Mind has turned out to be prescient and perennially relevant. In a new preface, Noll lays out his ongoing personal frustrations with this situation, and in a new afterword he assesses the state of the scandal—showing how white evangelicals' embrace of Trumpism, their deepening distrust of science, and their frequent forays into conspiratorial thinking have coexisted with surprisingly robust scholarship from many with strong evangelical connections.
---
Nathan A. Finn
In 2000, I was a college senior who was increasingly interested in Christian history, especially American evangelicalism. One of my professors, Doug Weaver, encouraged me to read books and essays by historians such as Mark Noll and George Marsden, who among others had carved out a niche among American historians. These were evangelicals who wrote first-rate works of scholarship about evangelicalism. It was around this time that I first read The Scandal of the Evangelical Mind.
It's no exaggeration to say Scandal was one of the most formative books in shaping my sense of vocation. I was what my Southern Baptist tradition called a "preacher boy" who was regularly preaching in local churches. Yet I was also increasingly drawn to academics. I didn't understand these callings to be mutually exclusive—I still don't today—but I hadn't really been discipled to think that God might call believers to be scholars and teachers like he called some to be pastors and missionaries. But here I was, loving my studies, loving preaching the Scriptures, and longing to be both a professor and pastor.
It's no exaggeration to say Scandal was one of the most formative books in shaping my sense of vocation.
I knew I wanted to teach Christian history, but I wrestled for a time with whether I should pursue graduate studies in history at a university or attend seminary. Noll himself offered me some godly counsel in an email he wouldn't remember today, reminding me that both were viable paths to honoring the Lord, serving the church, and influencing both ministers of the gospel and the historical academy. I felt like the Lord was leading me to seminary. But even there, Noll's arguments about loving God with our minds, the value of scholarship, and the anti-education tendencies of many evangelicals informed how I approached my studies. Seven years after I first read Scandal, I became a church history professor at a Southern Baptist seminary.
Along the way, I've met many graduate students and professors of my generation (I'm in my early 40s) who have similar stories. Many are historians, but others are sociologists, philosophers, English professors, and even theologians. Noll's book helped them understand how to reconcile loving God and loving a particular academic discipline. Teaching could be intellectual discipleship. Scholarship could be doxological. Faithful education is essential to a flourishing evangelicalism.
Today, I serve as the chief academic officer of a denominationally related university. I regularly talk with faculty members who've been shaped by Noll's book, often along with George Marsden's The Outrageous Idea of Christian Scholarship (1998). This also happens when I speak on faculty development at other institutions or conferences. I frequently recommend these works to graduate students as well as to faculty members and administrators who've never read them.
I'm grateful for a new edition of The Scandal of the Evangelical Mind. As a Christian scholar, I pray the book continues to bless believers working within the academy. And as an academic leader, I pray it'll continue to influence institutions like mine that are committed to a vision of intellectual discipleship for the glory of God and for the sake of human flourishing.
---
Malcolm Foley
If we survey the decades between the publication of The Scandal of the Evangelical Mind and today, we see many landmark moments in the history of American evangelicalism. But the ones that stick in most people's minds are the political ones, especially the election of our first black president and, as Ta-Nehisi Coates powerfully puts it, our first white president: that is, a president whose whiteness was an intentionally mobilized commodity. Amid these political moments, evangelicals—particularly white evangelicals—were swept up and the think pieces abounded, culminating in the recent boom of histories of white evangelicalism.
The last few years have taught us something. Noll argued that "contemporary 'evangelical thought' is best understood as a set of intellectual assumptions arising from the nineteenth-century synthesis of American and Protestant values and then filtered through the trauma of fundamentalist-modernist strife." Such a framing already put evangelical thought at a disadvantage because it fundamentally ignored the theological and intellectual contributions of black Christians in that period and beyond. Mary Beth Swetnam Mathews's Doctrine and Race: African American Evangelicals and Fundamentalism between the Wars is a perfect example of this: black evangelicals reached out to fundamentalists, assuming that theological agreement would lead to political partnership. The assumption was that agreement on the gospel also meant agreement about the unconscionable nature of lynching and racial violence. Unfortunately, that was not the case then, and it's still largely not the case now. This was one of the most profound losses for evangelicalism in Noll's book: actual sustained and constructive political thought has been in many ways neutered by being co-opted by the Republican Party among others eager to rally evangelical numbers.
But more important is the question that's really at the core of Noll's work: Does it matter? Does the world need an evangelical mind? Frankly the answer is that, as we haven't seen a history that undermines Noll's diagnosis, the need remains.
Does it matter? Does the world need an evangelical mind? Frankly the answer is that, though we haven't seen a history that undermines Noll's diagnosis, the need remains.
We still need Christians committed to historic orthodoxy who will answer the questions of economics, history, and science. We still need Christians deeply committed to the incarnation, virgin birth, and bodily resurrection of Jesus to answer the question of how we build political communities that resist racial capitalism: the death-dealing cycle of economic exploitation, violent enforcement, and racialized justification that resided at the heart of indigenous genocide, racialized chattel slavery, lynching, Jim Crow, and mass incarceration.
Whether or not those Christians identify as "evangelicals" is largely irrelevant, as Noll readily admits that evangelicalism is, if anything, a loose combination of movements, impulses, and organizations. What's important is that God gets the glory, and we're best mobilized toward that goal when we marshal all our intellectual resources not merely for self-defense (as white evangelicals have often done) but for loving our neighbors: relentlessly pushing forward intellectually to meet the continually shifting powers and principalities that seek to kill, steal, and destroy.
---
Thomas Kidd
Perhaps the most important line in The Scandal of the Evangelical Mind, for me, is when Mark Noll called himself a "wounded lover" of evangelicalism in the first line of the preface. I didn't grow up in evangelical culture, so I don't carry the same sorts of wounds that a number of evangelical (or former evangelical) scholars do from their upbringing or church experiences. But I certainly share the frustration of Noll and others over the rampant anti-intellectualism that still marks much of popular evangelical culture and American culture generally.
We evangelicals make so many decisions about what to believe and whom to trust based on tribe rather than expertise and on feelings rather than facts. We often take our cues on culture and politics from evangelical or Republican media celebrities instead of from people (such as Mark Noll) who have spent years studying such issues from the perspective of the historic, biblical Christian tradition. Moreover, Christian colleges and universities often seem unable or unwilling to provide consistent, reliable leadership within the bounds of the historic, biblical Christian tradition. Sadly, such schools sometimes seem to prefer to mimic fads of the elite secular educational establishment. There's reason to lament the state of the evangelical mind—as much reason now as there was almost 30 years ago when Scandal first appeared.
But as we move forward, we must fully inhabit not just the "wounded" quality of Mark's descriptor, but also that of the "lover." One of the reasons I admire Noll so much is because he's modeled the life of a faithful Christian scholar for the rest of us. Mark's empathetic histories and relentless generosity, from which so many Christian scholars (including me) have benefited, spring directly from his Christian commitment to the life of the mind.
Frankly, there's not much hope for reforming evangelicalism by those scholars who don't like typical evangelicals very much. Lobbing bombs over a virtual fence into enemy camps doesn't effect change, it just elicits more bomb-throwing (this seems to represent the majority of traffic on Twitter, especially about evangelicals). Normal evangelicals are not interested in listening to wounded haters, nor should they be. They might accept insights from wounded lovers.
Normal evangelicals are not interested in listening to wounded haters, nor should they be. They might accept insights from wounded lovers.
Intellectual influence upon regular evangelicals, then, will have to be predicated upon faithful presence. The people best positioned to exercise influence among evangelicals for the life of the mind are not necessarily the go-to voices on evangelicalism for the New York Times or the Washington Post. They're simply the people who believe in the importance of the life of the mind, but who believe even more in the life of the church and in worshiping Jesus Christ. Along the way, those scholars who take this project on may have to get comfortable with being around evangelicals who do not necessarily agree with their politics, who (gasp) might have voted for Donald Trump, or who may not know or care who Mark Noll is.
---
Kenneth Stewart
The release of Noll's The Scandal of the Evangelical Mind is memorable for me because its publication coincided with the beginning of my teaching career. After a dozen years in pastoral ministry, I had "retooled" through postgraduate study for a teaching career that—in the difficult early 1990s—was slow to materialize. In those years, freshly minted PhDs often drove taxis.
Reading Scandal at its release was a satisfying experience. It helped reinforce my sense of calling to transition from the pastorate to the classroom. Its description of the neglect of serious study among evangelicals matched perfectly with the low horizons of the world of evangelical pietism in which I'd been converted and raised. My father, then a high school teacher, was one of only a few men in our congregation who had gone to university. The pastor of that congregation (not one of these) warned me as I went to university that I was heading into "the devil's playground" (his exact words). Ironically, my first teaching position—after a long wait—was in the very school that had trained that man. Yes, there was indeed an evangelical populism that discounted specialized knowledge; there was indeed a pervasive anti-intellectualism in the world of pietistic evangelicalism.
The great gain of Noll's Scandal was its demonstration that this neglect of the mind within strands of evangelicalism was a fairly recent development—a mostly 20th-century phenomenon. If we looked back a century, there were plenty of illustrious evangelicals who were thought leaders of their age. It was the barrenness brought in by the modernist-fundamentalist controversy of the 1920s that had made it so easy for a swath of evangelicals to do as my pastor had done: write off the university world.
Scandal needs to stay in print and be read by a new generation because—with thanks for progress made—the scandal it originally protested against still lingers.
Happily, almost 30 years on from the first publication of Scandal, we find advances that can be tallied up. The standard of teaching and research has risen in distinctly Christian colleges and universities (such as those affiliated with the Council for Christian Colleges and Universities). Noll and a good number of others have made their way into significant research universities, where they've mentored a younger generation of believing scholars. These gains can be observed in history, philosophy, and social sciences. In the world of biblical and theological studies there's now a surplus of people who've gained research doctorates. But we've hardly covered the disciplines! There's no surplus of Christian physicists, astronomers, or geneticists. Think of ex-evangelical Christian Smith's acerbic comment that we cannot recall a time when an evangelical sat on the Supreme Court of the United States.
Large swaths of American evangelicalism still suffer the self-inflicted wounds of populism and anti-intellectualism. The embarrassing thing about these preferences is that they're not distinctly Christian but widespread in our culture at large. Scandal needs to stay in print and be read by a new generation because—with thanks for progress made—the scandal it originally protested against still lingers.
---
Ansley Quiros
When historian Mark Noll penned The Scandal of the Evangelical Mind in 1994, his "epistle from a wounded lover," his "cri de couer," he couldn't have imagined how tragically prescient it would seem in 2022.
Noll describes a deep anti-intellectualism in evangelical life, claiming that the "failure to exercise the mind for Christ is acute." This failure, the scandal of the absent evangelical mind, flattens the world for evangelical Christians, disfiguring them into "modern-day Manicheans, Gnostics or Docetists." Despite this characterization, Noll isn't really talking about theology per se but rather about thinking "within a specifically Christian framework" across disciplines—what would, 20 years ago, have been called the cultivation of a Christian worldview.
"When we study something, we are of course learning about that thing," Noll asserts, but even more we are "learning about the One that made that thing." Evangelicals, then, he maintains, should push forward into science, the humanities, social sciences, and political philosophy with boldness and curiosity. Evangelicals' expansive faith should draw them into wonder, into study, ultimately into worship, through their work in and for the world.
And yet evangelicals have mostly huddled in fear. Elucidating how "the scandal came to pass," Noll sweeps across the Reformation through American revivalism to the 20th century when, he argues, evangelicals took on a decidedly fundamentalist character. In defending truths of the faith (some of which, he admits, are important), these evangelicals found that when they confronted the intellectual, theological, and cultural challenges of modernity, "the cupboard was nearly bare." Even after the "intellectual disaster of Fundamentalism," evangelicalism never recovered. Instead, Noll argues, it descended into reductionist biblicism and hysterical eschatology, with dire consequences both for politics and science.
Noll's book offers a credible genealogy of the roots and 'pernicious effects' of American evangelicalism's anti-intellectualism. The sad irony, of course, is that most evangelicals didn't read it.
Since its publication, Scandal has been reviewed, assigned, and discussed numerous times, both inside and outside the academy. It has, rightfully, been critiqued for its lack of inclusion of women as well as its apparent exclusion of black evangelicals. (For instance, Noll addresses the pressing question, "Did American democracy have a place for one if one was black?" He answers, "Evangelicals gave little thought to such matters." Of course, black evangelicals certainly did.) This omission is significant when we consider the treatment of black and female evangelical scholars who issue "challenges from within" and are subsequently villainized and attacked. But still, Noll's basic argument holds up. In fact, the slander and exclusion of evangelical scholars who transgress the cultural and political allegiances of evangelicalism prove the point.
Evangelicalism has doubled down on anti-intellectualism. And worse than our historical forebears, it's not in service of piety, but rather of self-righteous anger and partisanship. Our "worst features" have remained our "methodological keystones," leaving evangelicals woefully ill-equipped to face the pressing challenges of our day—economic inequality, technological change, globalization, climate change—and lacking a winsome public witness.
My TL;DR: Noll's book offers a credible genealogy of the roots and "pernicious effects" of American evangelicalism's anti-intellectualism. It constitutes an important warning to evangelicals that it's not only foolish but also sinful to "scorn the good gifts of a loving God," a God who so loved the world. The sad irony, of course, is that most evangelicals didn't read it.
Get a FREE eBook to strengthen your family discipleship!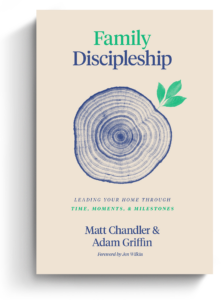 The back-to-school season is stressful for moms and dads. New rhythms of school, sports, and other extracurricular activities can quickly fill up a family's already busy calendar. Where do busy parents look for resources on discipling their family well? Aside from prioritizing church, what else can Christian parents do to instill healthy spiritual habits in their household?
Matt Chandler and Adam Griffin cover these questions and more in Family Discipleship: Leading Your Home through Time, Moments, and Milestones. And we're excited to offer this book to you for FREE as an eBook today.
Click on the link below to get instant access to your FREE Family Discipleship eBook now!