The new December 2022 issue of Themelios has 211 pages of editorials, articles, and book reviews. It is freely available in three formats: (1) PDF, (2) web version, and (3) Logos Bible Software.
---
1. D. A. Carson | One of the Saddest Texts in the OT
Carson meditates on the sad account of Hezekiah's pride and selfishness in Isaiah 39, which sharply contrasts with the king's faith and courage earlier in the biblical narrative and prompts a staggering divine rebuke.
2. Daniel Strange | A Late Review of a Late Sonata in Late Modernity
Strange reflects on a masterful performance of Beethoven's final three piano sonatas and András Schiff's lectures that employ Christian liturgical language to explain how this music provokes profound feelings of gratitude and wonder, which stands in tension with Schiff's own agnosticism.
3. Etienne Jodar | The Cryptic Saying of Isaiah 28:10, 13 and Paul's Controversy over Tongues in 1 Corinthians 14:20–25
Jodar examines Paul's use of Isaiah 28:11–12 in 1 Corinthians 14:21 in order to shed light on the cryptic saying of Isaiah 28:10 and 13. Presupposing that Paul draws from the immediate context of Isaiah 28:11–12, he suggests the rhetorical effect of Paul's quotation is stronger if Isaiah 28:10 (and 13) is interpreted to represent an incomprehensible sequence of syllables, like a minority of English translations do.
4. Michael Kuykendall | Numerical Symbolism in the Book of Revelation: A Weakness of Modern Bible Versions
Several modern Bible versions do a disservice to John's use of numbers in the book of Revelation. Kuykendall argues that John utilizes "good" numbers and "bad" numbers to express theological truths. Yet modern versions unwittingly thwart John's theological intentions by masking his numerical symbolism. This is evidenced in two ways: (1) changing (updating) the actual symbolic number when measurements and distances are mentioned; and (2) rendering key terms in Revelation found exactly seven times with different English words, which obscures significant numerical interconnections. Kuykendall concludes that future modern versions and revisions of existing translations must treat Revelation differently on this issue.
5. Nathan Parker | Heaven's War upon the Earth: How to Turn a Moderate 17th-Century Pastor into a Radical
There appears a strong apocalyptical expectation in the writings of the 17th-century Puritan pastor John Flavel, but, as Parker argues, this materialized in his later writings. Most people who thought the end of the world was imminent in the 17th century tended to be within radical groups that were active during the Interregnum. Though the momentum of apocalyptical thought was generally arrested over the next two decades, it's notable that by the time of the Glorious Revolution it was incorporated into the preaching of a peaceable and deeply conciliatory pastor. This article sheds light on how one moderate Puritan came to embrace ideas with alarmingly radical implications.
6. Geoffrey Chang | New Insights into the Formative Influence of Spurgeon's Early Years
This article draws on lesser-known primary sources to argue for the formative influence of C. H. Spurgeon's early years on his future ministry. Chang first examines John Spurgeon's time in Raleigh, which explains why Spurgeon spent the first five years of his life with his grandfather, a relationship that shaped his view of ministry and the church. Second, he reflects on the ministry of T. W. Davids, pastor of the Congregational church in Colchester, and his influence on young Spurgeon. Third, Chang summarizes new insights from Spurgeon's earliest preaching notebooks.
7. Kenneth J. Stewart | The Young J. I. Packer as a "New Warfield"? A Chapter in the Post-1930 Revival of Reformed Theology
J. I. Packer first came to the attention of the reading public with a 1953 essay, "Revelation and Inspiration," in the second printing of the New Bible Commentary. Stewart explains that this essay, as well as Packer's controversial 1955 article on the Keswick movement and his 1958 book, "Fundamentalism" and the Word of God, illustrate his growing affinity with the writings of Princeton theologian B. B. Warfield. In all this, Packer was a leading voice in the post-WWII reassertion of Reformed theology. But Packer, rather than being the pioneer of this movement, was in fact building on the legacy of others who had pointed in this direction. This movement, closely associated with Inter-Varsity, was itself part of a larger post-1929 resurgence of orthodox Reformed theology.
8. Paul R. House | J. I. Packer and the Next Wave of Evangelicalism: Foundations for Renewal
This article surveys the life and ministry of J. I. Packer, evangelical Anglican, theologian, author, Bible translator, and church renewal advocate. House suggests Packer's ministry is especially informative because it had roots in prewar evangelical circles and extended through the growth of the evangelical movement from the 1950s to the 1990s and the movement's ebbing afterward. He asserts that Packer's efforts to aid theological and church restoration provide principles for much-needed biblical renewal in current evangelicalism.
9. Don J. Payne | The Explicit and Implicit Theological Method of J. I. Packer
J. I. Packer's theological works have wielded remarkable influence on the landscape of North American evangelicalism. His hallmark theological emphases reflect both explicit methodological commitments and implicit methodological traits. Packer's theological method is marked by a commitment to the inerrancy and authority of the biblical text, as interpreted within a covenantal, canonical, and Christocentric framework. His method also reflects assumptions about the nature of divine and human rationality, the capacity of human rationality to access the formal meaning of the text, the nature of meaning in the text, and the role of the Holy Spirit in the hermeneutical process.
10. John Jefferson Davis | Is the Holy Spirit Really a "Person"—with a Distinct Personality?
Davis aims to help the reader conceptualize and imagine the Holy Spirit as a real person with a distinct and knowable personality—a person of the Trinity more accessible to our faith, reading of Scripture, and worship. He identifies factors in church history tending to marginalize the Holy Spirit in the life of the church. And he expounds biblical texts dealing with the names, images, words, and actions of the Holy Spirit to put the distinct personality of the Holy Spirit into sharper focus.
11. Trent A. Rogers and John K. Tarwater | A Biblical-Theological Framework for Human Sexuality: Applications to Private Sexuality
What are good sexual acts? It's not that surprising when cultural voices, without reference to God, argue for the inherent goodness of all "unharmful" sexual desires and acts. Regrettably, ethical pragmatism has influenced some Christian sexual ethics, and this influence is particularly evident with the issue of masturbation. What God defines as good sexual acts are those that fulfill his unitive and procreative purposes for sex within marriage. We argue that masturbation is a categorically impermissible act because it fulfills neither of these purposes, and we counter Christian arguments for its permissibility. God calls Christians to deal with sexual desires, including good sexual desires, through either marital sexual expression or Spirit-enabled self-control.
12. Robb Torseth | "The Sanctification of Our Speech": The Theological Function of Truth and Falsehood in John Webster's "Sins of Speech"
The contemporary debate concerning truth and falsehood has become distinctly conspicuous in light of recent global events. The increasingly great divorce between diverging worldviews has resulted in what Susan Harding has coined the "repugnant cultural other," where each group has retreated into itself, stigmatized the other, and thus neglected a genuine exchange of words and ideas. Here, the writings of the late John Webster help shed light on foundational conceptions of the purpose, use, and ethics of human language as primarily both theologically oriented and theologically originated. Torseth considers Webster's 2015 article "Sins of Speech," first in relation to his broader thought, and second as it applies to the contemporary problem of speech, public or private, in the information age.
Featured Book Reviews:
James M. Hamilton Jr., Psalms.

Reviewed by S. D. Ellison.

Steve Walton, Reading Acts Theologically. Reviewed by Brandon Crowe.
Vern S. Poythress, Redeeming Our Thinking about History: A God-Centered Approach. Reviewed by James Rutherford.
Chad Van Dixhoorn (ed.), Creeds, Confessions, and Catechisms: A Reader's Edition. Reviewed by Karin Spiecker Stetina.
Mark D. Thompson, The Doctrine of Scripture: An Introduction. Reviewed by Rob Price.
Geoffrey Chang, Spurgeon the Pastor: Recovering a Biblical and Theological Vision for Ministry. Reviewed by Ian J. Maddock.
Joshua D. Chatraw, Telling a Better Story: How to Talk About God in a Skeptical Age. Reviewed by David Robertson.
J. D. Payne, Theology of Mission: A Concise Biblical Theology. Reviewed by Joshua Bowman.
Get a FREE eBook to strengthen your family discipleship!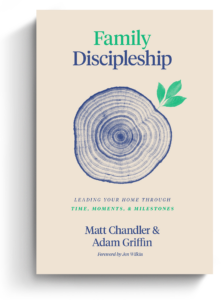 The back-to-school season is stressful for moms and dads. New rhythms of school, sports, and other extracurricular activities can quickly fill up a family's already busy calendar. Where do busy parents look for resources on discipling their family well? Aside from prioritizing church, what else can Christian parents do to instill healthy spiritual habits in their household?
Matt Chandler and Adam Griffin cover these questions and more in Family Discipleship: Leading Your Home through Time, Moments, and Milestones. And we're excited to offer this book to you for FREE as an eBook today.
Click on the link below to get instant access to your FREE Family Discipleship eBook now!