According to a 2021 survey by Common Sense Media, 42 percent of children in the United States own a smartphone by age 10, 71 percent by age 12, and 91 percent by age 14. Those are astonishing numbers.
Christian parents are aware of their God-given responsibility not to conform to the patterns of this world (Rom. 12:2). This includes patterns of technology usage. When we hand our children phones, we open them up to a world fraught with dangers and temptations. We shouldn't erect a firewall that completely isolates our kids, but neither should we be naive.
What's the right age? This is a tricky question for parents. Once you hand a child a phone, chances are you're not taking it back. So before you take the plunge, here are four questions to consider.
1. Does your child really need it?
In recent years, our thinking has been clouded by our shifting approach to technology. We used to think of technology as a tool; now we think of it as entertainment.
It's not that children never access a phone's tools and functions, but they primarily use it for games and media. Even before the smartphone came on the scene, we weren't lacking for entertainment. Parents should ask, "Is it really necessary for my kid to have a phone?"
We used to think of technology as a tool; now we think of it as entertainment.
Most parents affirm that kids should be spending more time outside playing, enjoying nature, and hanging out with friends instead of being occupied by screens. But even the practice of meeting up with friends is arranged through text—such is life in the 21st century. So asking the related question—"Are there creative solutions to situations where we think he needs a phone?"—can also prove helpful.
2. Is your child mature enough to handle it?
Before you hand your teenager the keys to the car, you make sure she's ready. Going through driver training, getting a license, and demonstrating she's a responsible driver are necessary first. A smartphone isn't much different. It's valuable, it's powerful, and it can be incredibly destructive.
The decisions you make in the child's younger years will inevitably affect him later on. As an example, I know many parents struggling to deal with their teen's gaming addiction. When you open the door to technology, it can lead to dangerous, unintended places. So ask yourself, Does my child have the maturity to look away from bad images and messages that appear on his screen (even with filters and blockers in place)? Does he have the discipline to do his schoolwork before picking up his device? After all, using a smartphone for one purpose—say, checking the weather—can lead to many other "checks."
You know your child better than anyone. Make an honest, sober assessment. Does she possess the maturity for smartphone ownership?
3. Are you prepared to have conversations in advance?
The ability to communicate well with your child is critical. And when it comes to a phone, a child will naturally see the benefits, not the dangers. It's your job as a parent to articulate what your family values are. Communicate when you think he'll have the maturity and readiness for a smartphone. Outline the concerns you have. Even in the craziness of life, work hard to find time for communication. The more you talk with your children, the better, especially during this hugely formative time of their lives.
When it comes to a phone, a child will naturally see the benefits, not the dangers.
Such conversations require intentionality and time, but they can be a great blessing. As Scripture says, "Hear, my son, your father's instruction, and forsake not your mother's teaching, for they are a graceful garland for your head and pendants for your neck" (Prov. 1:8–9). Smartphone discussions provide a chance to discuss crucial topics such as sin, temptation, self-control, and idolatry. Don't squander these opportunities.
4. Are you modeling good tech habits?
A friend of mine jokes about his dad telling him, "Do what I say, not what I do." Parents can get away with this double standard for a season, but eventually, it'll catch up with us. Many of us would admit we spend too much time on our smartphones. Our children are taking notice.
Are we falling prey to the same things we're concerned about for our children? In our tech-saturated world, there are things we need to use our smartphones for, but in what areas would we do well to cut back?
The apostle Paul instructed Timothy to "set the believers an example in speech, in conduct, in love, in faith, in purity" (1 Tim. 4:12). Likewise, it's critical for Christian parents to set a godly example for our children. When we wisely steward technology, it can go a long way toward ensuring our kids will too.
When parents wisely steward technology, it can go a long way toward ensuring our kids will too.
A smartphone can certainly help your child grow in the grace and knowledge of Christ, but it can also open doors to sin, temptation, and crippling habits. Owning one is a privilege, not a need. Don't be afraid to ask other parents who've already traveled down this road for counsel and advice. 
Though the topic is fraught, let's approach it with caution and discernment, seeking wisdom from on high (James 1:5).
Get a FREE eBook to strengthen your family discipleship!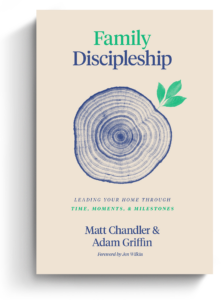 The back-to-school season is stressful for moms and dads. New rhythms of school, sports, and other extracurricular activities can quickly fill up a family's already busy calendar. Where do busy parents look for resources on discipling their family well? Aside from prioritizing church, what else can Christian parents do to instill healthy spiritual habits in their household?
Matt Chandler and Adam Griffin cover these questions and more in Family Discipleship: Leading Your Home through Time, Moments, and Milestones. And we're excited to offer this book to you for FREE as an eBook today.
Click on the link below to get instant access to your FREE Family Discipleship eBook now!