Against the backdrop of God creating humanity to exercise dominion, consider the man who misses his son scoring the winning goal because he's distracted by the vibrating phone in his pocket. Or the young employee who browses social media but with the mouse cursor hovering over the "x," ready to close it should her boss walk by. Or the student who ignores his body's cry for sleep and instead strains his tired eyes to scroll for a few more images. They are not in control.
Paul warned about those who weren't in control. He described one controlling factor of enemies of the cross as "their god is their belly" (Phil. 3:19). Idolatrous passions or earthly concerns governed them. In contrast, Paul exemplified the importance of control in the Christian life (1 Cor. 9:27).
We're to exercise control because we believe God deserves our active obedience and not merely our accidental praise. Yes, he will ultimately be glorified even if we rebel against him. But he's worthy of our lives—even our digital lives.
God created you to have control over creation. He didn't intend for you to be controlled by your device.
Rather than being passive, reckless, and undisciplined in our digital behavior, what if we exercised digital control in obedience to the greatest two commandments? What if you took control of your devices as an act of love toward God and your neighbor?
Digital Control and Love of God
Jesus said the greatest commandment is to "love the Lord your God with all your heart and with all your soul and with all your mind" (Matt. 22:37). If you want to process how to steward your digital devices in obedience to Jesus, this is a pretty good place to start. Take control of your digital devices because you love God.
Without digital control, we're drifting—aimlessly scrolling and passively swiping. And no one drifts in the right direction. Rather than drifting recklessly, into behavior and words that can dishonor God, we practice digital control for the glory of Christ. In our actions online—as with every other sphere of life—we want others to see Jesus.
We exercise dominion ultimately to fill the earth with image-bearers and to glorify God. David Mathis explains, "Christian self-control is not finally about bringing our bodily passions under our own control, but under the control of Christ by the power of his Spirit."
We're not seeking control over our digital devices merely for productivity or for our own fame but to make much of Christ. Christian men and women are gladly under the rule and reign of Jesus. His commands are never burdensome (1 John 5:3). Obedience to Jesus brings joy, even in the digital world.
We're not seeking control over our digital devices merely for productivity or for our own fame but to make much of Christ.
In Galatians 5, the apostle Paul lists evidences of the Holy Spirit's work in our lives. Among this list he includes "self-control" (Gal. 5:23). Self-control is not mere effort. Christians, as we pursue self-control in our digital habits, recognize that such a fruit is a result of the Holy Spirit's work in our lives. This affects both how we understand self-control and the means we use to pursue it.
Paul also directly ties self-control to our salvation. In explaining the gospel of Jesus Christ to Felix and his wife Drusilla, Paul thought it necessary to reason about self-control (Acts 24:24–25). Self-control is an essential part of us working out our own salvation. Like an athlete developing self-control in the pursuit of a win, Christians develop self-control in the pursuit of our ultimate salvation (1 Cor. 9:25). We cannot take our sanctification seriously while dismissing the need for self-control, not even in the digital world.
Digital Control and Love of Neighbor
What is your lack of digital control doing to those you love? Do your kids feel unheard? Does your spouse feel neglected?
If I want to love my wife well, I need to control myself. If I want to serve her by making her a smoothie before she heads to school with the kids, I need enough control to put my phone down. If I want to love my son by playing football or a board game with him, I must have the self-discipline to close the app or computer. Our failure to develop self-control stifles our love for others. Our digital devices are not helping.
Our failure to develop self-control stifles our love for others.
We've all felt the sting of neglect as someone chose to pay attention to a device instead of us. Perhaps they didn't mean to hurt us. But we asked the same question multiple times and got no response—their face tilted down at a screen, lost in another world. We tried to move closer to them, but couldn't get their attention. We sought intimacy, but only got isolation.
May it not be so with you. Develop control as an act of love toward others. Exercise digital dominion as a display of affection toward those you cherish. Don't hand over control of your life to a digital device. Take control and love others well.
Editors' note:
This article is adapted from Digital Dominion by Jeff Mingee (10Publishing, August 2022).
In a season of sorrow? This FREE eBook will guide you in biblical lament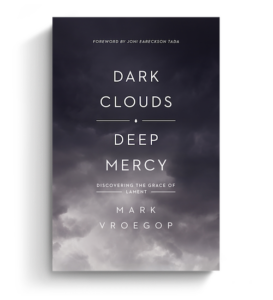 Lament is how we bring our sorrow to God—but it is a neglected dimension of the Christian life for many Christians today. We need to recover the practice of honest spiritual struggle that gives us permission to vocalize our pain and wrestle with our sorrow.
In Dark Clouds, Deep Mercy, pastor and TGC Council member Mark Vroegop explores how the Bible—through the psalms of lament and the book of Lamentations—gives voice to our pain. He invites readers to grieve, struggle, and tap into the rich reservoir of grace and mercy God offers in the darkest moments of our lives.
Click on the link below to get instant access to your FREE Dark Clouds, Deep Mercy eBook now!