Every year, the American Bible Society and Barna Group rank 100 of the nation's most Bible-minded cities—that is, how many people read the Bible at least once a week and who strongly believe the Bible is accurate. And every year, cities from the Bible Belt—Chattanooga or Birmingham or Knoxville—come in first, while cities from the coasts—San Francisco or Boston or Albany—come in last.
It's all fairly predictable, except for one city: Cedar Rapids, Iowa.
Cedar Rapids, the second-largest city in Iowa, has ranked in the bottom five for the past four years, and its percentage of Bible readers and believers keeps going down—from 17 percent in 2014 to 15 percent in 2015 to 13 percent in 2016. Barna measures by media market, so Cedar Rapids's numbers include nearby Waterloo, Dubuque, and Iowa City.
"You've got to be kidding me." That was pastor John Janke's reaction when his Cedar Rapids church included the stats when it called him two years ago. "I was surprised."
Janke took the call to Northbrook Baptist Church and has spent the last few years trying to figure out why the Cedar Rapids area is so apathetic about Scripture—and what he can do to change it.
He's not alone. While growth can be excruciatingly slow, some churches in TGC's Eastern Iowa regional chapter are finding ways to reach a surprisingly post-Christian culture in America's heartland.
Geography and Race
In a city of less than 130,000, such low rates of reading and believing the Bible perplex many observers. It defies the expected connection between religiousity and middle-class values. Cedar Rapids is known as a good place to live and grow up, as evidenced by two national accolades it earned in 2016: the best place to raise children, and one of the best affordable cities.
In terms of religion, Cedar Rapids looks more like a post-Christian coastal city than the outdated stereotype of Middle America. It has a high percentage of religious "nones"; nearly half (47 percent) of the adults in Linn County—where Cedar Rapids is located—identified as such in 2010. That's comparable to Manhattan's New York County (56 percent nones), Los Angeles County (47 percent nones), and Chicago's Cook County (40 percent nones).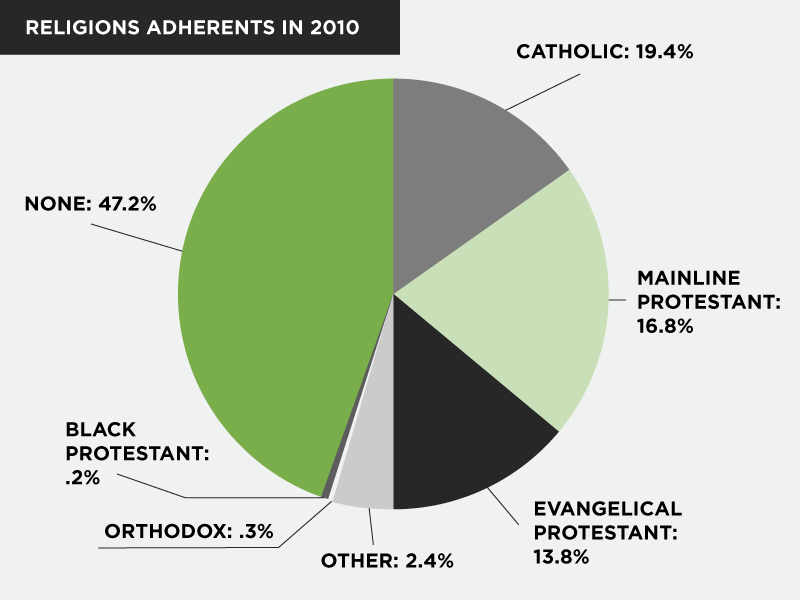 It turns out that religious nones are fairly common north of the Bible Belt. Four hours north, Minneapolis's Hennepin County reports 46 percent religiously unaffiliated. Two hours west, Des Moines's Polk County is even higher (55 percent). St. Louis (54 percent), Kansas City (47 percent), and Indianapolis (58 percent) follow the same pattern.
All of those cities, however, are more Bible-minded than Cedar Rapids. Indianapolis is No. 33 on Barna's list, followed by Kansas City at No. 34, St. Louis at No. 46, Minneapolis at No. 67, and Des Moines at No. 72.
In a sharp contrast with Cedar Rapids, Iowa in 2014 reported only 21 percent unaffiliated statewide; they tied with Kansas for the 19th-most religious state in the union, according to the Pew Research Center. That percentage falls right into the range of the American average, which is a little less than 20 percent. Iowa also fell in the middle of Gallup's 2015 survey on how many people both attend religious services and also consider religion important.
So what gives?
One possibility for the discrepancy is race. Midwestern cities tend to be white; so do religious "nones" (68 percent).
Nearly nine out of ten people living in Linn County (89 percent) are white, compared with 81 percent in Des Moines, 72 percent in Minneapolis, 57 percent in Indianapolis, 56 percent in Kansas City, and 43 percent in St. Louis. Though the correlation isn't perfect, the percentage of white people living in Midwestern cities lines up closely to where they fall on the list of Bible-minded cities.
Conversely, more African Americans live in more Bible-minded cities, which correlates with Pew's findings that African Americans are more likely to firmly believe in God (83 percent, compared to 61 percent of whites), say religion is very important to them (75 percent, compared to 49 percent), pray daily (73 percent, compared to 52 percent), and attend religious services at least once a week (47 percent, compared to 34 percent).
Technology and Education
Jake Each is another pastor who moved to Cedar Rapids based partly on the dismal statistics, eager to try to change things. He's been leading Veritas Church for three years, and has yet to land on a definitive reason for the area's lack of Bible engagement.
"One unique thing about Cedar Rapids is that it has some large influencers—including a Fortune 500 company—for such a small city," he said. Cedar Rapids is home to defense contractor Rockwell Collins, which employs 8,700 people, including many engineers.
"When you put that in a large city, other influencers dilute it; but for a smaller city, it could make a bigger impact," Each said.
There's also the University of Iowa with 30,000 students in nearby Iowa City. In 2016, Princeton Review ranked the school sixth on its list of top party schools, calculated by a dizzying metric that combines students' use of alcohol and drugs, the popularity of fraternities and sororities, and the amount of time they spend studying. It was the school's lowest ranking in three years.
"If I was to make a bold overestimate, I'd say maybe around 1,500 students are involved in a campus ministry," said Scott Gaskill, college pastor of local Parkview Church. A recent internal survey revealed close to half of Parkview's congregation reads the Bible consistently, which "I'd guess has to be way higher than those in college ministry."
Iowa City is also home to a sizable LGBTQ population. Iowa was the fourth state to legalize gay marriage, and the Human Rights Campaign ranks Iowa City a perfect 100 in friendliness to LGBTQ people. Seven years ago, one magazine that covers the homosexual community ranked Iowa City the third "gayest" in the country, based on factors such as the number of same-sex households and gay office holders.
Gay, lesbian, and bisexual people are less likely to identify as Christian (48 percent) than straight people (72 percent), and twice as likely to say they're unaffiliated (41 percent) than heterosexuals (22 percent), according to Pew.
These factors almost certainly raise the percent of religiously unaffiliated in Iowa City's Johnson County to close to 65 percent. The other counties around Cedar Rapids polled in at 46 percent (Waterloo) and 32 percent (Dubuque).
Mainline Collapse
Another possibility for the lack of Bible engagement is the collapsing legacy of mainline Christianity.
"There are a lot of mainline churches here, as opposed to the South, which is more Baptist," said Donovan Santamaria, who came to pastor Redeemer Church seven years ago. "Perhaps this is liberalized theology taken to its natural conclusion, when it has nothing to say to the culture and becomes irrelevant."
Indeed, a recent Canadian study found that growing churches had more theologically conservative pastors than dying ones. Similarly, Pew's national religious landscape survey found that from 2007 to 2014, mainline Protestants dropped from 18 percent to less than 15 percent of the american population.
Cedar Rapids has changed, too. From 2000 to 2010, the percentage of mainline Protestant adherents dropped from 20 percent to less than 17 percent.
Over the same time period, the share of mainline Protestants has dropped in other Midwest cities—falling 16 percent in Minneapolis, 15 percent in Des Moines, and 31 percent in St. Louis. Catholicism has followed a similar trend, dropping 17 percent in Minneapolis and 31 percent in St. Louis, though growing 8 percent in Des Moines.
Where are all these mainline Protestants going? Some leave to join evangelical churches, whose share rose modestly in each of those cities. But most simply drop religion altogether. Religious nones rose 48 percent in the Minneapolis area, 41 percent in the Des Moines area, and an astounding 80 percent in St. Louis.
Both Each and Steve Benton, who has led Faith Bible Church for 21 years, estimate only about 5 percent of people in the Cedar Rapids area attend church. While many may consider themselves religious, Janke said "religion is an add-on, not at the core of their life. . . . They have Bibles but they don't read them, and they'd question the authority of it."
Whatever the reason, Christianity is no longer part of the dominant culture.
"Going to church is not part of the DNA of people's lives," Benton said. "It's pretty common to have someone say they've never been to a church before. We're serving in a post-Christian area, and people are not going to church because mom and dad or grandpa and grandma did. Chances are, they didn't."
How to Fix It
Pastors in Cedar Rapids have tried just about everything to reach the city.
Faith Bible Church offered the community a course on the basics of Christianity—how to know the Bible is true, who Jesus is, how to be right with God. Over several years, about 100 people came with congregants to take the course.
The church also offered a class on how to present the gospel, and deacons have started sharing the gospel explicitly with community members who ask for financial assistance. Recently, the church even brought in a consultant to help make evangelism a bigger part of its ministry.
"We aren't seeing Acts 2 kind of numbers . . . but we're definitely seeking the Lord for that," Benton said. "We're putting a renewed emphasis on spending more time seeking the Lord in prayer."
In the church's prayer room, a mural on the wall includes the names of unsaved people whom congregants know personally. When one comes to Christ, church members mark a cross over their name.
"It's not like we aren't seeing anyone come to Christ," Benton said. "But looking at the size of the city and the results, there's room for us to have a greater impact than we are."
At Northbrook, Janke has been working to ground his congregation in Scripture, hoping to both strengthen their love for Jesus and the gospel, and to see that love affect their non-church relationships. Working with female leaders, Northbrook now centers its women's ministries around sound theological Bible studies. There's also been a renewed emphasis on men's Bible studies.
"The next step is how we get them to connect . . . and share the gospel with others," Janke said. "How do we leverage the relationships and bridges already established in our neighborhoods and at work?"
Because many friendships church members build are with each other, the first step is to get Christians to see people regularly outside their comfortable social circles.
"I used to teach apologetics, and I thought maybe that was the way to go," Janke said in reference to evangelism. But now "I keep coming back to Jesus's statement, 'By this all men will know that you are my disciples, if you have love for one another.'"
Evangelizing Cedar Rapids must start with revival in the church, producing a love for Jesus and the gospel that flows naturally to the community, he said.
Even when Christians attempt them, gospel conversations with nonbelievers in Cedar Rapids often feel fruitless.
Santamaria said you can't ask people if they know about Jesus, since everyone says they do. So he asks different questions: "'How are you pursuing Jesus?' or 'Do you desire to grow with other believers?' Then I invite them to community and friendship."
While those conversations yield what sounds like fruit—"Oh, yeah, I should go to church and read my Bible more"—it rarely translates into action, he said. It's a slow process—the most recent convert at his church became a believer after friends prayed for her for 17 years. So it's easy to get discouraged.
"We're learning to trudge through ministry for decades," Santamaria said. "It's going to be a joy, and it's going to be discouraging, and it's probably not going to be the thing TGC is going write articles about. It's going to be you, in Iowa, being faithful and seeing some people come to Jesus and burying some people. It's how 99 percent of the church has lived."
Unexpected Growth
Even though inching along makes it hard to see, there has been growth in the church in Cedar Rapids.
A solid 100 congregants gather at Janke's church each Sunday. In seven years, Santamaria's church has expanded from 30 worshipers to 320 on two campuses. Benton's church has grown from 450 to close to 600 over the past two decades.
In Iowa City, the last 10 years have seen two big evangelical churches expand into eight or nine. While the percentage of self-identified Catholics and mainline Protestants dropped from 2000 to 2010, the number of evangelical Protestants actually rose 42 percent (from 20,622 to 29,184).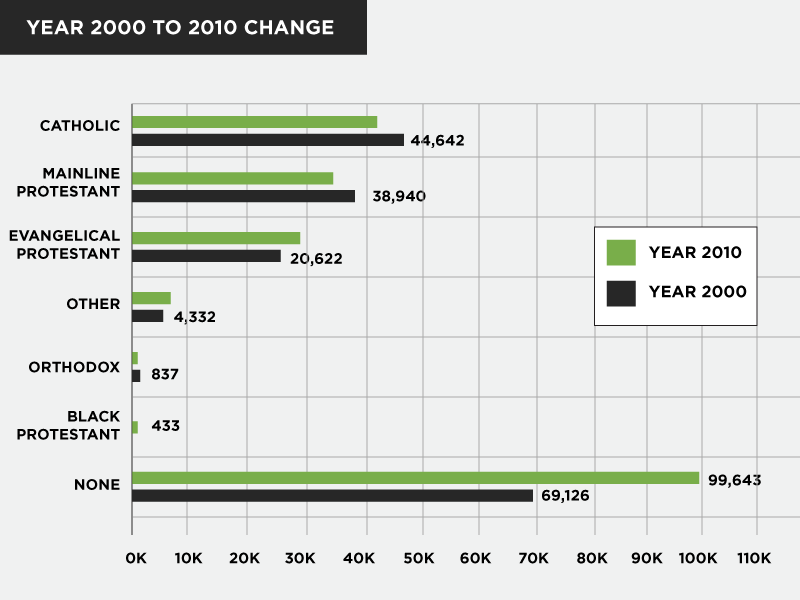 The Cedar Rapids area might not rise from the bottom of Barna's Bible-reading list for some time. But its pastors are making a difference—and they aren't giving up on revival.
"We want more than trying to get Middle America people—who already feel like they have their lives together—to check another box of Bible reading," Each said. "The deeper problem is establishing a real joy in Jesus. I want people to read their Bible because they're in love with God."
After doing his own digging into Cedar Rapids's lack of Bible engagement, Each suggested the solution is easier than it seems.
"Maybe it's not that complicated," he said. "Love people, teach the Bible, and keep talking to your neighbors. Keep plowing."