Get outside. Take walks. Smell the roses. Consider the lilies. 
This is good advice any time, but especially in the COVID-19 quarantine, when most families are a little anxious and stir-crazy. God's creation provides a readymade source of peace, comfort, and wisdom if we only turn off our devices long enough to avail ourselves of it. "The heavens declare the glory of God, and the sky above proclaims his handiwork," David writes in Psalm 19. God's creation is speaking to us about him. Are we listening?
This is the theme of All Creatures, the new children's folk album from Nashville collective Rain for Roots (Sandra McCracken, Flo Paris Oakes, Katy Bowser Hutson, and Alice Smith). In 2012, Rain for Roots delighted parents and kids alike with their debut album, Big Stories for Little Ones, created in partnership with Sally Lloyd-Jones. They followed this up in 2014 with an album inspired by Jesus's parables (The Kingdom of Heaven Is Like This), and in 2016 with an Advent album (Waiting Songs). Each collection is full of delightful, singable melodies with kid-friendly lyrics that impart profound biblical truths. 
All Creatures is another triumph for Rain for Roots, and it couldn't come at a better time. This is the album quarantined kids need right now. It's the album we all need.
In the Q&A below, Sandra McCracken, Katy Bowser Hutson, and Flo Oaks share about the making of the album, its key themes, and how families can apply the album's lessons to everyday life. We are also happy to share an exclusive video performance of one of the album's songs, "Wisdom and Grace," performed below by Sandra McCracken.
---
How did the idea for this album come about? What did the writing and production process look like?
Sandra McCracken: We had all taken a break from the Rain for Roots project at the end of 2016 and were busy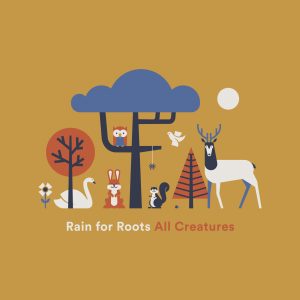 with separate things for a while. In summer 2018, we gathered regularly to see if we might be able to put together a few inspired songs around the poetry of the Psalms. As we began collecting these notes, the creation themes kept coming up for us as in Psalm 90, Psalm 104, and even the examples of birds throughout Scripture. We all share a love for being outside with our families, so this was an enjoyable way to make something new together.
Katy Bowser Hutson: We've considered writing in light of the Psalms before, but I think all of our own stories led us to them, this time. These songs were born out of community, and I treasure that. Some come from decades-long conversations.
How would you articulate the theme or inspiration that ties together all the album's songs?
KBH: There are two themes playing together, kind of like they do in the Psalms. First, the emotional breadth of the Psalms, which is so liberating: allowing us to rejoice, mourn, sit in uncertainty, face our anger, all before God's face. Second, as the writers of the Psalms do, we considered who God is in light of his creation: the stars, foxes, sparrows. As Flo Oakes sings, "They all sing, they all, lift their voice to the King." 
SM: Creation calls us to see God's beauty: the sunrise and the landscape, even the tiny insects in the smallest section of the garden. It all calls us to see and experience who God is and how attentive he is to us and to all he has made. Part of that also reminds us how small we are in the big picture of ecosystems and galaxies.
Creation calls us to see God's beauty: the sunrise and the landscape, even the tiny insects in the smallest section of the garden.
How do you hope families and listeners interact with this music?
Flo Paris Oakes: I hope these songs help to awaken wonder in light of God's presence in the created world—to know God is near to us in our humanity and in our creatureliness. 
SM: I'd hope these songs would bring people up close to see and wonder at these mysteries, to experience the invitation of God through this world he has made and to help us find our own special place in it. Lately, there's great consolation in bare feet on spring grass, a hearty wave from the neighbors and a simple melody to carry us through the low points of the day. We hope these songs would be uplifting for parents, friends, and kids alike during the coming days and months of uncertainty.
In this digital world, where so much of life is mediated through screens (never more so than during COVID-19 quarantine), an album like this is timely. Listen to the birds. Look at the stars. Notice how God communicates to us through his creation! Any tips for how we can prioritize this in our families, even under "stay home" orders?
FPO: If you can get outside, do! Stand on the grass in your bare feet. Open a window and feel the breeze or the sunshine. I like to ask questions that give space for kids to hear from God and communicate what they are thinking and feeling: "Listen to the birds. I wonder how they learned their songs? I wonder who taught the birds to sing? I wonder if there is a time when you like to sing?" Kids are kids, but they are also human beings experiencing life just like us and capable of making connections and hearing from God—and even teaching us what they discover! I wonder what our kids could teach us in this time of quarantine?
KBH: I'm really thankful to have some woods and trees where we can have a picnic or hang up a hammock, but I also saw Flo do a wonderful project with some of our children, where she laid an empty picture frame on the ground, gave children a magnifying glass, and had them lay on their tummies and just pay attention to one square foot of earth. Their wonder was . . . wonderful. A beautiful grace that's happening in this midst of this sorrow and upheaval is that we are being forced to slow down. I keep coming back to the thought that I need to be gentle with my family, and look at their eyes and really listen, even if we don't get some things done. God speaks through his creation, through his people who bear his image. What unexpected fruit could this waiting time bear?