We experience the story of Jesus's birth in a variety of ways throughout the Christmas season. The story is presented through nativity scenes, TV shows, story books, paintings, and Christmas pageants.
In fact, we encounter the Christmas story so often we're convinced we know all the details of what happened that night. But many of the things we think we "know" about the Christmas story turn out to be incorrect.
Here are five common misconceptions.
1. There Was a Star the Night Jesus Was Born
It's difficult to find a nativity scene (or Christmas play) without a star over the manger. Indeed, this might be the quintessential symbol of the birth of Jesus.
The problem is there's no indication the star hovered over the manger on the night Jesus was born. On the contrary, when the angels announced the birth of Jesus to the shepherds watching their flocks by night (Luke 2:8–11), they weren't told to look for a star. They were told to look for something else: "And this will be a sign for you: you will find a baby wrapped in swaddling cloths and lying in a manger" (Luke 2:12).
The star was given not to the shepherds but to the Magi (Matt. 2:2), who appear to be visiting Jesus at a later time period. How much later is unclear, but the fact that Herod commands all the babies in the region younger than 2 years old to be killed suggests Jesus may have been in Bethlehem for some time.
2. There Were Three Wise Men
Speaking of the wise men, in both art and in song ("We Three Kings") we get the undeniable impression there were three of them (also called "Magi"). The problem, however, is that this number is found nowhere in the biblical accounts.
Matthew simply tells us, "Now after Jesus was born in Bethlehem of Judea in the days of Herod the king, behold, wise men from the east came to Jerusalem" (Matt. 2:1).
The idea of three wise men likely came from the fact that Matthew mentions three gifts: gold, frankincense, and myrrh (Matt. 2:11).
3. There Was No Room for Them in the Inn
Another staple of modern nativity plays is the scene at the inn. Joseph and his wife, Mary—who is on the verge of giving birth—are cruelly turned away by the innkeeper who shows them no compassion.
Here is another popular misconception. The Bible never mentions an innkeeper. In fact, it's possible there was never even an "inn" at all.
A recent study by Stephen Carlson makes the case (a compelling one, I think) that the Greek word normally translated as "inn" (καταλύματι) in Luke 2:7 is best translated as "place to stay." So the passage isn't saying there was no room in the inn, but rather there was no room for baby Jesus in the place they stayed. In what place were they staying? Carlson argues it was probably in the home of Joseph's family in Bethlehem, perhaps in an adjacent guest room (which would have been small).
4. Jesus Was Born in a Barn or Stable
Since Joseph could find no spot in the inn, the reasoning goes, he must have been forced to stay in the stable. Indeed, every nativity scene ever created places Jesus in a barn of sorts.
But the text doesn't say he was born in a barn. It only says Mary "laid in him in a manger" (Luke 2:7). Although that might seem to suggest a barn, it was common for mangers to be kept in the main room of village houses during this time period. Why? Because the animals were often housed just a few feet away in an adjacent room.
It seems likely, then, that Mary gave birth to Jesus while they were staying at the home of Joseph's relatives in Bethlehem. But the room in which they stayed—likely a tight guest room or hastily added chamber—couldn't accommodate a birth. So, Mary had to give birth in the larger family room and lay Jesus in the nearby manger.
5. Jesus Was Born on December 25
If we celebrate Jesus's birthday on December 25, it's logical to think this was the day on which he was born. But the precise date of Jesus's birth is uncertain. A variety of options have been suggested throughout church history, including March 21, April 15, and May 20.
So how did December 25 become the date? It's commonly thought Christians took over the pagan holiday of Sol Invictus ("Unconquered Son"), which was on December 25. But there's little evidence to back this up.
Instead it seems early Christians may have reasoned from the supposed date of Mary's conception, which was thought to be March 25—the same day Jesus was thought to be crucified. Fast forward nine months and you land on December 25 for his birth.
Real Christmas Story
These five misconceptions remind us that sometimes our picture of scriptural stories is shaped more by popular perceptions and modern retellings than by the text itself. But when we take a closer look at the biblical clues, a wonderful—and hopefully more accurate—picture emerges of what happened that night nearly 2,000 years ago.
And what happened that night still stands as one of the most monumental events in human history. God became a man and entered our dark, cold world to redeem a sinful people.
And that is a story that makes Christmas worthy of being "Merry."
Get a FREE eBook to strengthen your family discipleship!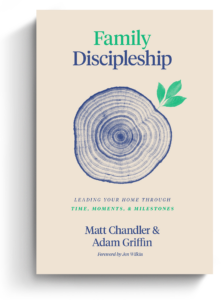 The back-to-school season is stressful for moms and dads. New rhythms of school, sports, and other extracurricular activities can quickly fill up a family's already busy calendar. Where do busy parents look for resources on discipling their family well? Aside from prioritizing church, what else can Christian parents do to instill healthy spiritual habits in their household?
Matt Chandler and Adam Griffin cover these questions and more in Family Discipleship: Leading Your Home through Time, Moments, and Milestones. And we're excited to offer this book to you for FREE as an eBook today.
Click on the link below to get instant access to your FREE Family Discipleship eBook now!