This summer, my husband was preaching in Chattanooga and our family decided to make a weekend of it and join him. While there, I unexpectedly got to meet Cynthia Heald, who was providentially in town the same weekend visiting family. Unbeknownst to her, Cynthia has mentored me and encouraged me for many years through her study guides.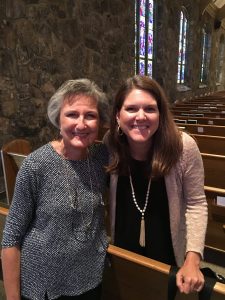 During my first three months of marriage, I worked through her study Loving Your Husband. I've used her study Becoming a Woman of Grace multiple times to disciple other women or in Bible studies. And if you're feeling like life has become too complicated and your to-do list much too long, I highly recommend Becoming a Woman of Simplicity as a way to reflect upon what truly matters. She's written multiple studies on a variety of biblical topics, that are accessible to women who may never have studied the Bible, but also in-depth and thoughtful for women who have walked with the Lord for years.  I'm thankful for her faithfulness to encourage women in the Word, and I asked her if she'd be willing to write a guest post at Wit's End. Her insights are a helpful reminder to enjoy moments of stillness and biblical meditation in this busy season.
The following article is a guest post from Cynthia Heald.
---

Imagine this fictional, yet convicting, email entered your inbox:
A woman driver was in an exceptional hurry and was tailgating the car in front of her. The car she was following could have proceeded through the yellow light, but stopped at the crosswalk. The woman, extremely frustrated, repeatedly honked her horn, waved her hands, and screamed in frustration. A policeman, who was in the car behind her, observed her antics, got out of his car, tapped on her window, and asked her to follow him to the police station where she photographed and fingerprinted. After checking her credentials, the policeman apologized for his mistake by saying, "When I pulled up behind your car and observed your behavior, I noticed your 'What Would Jesus Do' bumper sticker, the 'Choose Life' license plate holder, the 'Follow Me to Sunday School' bumper sticker, and the chrome-plated Christian fish symbol on the trunk, so naturally I assumed you had stolen the car."
Of course I smiled at this scenario, but I also cringed at the truth this story was meant to communicate. Certainly, we never know who might be observing us. Recently I was interacting with an employee at a drugstore. While doing so, I noticed a woman waiting nearby. I thought she wanted to ask a question of the person I was talking to, but instead she approached me and asked, "Are you Cynthia Heald? I'm doing one of your studies." After visiting with her, I  prayed, "Oh, thank you, Lord, that I was nice to the clerk!" Our interactions with others can speak volumes about what we truly believe.
Growing in Christlikeness
At the beginning of each new year I choose a verse of Scripture to pray over and meditate on every day for the next 12 months. My purpose is to ask God to weave this truth into the fabric of my life. I can testify to the sharpness of the Word in discerning the thoughts and intentions of my heart. I could write a spiritual history of my life by reviewing the passages of Scripture I've reflected on for more than 25 years. The majority of verses seem to all address the tongue! My husband is especially pleased when he knows I'm praying verses like: "Let everything you say be good and helpful, so that your words will be an encouragement to those who hear them" (Ephesians 4:29 NLT). Although I never fully master these verses, the Lord assures me that they are now dwelling in my heart and can be used to teach, rebuke, correct, and train me in righteousness.
This year my verse is, "Those who say they live in God should live their lives as Jesus did" (1 John 2:6 NLT). I'm challenged by the profound simplicity of this verse. There's no need to spend hours of study in trying to understand what this verse is saying. Daily as I pray for the Lord to mold me into his image, I am becoming more mindful of responding as Christ would respond. I realize that I must intentionally choose to exemplify the fruit of the Sprit in my home, in the marketplace, church, and neighborhood. I consider—does my life refresh and encourage others? As Charles Spurgeon wrote, "Give everyone a drink of water."
Setting My Heart
Reflecting on a specific verse for a period of time is one way for me to set my heart to obey scripture. Since it is uppermost in my mind, I'm more purposeful throughout the day. Did the cashier at the grocery store experience kindness from me? At the restaurant, was the server aware of my gentle and quiet spirit? At the wedding could others discern a joy and peace in my spirit? In my conversation with my husband did I speak with gentleness and self-control? If I am in a hurry and have to wait at a red light, am I patient?
I remember someone saying, "Since God is our father and we are his children, he would like for us to have a strong family resemblance to him." As a young disciple, my mentor gave me this challenge in living the Christian life: "Within 15 minutes of someone meeting you, they should sense that there is something different about you." Of course the difference is Christ living in us and our choice to treasure his Word in our hearts. By the power of the Spirit, the more the Word dwells in us, the more we will live in a way that reflects God's character.
We join with the Psalmist in this hope and pursuit: "Your word I have treasured in my heart, that I may not sin against you" (Psalm 119:11 NASB).
---
Cynthia Heald is the author of the Becoming a Woman series of Bible studies. She and her husband, Jack, are full-time staff with The Navigators in Tucson, Arizona.