I always like to know a little something about an author before I sit down and open up his or her book. Today, I interview Chris and Elizabeth McKinney about their new book, Placed for a Purpose. Their book offers a theologically rich framework for neighboring that helps people live missionally where God has placed them. It just released this month, so make sure to get your copy!
---
Can you tell us a little bit about yourselves?
Chris grew up in Budapest, Hungary, and came back to the United States to attend Kansas State University. After graduating, he joined staff with Cru to do campus ministry at the University of Missouri. While directing the ministry, he earned his MDiv from Covenant Theological Seminary. In his spare time, he also enjoys his Chemex, cooking, and watching football.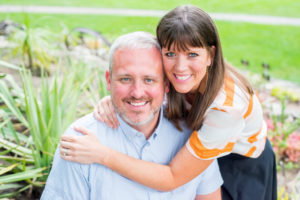 I (Elizabeth) graduated from Miami University, where I studied comparative religion. I'm a mom to four little girls, and my world revolves around lovies, princess dresses, and wiping little hands. I'm that loud-yelling soccer mom who loves to bring artistry into motherhood through making birthday cakes and coordinating Disney Halloween costumes. 
And maybe this is obvious, but we both really love our neighbors. It looks different for both of us because we're wired very differently, but our neighbors are some of God's best gifts to us.
When did you first start writing? What do you enjoy about it?
I (Elizabeth) needed a creative outlet when our girls were babies, so I started blogging about five or six years ago while Chris was writing academic papers for seminary. About three years ago, we started writing together in a small, windowless room in the back of our church. It was there that we spent countless hours hashing out this book.
We both really enjoy the research part of writing and the chance to stop and refine what we think and believe. We're passionate about equipping and discipling believers, so we love that writing gives us the chance to do that in a broad way.
Is writing ever difficult for you? How so?
Clearly marriage and parenting four young children didn't have enough challenges, so as gluttons for punishment we decided to write a book together. Yes, it's difficult. Getting feedback from an editor can be hard enough, but then imagine that editor is your spouse! It adds a whole other dimension to the writing process, but it's also a lot of fun and worth all the "lively discussions."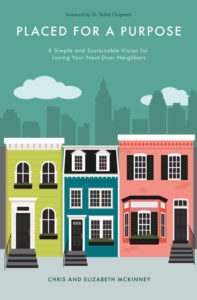 What led you to write Placed for a Purpose? 
We spent 17 years doing campus ministry, which we now affectionately call "the microwave." In that context, we had four years with our students, and life change happened fast. Meanwhile, God began to do some really special things in our neighborhood, and we found it difficult to translate what we'd learned from the campus ministry into our world of neighboring, which felt more like a crock pot––low and slow.
We wondered: How should we respond when we see brokenness and isolation in our neighborhood? Are certain topics and activities more spiritual than others? What's the difference between having ultimate motives and ulterior motives with our neighbors? We were used to talking to college students where topics of faith and Jesus typically came up much quicker, but these neighbors were our adult peers, and we wrestled with the fact that relationships just moved slower. 
Through Chris's time in seminary, we realized we needed to broaden our view of what counted as redemptive work and what it meant to have gospel-motivated conversations with our neighbors. So initially we wrote it to ourselves as everything we wish we'd known eight years ago.
We chose a format that could be easily used and discussed in a small-group setting with hope that it will encourage other believers with purpose, patience, and great expectancy, knowing that God is at work through small, mustard-sized interactions. 
What's the central message you hope readers will take away from your book?
It's hard to love your neighbors if you don't know your neighbors. We feel the disconnect between wanting our neighbors to know Jesus but not knowing their names. This book helps bridge that gap by providing a sustainable vision for the "low and slow" lifestyle of neighboring, and it offers practical steps for building meaningful, gospel-motivated relationships with our fellow image bearers next door. 
How has writing this book affected your own life?
Writing this book has helped us grow in humility to receive from God through our neighbors. It has boosted our patience with them, knowing that God works over time. It has emboldened us to take risks in conversations that match the spiritual pace with which they're moving, and it has sparked creativity for both of us to live out our unique personalities in ways that reflect God in our neighborhood.
But probably the biggest impact the book has made on both of us has been the surety it has developed in us that God is at work in our neighbors' lives, he cares about each step in their journey, and we are free to enjoy the process with them.
For a sneak peek, here are some quotes:
"When we reduce the parable of the Good Samaritan to an example story, we remove the heartbeat of what it means to prove to be a neighbor. In order to become a neighbor to those around us, we need a heart change that only comes from embracing and experiencing the gospel. We show mercy because we have been shown mercy. We love because he first loved us—not from a place of vain superiority but of humble gratitude and responsibility. The power to love our neighbors isn't found in the command to do so, but instead it is found in Jesus."
"When we forget that our neighbors are glorious ruins, it is easy to do one of three things: When we see only glory, we envy them. When we see only ruin, we judge them. When we don't see them at all, we ignore them. Jesus saw his neighbors as they truly were, made in the image of God, yet broken because of the fall. . . . Across that fence, your neighbor carries with him both that glory and ruin—a glory which motivates our respect and a ruin which motivates our compassion."
"So, just as there are times to speak directly, there are also times when we are called to engage in conversations where the gospel sleeps quietly in how you handle your anxiety, experience grief, talk about the ups and downs of the stock market, or walk through seasons of singleness, infertility, and parenting. Don't be troubled when all is not said, and seeds lie dormant and underdeveloped. In that dissonance, pray! Pray knowing that God is at work and that "the Kingdom of God is like a mustard seed."
Here are some endorsements: 
"If you've ever had the desire to see God work in and through you right where he has you, then Placed for a Purpose is the perfect practical and heart-engaging guide."
David Robbins, President and CEO of FamilyLife
"When you read Placed for a Purpose, you will find yourself wanting to create margin in your life so you can be more present with the people who live right outside your front door."
Dave Runyon, Co-author of Art of Neighboring
"This book could radically change the way we view and engage our neighbors."
Courtney Doctor, Coordinator of Women's Initiatives, The Gospel Coalition, Author of From Garden to Glory: A Bible Study on the Bible's Story
If you had an afternoon to do whatever you'd like, where would we find you?
If we weren't also with our neighbors, we'd at least be doing something outside with our kids. We love admiring the trees we planted five years ago, hanging at the pool, and doing s'mores and steaks over our little, portable fire pit.
---
Chris (MDiv, Covenant Seminary) and Elizabeth McKinney live in Columbia, Missouri, with their four daughters and a Pomeranian. They work for Cru City and serve as associate staff at their church, The Crossing. They write, speak, and are passionate about helping people love their next-door neighbors. You can find them at Placedforapurpose.com.