"It doesn't always get better."
"Sometimes things don't improve."
"We aren't living our best life now."
It's hard to say such sentences, for we're accustomed to a positive-thinking approach to life. Small wonder why—we're living in a time when much does go right. We have great health care. The world isn't currently embroiled in global war. Since the Industrial Revolution, life expectancy has doubled in many countries.
But even with these genuinely positive developments, we haven't figured out a way to end suffering. Death looms over us all, try as we might to end its reign. So do sickness, financial challenges, and the trials of aging. For all the positive thinking around us, there sure is a lot of hardship and pain.
Grappling with Limitations
All of the above is true for me (and you) as a human being. But I feel these things keenly as a father, too. In that sense, I'm not unlike a man who wrote to his child more than 260 years ago. Jonathan Edwards was concerned with Esther, his daughter. A young mother living far from her childhood family, Esther had fallen quite sick in 1753. Her famous father wrote to encourage her:
Though you are a great way off from us, yet you are not out of our minds: I am full of concern for you, often think of you, and often pray for you. Though you are at so great a distance from us, and from all your relations, yet this is a comfort to us, that the same God that is here, is also at Onohquaga; and that though you are out of our sight and out of our reach, you are always in God's hands, who is infinitely gracious; and we can go to him, and commit you to his care and mercy.
What a surprising letter. Jonathan Edwards had a high view of God. He is the man who literally wrote a "dissertation" mapping out "the end for which God created the world." Beyond his soaring theology proper, Edwards was a man of action. He didn't just pray for revival; he preached for it, refusing to accept spiritual defeat. The life story of Jonathan Edwards is a ceaseless whirl of ministry, discipline, and commitment. He was no perfect man, but he was an active man, to be sure.
For all the positive thinking around us, there sure is a lot of hardship and pain.
Yet we see in this touching letter from father to daughter that Edwards knew his limitations. He was "full of concern" for Esther, for she was out of "sight" and out of "reach." In human terms, he could do nothing to help her. Though he prayed hard, he was powerless. The truth of the matter is that Esther had less than five years to live, and so did Jonathan. Edwards already knew what he would soon experience: he couldn't carry his daughter into eternity. He couldn't shepherd any of his family members across the river Jordan.
This work was out of his hands.
Right Where He Wants Us
Whether we want to admit it or not, we're all where Esther was. There is no pill that can cure our terminal condition, and no parent who can guarantee our well-being. Though this sounds foreboding, we're in truth right where God wants us to be. Like Esther, we who are in Christ are "always in God's hands." No one can snatch us from the Father (John 10:27). Nothing can happen to us that will derail the will of God for our lives (Rom. 8:31–39). Life is uncertain, and we don't know how long we have on this earth (James 4:13–17). Yet even though we could not possess any less certainty about our earthly future, we cannot possess any more certainty about our heavenly home (1 John 5:13–15).
How encouraging this is for us all. The father or mother who feels so weary in this life will enjoy total rest in the age that awaits. The child battling loneliness will rise to join their true family, the family of God, in eternity to come. The pastor struggling to shepherd an unruly flock will walk into a perfected realm where there is no hostility of any kind. In Adam, things do not get better. But in Christ, the future is impossibly bright.
In Adam, things do not get better. But in Christ, the future is impossibly bright.
This hope is anything but vague and general. It's specific and personal. It's cosmological and Christological. We have a lasting home, the new heavens and new earth, a work of new creation already begun in Christ (Heb. 12:18–29). There is a chain, an invincible ladder, of divine providence that stretches from the beginning of history to the end, and none can knock us off it. Our salvation began in the Father's will, was secured by the Son's death, and has taken hold in us through the Spirit's indwelling presence (Eph. 1:15–20). What emerges from divine foreknowledge, predestination, and election will conclude in future triumph, praise, and exaltation. You could say it this way: in the crucified and resurrected Son of God, hope is so grounded that it's barely hope anymore.
In Safe Hands
All this is because the Christian is never lost. We're never abandoned. We're always God's; God is always ours. The work of Christ isn't incomplete; it is finished (John 19:30). It couldn't be more accomplished than it is. How heartening this is for us as we face death. Soon, we will cross the river Jordan, as Jonathan and Esther Edwards did before us. We stand now on the stormy banks of the river, but we see the other side.
Until we go there, we face great trials and considerable challenges. Things may not improve here in earthly terms. Hardship may bedevil us. But we don't lose heart. We will make it to the New Canaan. God will not abandon us. This is our hope, hope grounded in the eternal plan and accomplished work of Christ: come what may, we're always in God's hands.
Get a FREE eBook to strengthen your family discipleship!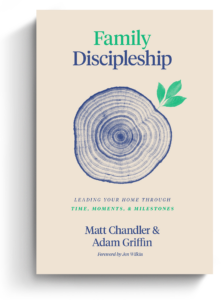 The back-to-school season is stressful for moms and dads. New rhythms of school, sports, and other extracurricular activities can quickly fill up a family's already busy calendar. Where do busy parents look for resources on discipling their family well? Aside from prioritizing church, what else can Christian parents do to instill healthy spiritual habits in their household?
Matt Chandler and Adam Griffin cover these questions and more in Family Discipleship: Leading Your Home through Time, Moments, and Milestones. And we're excited to offer this book to you for FREE as an eBook today.
Click on the link below to get instant access to your FREE Family Discipleship eBook now!