G. K. Chesterton is widely credited with saying, "Jesus promised his disciples three things: that they would be completely fearless, absurdly happy, and in constant trouble." It might be argued that most Western Christians don't exemplify any of these three—least of all "absurdly happy."
In today's world, Christianity is perceived to be about tradition and morality, not happiness. I've taught college courses on biblical ethics, and I make no apologies for defending morality. Certainly Christians are often unpopular or maligned for professing Christ and standing for biblical truth.
But there are valid reasons why unbelievers fear that becoming a Christian will result in unhappiness. They've known—as many of us churchgoers have also known—professing Christians who seemingly go out of their way to exude misery, not gladness.
Are We Chronically Unhappy?
I've seen Bible-believing, Christ-centered people post thoughts on a blog or on social media only to receive a string of hypercritical responses from people who wield Scripture verses like pickaxes, swiftly condemning viewpoints they consider suspicious. Responders assume the worst, not giving the benefit of the doubt, engaging in shotgun-style character assassination instead. If I were an unbeliever reading such responses, I certainly wouldn't be drawn to the Christian faith.
Other believers focus on negative news and political issues to the point the good news doesn't even factor into their thoughts or conversations. I see too many long-faced Christians who seem continuously angry, disillusioned, and defensive over politics and the infringement of their rights.
Many non-Christians view Jesus's followers as "hypocritical," "insensitive," and "judgmental." These words all describe unhappy people. (If the world judges us, so be it, but it shouldn't be because we're chronically unhappy.)
This isn't the whole story, of course. Nearly every community includes people with quiet confidence in Christ who are extraordinarily loving, kind, helpful, and cheerful. Unfortunately, many unbelievers see them as the rare exception. How tragic, since happiness in Christ is one of our most powerful evangelistic tools.
Happiness in Christ is one of our most powerful evangelistic tools.
Happy-Making Gospel
Consider Isaiah 52:7: "How beautiful upon the mountains are the feet of him who brings good news, who publishes peace, who brings good news of happiness, who publishes salvation . . . who says to Zion, 'Your God reigns.'" Two of the most literal translations—the NASB and the ESV—render the Hebrew as "good news of happiness." The immediate context of Isaiah 52–53 is about the Messiah, and this good news of happiness is exactly the same "good news of great joy" the angel announced to the shepherds after Jesus's birth (Luke 2:10).
Truth is, the good news should leak into every aspect of our lives, even if we're not consciously talking about God or witnessing to someone. Every time we ponder the gospel, live by it, share it, and anticipate its culmination in a world without sin and death, "good news of happiness" will permeate our lives with, well, happiness.
That's exactly what happened when Paul and Barnabas took the gospel to the Gentiles. Paul said, "We bring you the good news [glad tidings (KJV)]. . . . And when the Gentiles heard this, they began rejoicing [the Gentiles were very happy to hear this (CJB)]. . . . The disciples were filled with joy and with the Holy Spirit [The disciples were overflowing with happiness (CEB)]" (Acts 13:32, 48, 52).
God proved his boundless love when he sent his only Son to die in our place so those who believe in him can have everlasting life (John 3:16). God is for us, and not even death can separate us from his love (Rom. 8:31–39). If we really believe these truths, we can't help but experience deep happiness.
Now, does this mean we won't struggle with life's difficulties or have to pretend they don't exist, especially in front of unbelievers? Of course not. The biblical call to rejoice in the Lord always (Phil. 4:4) isn't about pasting on a false smile in times of heartache. It's about discovering a reasonable, attainable, and delightful happiness in Christ that transcends difficult circumstances. In fact, our choice to cling to, trust, and rejoice in him during trials (Hab. 3:17–18) testifies to the gospel's extraordinary power.
Our Opportunity
Do we really believe God loves for his children to be glad? If so, how do our daily lives, our families, and our churches reflect that truth for all to see?
J. C. Ryle's words are as true today as when he wrote them in the 1800s:
It is a positive misfortune to Christianity when a Christian cannot smile. A merry heart, and a readiness to take part in all innocent mirth, are gifts of inestimable value. They go far to soften prejudices, to take stumbling blocks out of the way, and to make way for Christ and the gospel.
Imagine if God's people stood out in stores, workplaces, schools, and even on social media for all the right reasons. What if, while not apologizing for biblical truth, we let our "reasonableness be known to everyone" (Phil. 4:5) and, "as God's chosen people, holy and dearly loved," we clothed ourselves "with compassion, kindness, humility, gentleness, and patience" (Col. 3:12)? People are attracted to Jesus when they see his attributes in others' lives. When they observe them, they will notice and want to know the source of those qualities.
Happiness in Our Churches
One of the church's great challenges is to reintroduce and cultivate the spirit of happiness that should characterize God's people. We have national holidays, certainly, but when appropriate, believers can integrate into them more biblical and Christ-centered aspects. For instance, the observances of Christ's birth and resurrection have been commandeered by our culture and distanced from their biblical meanings. Rather than abandon these holidays, we can infuse them with their biblical significance.
We can also celebrate other "holy and happy days" that our culture doesn't recognize and therefore won't distort. Many nondenominational evangelical churches, my own included, don't have the benefit of longstanding church tradition. Perhaps we could reestablish distinctly Christian observances such as All Saints' Day, Ascension Day, Epiphany, or Pentecost, or celebrate modified versions of Passover and Yom Kippur.
What if the church was known as the place that celebrates more than the world, rather than less?
Theologian Robert Hotchkins wrote:
Christians ought to be celebrating constantly. We ought to be preoccupied with parties, banquets, feasts, and merriment. We ought to give ourselves over to celebrations of joy because we have been liberated from the fear of life and the fear of death. We ought to attract people to the church quite literally by the sheer pleasure there is in being a Christian.
What if the church was known as the place that celebrates more than the world, rather than less? The ultimate payoff would be reestablishing Jesus followers as profoundly happy people, quick to celebrate God's own happiness and grace.
If the church did more of this kind of celebrating, and if God's people as individuals demonstrated what it looks like to cheerfully love God and their neighbors, surely fewer unbelievers would fall for the enemy's deadly lie—that they must find happiness somewhere other than in Jesus. 
In a season of sorrow? This FREE eBook will guide you in biblical lament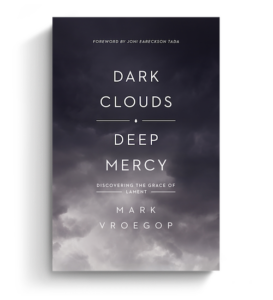 Lament is how we bring our sorrow to God—but it is a neglected dimension of the Christian life for many Christians today. We need to recover the practice of honest spiritual struggle that gives us permission to vocalize our pain and wrestle with our sorrow.
In Dark Clouds, Deep Mercy, pastor and TGC Council member Mark Vroegop explores how the Bible—through the psalms of lament and the book of Lamentations—gives voice to our pain. He invites readers to grieve, struggle, and tap into the rich reservoir of grace and mercy God offers in the darkest moments of our lives.
Click on the link below to get instant access to your FREE Dark Clouds, Deep Mercy eBook now!