Editors' note:
TGC reviews media that is not suitable for everyone. To help readers make wise viewing decisions, we recommend reading "Should I Watch This?" and checking out a content guide.
It can be messy and confusing when outsiders poke around and try to tell a story about the church.
This is especially true when the focus is on some group or "scandal" most of us are already embarrassed about but don't think fairly represents us or our faith. We can speculate about the agenda of those who seek out these stories, and see all too clearly what they missed, glossed over, or got wrong. There will inevitably be examples of where these storytellers paint with too broad a brush or give a free platform to people eager to throw stones at a faith they've left behind.
This would be an understandable reaction to Amazon's four-part docuseries Shiny Happy People, now streaming on Prime Video.
The series focuses on the Duggars—the ultraconservative homeschool family made famous by TLC's hit reality show 19 Kids and Counting then rocked by sexual abuse, infidelity, and child pornography scandals perpetrated by their oldest son. It also explores the influence of disgraced Christian teacher Bill Gothard, one of the most powerful leaders of the Christian homeschooling movement and a key proponent of "Quiverfull" theology (i.e., that parents should, in obedience to Psalm 127, have as many children as God will give them). In 2014, Gothard resigned from his sprawling parachurch organization, the Institute in Basic Life Principles (IBLP), after dozens of women accused him of sexual abuse and harassment going back decades.
Coming on the heels of The Secrets of Hillsong (FX/Hulu) and last year's God Forbid (Hulu) on Liberty University's Jerry Falwell Jr., it may be hard for some in the church to stomach yet another exposé of abuse, hypocrisy, and downright weirdness by those who claim the name of Christ.
The temptation is to tune out. But should we?
Full Disclosure
Before going further, I should confess I'm not an impartial reviewer.
I grew up at the forefront of the Christian homeschooling movement. My parents, Gregg and Sono Harris, were prominent homeschool leaders in the 1980s and '90s and educated me and my six siblings at home. While we weren't involved in IBLP, I had many close friends who were. And my family and I helped popularize to a more mainstream evangelical audience some of the same ideas Gothard promoted: from homeschooling and "courtship" to strict rules for female modesty and obedience to authority.
I had a wonderful homeschool experience, for which I'll always be grateful. At its best, I see in the Christian homeschooling movement a work of genuine educational reform and spiritual renewal for countless families.
But while I remain firmly in the fold, I have peers—including members of my own family—who have left the church, rejecting not just their upbringing but faith itself in response to evils they experienced and false gospels they were taught.
Perhaps more unusual for a reviewer, I also appear in several episodes of Shiny Happy People. A year ago, the filmmakers invited me to sit down for an interview, not to talk about the Duggars or Gothard but to discuss the bigger story of the Christian homeschooling movement and the "Joshua Generation."
The Joshua Generation is an influential concept—one I embraced most of my life—that my generation would rise up and attain positions of power and influence in government, law, and beyond, and in so doing help restore the United States as a Christian nation.
There are many problems with that vision of political engagement, and this isn't the place to get into them fully. Suffice it to say that as believers our hope isn't in princes or earthly power, and the United States isn't a new Israel.
But the Joshua Generation story is one worth telling. It's an ambitious plot that has been far more successful than most people realize, and it helps explain much of our current political, cultural, and spiritual moment. To the extent someone was trying to tell even part of that story, I wanted to help them do it accurately—ideally paired with a more biblical vision for Christian engagement with politics and culture.
I also chose to participate to make clear that even those of us with good homeschool experiences have real concerns about aspects of the movement, to buttress the voices of those understandably hurt and even angry.
It can be far too easy for those of us in the church to dismiss the stories of those who've "deconstructed"; to take issue with their choices, tone, and new beliefs (or lack thereof); and to move much too quickly past the sins, abuses, and hypocrisies that caused so much pain.
It can be far too easy for those of us in the church to dismiss the stories of those who have 'deconstructed' and to move much too quickly past the sins, abuses, and hypocrisies that caused so much pain.
I spent a full day with the filmmakers last July, knowing I'd ultimately have no control over which of my words would be used or how they'd be used. I've spent the past 11 months wondering how it would all turn out.
Searing, Imperfect Series
The wait is finally over and, while far from perfect, Shiny Happy People accomplishes its primary goal: it's a searing indictment of Gothard's teachings and, for those previously unfamiliar with it, a thorough introduction to the rotten fruit of the IBLP empire.
The narrative is engrossing and deeply troubling, weaving together archival footage and IBLP materials with compelling interviews with individuals who grew up in IBLP—most notably Jill Duggar Dillard, one of the oldest Duggar daughters, whose words and revelations anchor much of the series.
I know people who had positive experiences with IBLP. These were homeschool families with parents who genuinely sought to honor God and do what was best for their children. I also know people who experienced every bit of the trauma the series exposes.
Shiny Happy People is in many ways an ideal supplement to a book by another of the Duggar daughters, Jinger Duggar Vuolo. In Becoming Free Indeed, Vuolo engages in a systematic theological takedown of Gothard's controlling, fear-based, and gospel-distorting teachings, sharing her own journey of disentangling her faith and holding on to Christ. Shiny Happy People brings Gothard's false teachings to life. Vuolo's book provides hope that true gospel faith can rise from the ashes.
The series's strength might also be its biggest weakness, especially for an evangelical audience. With its focus on the Duggars, Gothard, and IBLP, the episodes can feel narrow—a sordid story about "other people." On the few occasions the filmmakers try to connect Gothard's teachings to broader themes in Christianity, the attempts are invariably heavy handed, often equating Gothard's genuine extremism with beliefs held by the vast majority of evangelicals. That may have been a considered choice on the filmmakers' part, but it preaches to the choir of evangelicalism's detractors rather than engaging in the more difficult task of persuasion.
The series does include a segment on the Joshua Generation, but the discussion is ultimately superficial, with little to no exploration of the context, ideas, or individuals behind the movement or attempt to accurately situate it within the larger "Christian Right" and our current political moment. Perhaps most disappointing to me, there's no discussion of what a more faithful approach to Christian political engagement might look like.
Why We Shouldn't Look the Other Way
Despite Shiny Happy People's shortcomings, it'd be a great loss to the church if thoughtful Christians, pastors, and other ministry leaders choose to look the other way.
Looking the other way is how this happened in the first place.
While he has few defenders in high places these days, and while some now attempt to dismiss his influence, Gothard is no fringe figure. His father served for a time as the executive director of The Gideons International, and Gothard received two degrees from Wheaton College. Long before turning his attention to a burgeoning Christian homeschool community in the 1980s, Gothard was presenting his "Basic Seminar" to packed coliseums around the country and winning the support and patronage of prominent Christian politicians, businessmen, and ministry leaders.
Despite Shiny Happy People's shortcomings, it'd be a great loss to the church if thoughtful Christians, pastors, and other ministry leaders choose to look the other way.
And yet even a cursory examination of Gothard's core teachings reveals his distortion of the gospel. Strict obedience to Gothard's "principles" guarantees spiritual and material success, like a fundamentalist version of the "prosperity" or "health and wealth" gospel. Disobedience opens you to Satan's attacks and sudden disaster.
Whatever wisdom or biblical insight was otherwise included in IBLP materials, the end result was a controlling, fear-based religion, where women and children were especially vulnerable to abuse of all kinds.
To be sure, there were some early criticisms of Gothard's principles, but those were few and far between. Tragically, it turned out that many who were quick to spot "liberal drift" and denounce the prosperity preachers on TV had little to say about an ultraconservative Bible teacher shaping the daily lives of millions.
An article in a 1984 issue of The Journal of Pastoral Practice suggests part of the reason was pastors "not wanting to run the risk of offending their congregation or constituency," among whom Gothard likely had some "avid followers." That article was published only a few years after the first major sex abuse scandal in Gothard's organization, including public accusations of impropriety and "moral failures" involving Gothard and a secretary.
How many evils could have been prevented if faithful Christians hadn't looked away?
As Christians, we should be willing to listen to and humbly learn from criticism, even when imperfectly delivered.
For those willing to answer that call, Shiny Happy People is a good place to start.
Get a FREE eBook to strengthen your family discipleship!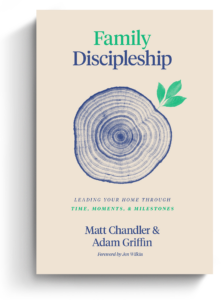 The back-to-school season is stressful for moms and dads. New rhythms of school, sports, and other extracurricular activities can quickly fill up a family's already busy calendar. Where do busy parents look for resources on discipling their family well? Aside from prioritizing church, what else can Christian parents do to instill healthy spiritual habits in their household?
Matt Chandler and Adam Griffin cover these questions and more in Family Discipleship: Leading Your Home through Time, Moments, and Milestones. And we're excited to offer this book to you for FREE as an eBook today.
Click on the link below to get instant access to your FREE Family Discipleship eBook now!