On Thanksgiving day in 2009, I had a seizure. That seizure revealed I had a tumor in my right frontal lobe of my brain. On December 4, surgeons cut out the tumor. I was 34 years old.
I awoke from surgery with some weakness on my left side. I was released from rehab on December 16 with a gnarly scar on my head, my hair starting to fall out, facing 18 months of high-dosage chemo and radiation.
The first real outing I had was a week later, when I went to Christmas Eve services at my church. As I sat at the back of the building, I could hardly hold it together.
'A Couple of Years to Live'
It's hard stay composed at Christmas when you've just heard the words, "You have a couple of years to live." It was a difficult Christmas for our family. I was wondering if it was going to be my last. They were wondering if it was going to be my last.
But it was okay.
It was okay because the tumor, which spoiled Christmas and threatened to finish my life, didn't take away my hope. The beauty of the first Christmas is that God put an anchor down for our souls, regardless of our circumstances.
And the beauty of Christmas is that it's just the start of the story—not the end. The story doesn't end with a baby in a manger or a man on a cross or even an empty tomb on a hillside.
The story hasn't ended. It ends on a day that has not yet come, when that baby, now a man and the Ruler of heaven, will return to this world and say, "Behold, I am making all things new" (Rev. 21:5).
That day all of us are so hungry for—when everything is made perfect—is coming. But it's not going to be Christmas morning this year or next year or any year. It'll be at the return of the King of the universe. On that day, for those who know him now and who are looking forward to his coming, there will be the perfection we are all looking for. On that day, there'll be no more depression, no more anxiety, no more loss, no more brain tumors.
All that is sad, all that is dark, all that has gone wrong—there won't even be a remembrance of it. All that's been confusing, all of the moments we thought, Where are you, God? will vanish. Now, we live pressed up against a stained-glass window, and all we can see is bits of jagged glass. Then, we will be able to stand far enough back to see the beauty of it all.
Christmas is the start of that story. Since that Christmas spent with "You have a couple of years to live" rolling round my mind, I've loved Christmas all the more. Christmas has grown even better for me because I've come to appreciate that Christmas is when God got involved, gave me hope, and showed himself worthy of my trust. I love Christmas, all year round. And, yes, I love getting the decorations up way before December starts.
Ultimate Christmas Gift
There were no guarantees the chemo or radiation treatments would succeed. The side effects were often horrible. I prayed that God would help me keep knowing he was worth my trust. I prayed that God would help my family. I prayed that God would heal me. And, after nine months, the brain scans came back clear. After another couple rounds of chemo, I was given a clean bill of health. The tumor was gone.
The next November, Lauren's step-grandmother came for Thanksgiving, and she brought a Christmas present. So we had this one present sitting in our living room on the shelf for a month, waiting to be opened. Audrey was 8 that year, and she'd just stare over at it. Even if the TV was on, she'd literally just be staring at the present. There was this kind of giddy "I can't wait to open it" in her.
Well, two millennia ago, God came into his world. And he gave his world a present—himself. He came as a man, a man who lived and died and rose and who now reigns in heaven, and who will one day return and make everything perfect for all who follow him. If you accept this gift, you have everything to look forward to. You can always know your best days are ahead. Whatever else is going on in life, you can look at Jesus with a kind of giddy "I can't wait for him to come back" feeling.
He Is Enough
Every December, the commercials promise us that perfection can be ours. But every Christmas, that perfection never truly comes—and it certainly never lasts. And yet perfection can be ours, forever—when Jesus comes again. So this season, you really can find all you want—not by looking to Christmas but beyond it, to the return of the one who came that first Christmas.
That year I had the tumor, it snowed a ton at Christmas—the kind of real, legitimate, you-can-actually-build-something-out-of-this snow we almost never get in Texas. On Christmas day, the kids were outside playing. I couldn't do anything because I'd just come out of brain surgery. You don't want to slip on the ice after that. All I could do was watch from inside, slightly dazed.
But here's what I can tell you. Jesus was enough. He was with me. He comforted me. He gave me joy. He gave me peace. He gave me hope.
And I can tell you this: having a brain tumor shows you what's important and what's worth celebrating. I relaxed. We put the decorations up in November now. We watch Elf early.
I don't know what kind of year you've had or what kind of Christmas you're expecting. Perhaps it's been truly a "joy to the world" kind of year. Perhaps your Christmas will be great. Remember that, for those who have welcomed Jesus into their life as King and asked him to invite them into his eternity, that's all just a shadow of what's coming when he returns. Praise God, enjoy Christmas . . . and look beyond it.
Look Forward
Or maybe you're feeling beat up and banged up. Perhaps this is your first Christmas without a spouse. Or you're lonely. Or you can't get to where you'd like to be in life. Or you're struggling. Or you're sick or somebody you love is sick. Or something happened this year that has made you aware of how fragile things are. Remember—this is not all there is. God is involved in the mess of this world so he can share his joy with you now and bring you into his perfection one day. Invite him in, keep walking through the valleys and the peaks of this life with him . . . and look forward.
Christmas finishes quickly each year. What we look forward to soon lies behind us. But you can look forward to a day that will never end and a future that will never disappoint. The decorations will get packed away. But this year, hope and joy need not. You can look at the God who came and lay in that manger. And you can look forward to the day when he comes again.
And you can have an even better Christmas.
Get a FREE eBook to strengthen your family discipleship!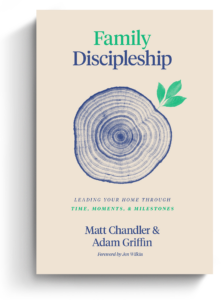 The back-to-school season is stressful for moms and dads. New rhythms of school, sports, and other extracurricular activities can quickly fill up a family's already busy calendar. Where do busy parents look for resources on discipling their family well? Aside from prioritizing church, what else can Christian parents do to instill healthy spiritual habits in their household?
Matt Chandler and Adam Griffin cover these questions and more in Family Discipleship: Leading Your Home through Time, Moments, and Milestones. And we're excited to offer this book to you for FREE as an eBook today.
Click on the link below to get instant access to your FREE Family Discipleship eBook now!