Last month about 1,400 believers from all over Europe gathered in Hamburg, Germany, for the 500 Years Reformation Conference co-hosted by Together for the Gospel and Evangelium 21. For three days we heard and sang biblical truths recovered by the Protestant Reformers five centuries ago.
Fortunately, the talks are already available online (the talks by Albert Mohler, Ligon Duncan, David Platt, and Mark Dever are in English and translated into German; the rest are only in German). Here's a digest of some key takeaways from the main sessions for your convenience and edification.
The good news must be boldly proclaimed again in Germany. On this weighty note, Christian Wegert, pastor of Arche Gemeinde in Hamburg, got the conference underway. Just like 500 years ago, the clear proclamation of the gospel of Jesus faces tremendous challenges today. While back then the rituals, ceremonies, and dogmas of the Catholic church interfered with the central truths of the gospel, today the main pressures (among many others) stem from humanist thinking and excessive rationalism. Evangelical churches today are not immune to these dangers. "Biblically faithful Christians are constantly tempted to be ashamed of the gospel and conform their witness to satisfy the impulses of our age," Wegert asserted. Believers must stand firm on declaring faith in Christ as the only way to experience God's saving and transforming grace. Without this grace no one can stand before God: "We need a bold and unshrinking return to the substance of the gospel—and through this to Christ himself."
Albert Mohler, TGC Council member and president of The Southern Baptist Theological Seminary in Louisville, Kentucky, addressed the reliability of Scripture and underlined how the Protestant Reformers rediscovered the gospel in Scripture. "Martin Luther recognized the Scriptures as God's Word, and he trusted in them," Mohler stated. The German Reformer saw an authority in Scripture that surpassed tradition, reason, and experience—it gave him a reliable guide. Looking to the example of the Reformers, Mohler urged attendees to trust the verbal plenary inspiration of Scripture. In practice, this means instinctively turning to God and his Word for answers in every circumstance.
David Platt, TGC Council member and president of the International Mission Board of the Southern Baptist Convention, likewise summoned Christians to confess their faith with greater boldness. He pointed to numerous martyrs in the wake of the Reformation who were killed for their faith. "These men and women didn't simply die because they believed the gospel," Platt explained, "but because they openly proclaimed it." These martyrs cherished the liberating message of justification by grace alone through faith alone in Christ alone so much that they were willing to die for it. So should we.
Michael Martens, pastor in Syke near Bremen, Germany, urged the importance of not merely reforming our doctrine but also our lives into the likeness of Jesus Christ. This process entirely depends on God's grace. "God began the work of our salvation and will bring it to completion. He lays his hand on us to sharpen us, to build us up, and to change us into in the image of Christ," Martens said. He called attendees to pray for personal reformation for themselves and others. We must pray for growth in the knowledge and love of God, which leads to love and service to others.
In his second talk, Mohler exhorted evangelicals to devote more time, energy, and seriousness to preserving and nourishing their beliefs. Drawing from the recent history of the conservative turnaround in his own denomination, the Southern Baptist Convention, Mohler offered 10 timeless lessons of doctrinal and spiritual renewal. Biblically faithful churches can so easily and quickly waver from their foundations if sound doctrine and practice isn't nurtured, he warned. This is what happened to many Southern Baptist churches in the mid-20th century, and it almost split the denomination. As liberal theology gained a foothold in the SBC's theological seminaries, some of the denomination's most influential church leaders began questioning the authority of the Bible. By God's grace, however, courageous men and women successfully labored to recover the denomination's doctrinal foundations, giving rise to one of the greatest spiritual renewals in recent history.
With a kindred passion for spiritual vitality, biblical faithfulness, and prayerful trust in God, churches in Europe can likewise experience deep and lasting renewal, Mohler maintained in his third talk. However, he warned, this renewal can't be achieved by resorting either to isolationism or to an overreliance on personal piety and experience. Neither path will protect churches from the influences of liberalism. Without firm convictions grounded in God's Word, personal piety lacks content and will inevitably decay. Thus Christians must engage their culture and resuscitate their churches through the clear proclamation of Scripture. Moreover, pastors and teachers must call their churches and denominations to return to the biblical foundations of their doctrinal confessions.
Mark Dever, TGC Council member and pastor of Capitol Hill Baptist Church in Washington, D.C., also underscored the importance of personal Bible reading: "The Holy Spirit speaks to us through the Scriptures; we should not seek God's truth anywhere else." He urged attendees to internalize God's Word and trust it completely. At the same time, he warned against a myopic and therapeutic reading of Scripture that cultivates a close personal relationship with God while ignoring the reality of suffering in the Christian life. Jesus constantly promised his disciples they would endure affliction and persecution—and nothing's different for his disciples today: "Martin Luther was banished from the Catholic church; missionaries over the years have been gruesomely killed; in the 20th century Christians worldwide were persecuted like never before. Why should we expect to be spared from suffering?" The Christian life follows the pattern set by Christ: suffering first, then glory. Keeping our eyes on the future glory we'll share in Christ gives us the motivation to endure trials with a joy that doesn't depend on our fleeting life circumstances.
Salvation depends not on our works but on God's works alone, stressed Ligon Duncan, TGC Council member and chancellor of Reformed Theological Seminary, in his exposition of Ephesians 2. Sinful persons are dead, unable, and unwilling to seek God. "We need the mediation of Jesus Christ, who saves us from the righteous wrath of a holy God and restores us to our original creation in his image," Duncan asserted. The grace of God alone brings about this salvation; we can't contribute anything to it. Even faith in the Son of God—a precondition of salvation—is a gift from God that we receive only through his mercy. Duncan elaborated: "God declares us righteous on the basis of his Son's atoning sacrifice—not the cooperation of sinners. God secured our salvation even before our conversion, he leads us to repentance, and he transforms our lives to bring forth the good works he's already prepared for us." Finally, salvation by grace gives us real assurance of salvation, as God himself—not the uncertain deeds of finite creatures—brings it about and sustains it.
On the last day of the conference, Matthias Lohmann, co-founder and chairman of Evangelium 21, gave a clarion call for churches in Germany to recover their biblical roots. Many state and free churches have abandoned their Reformation heritage. "The average knowledge of Scripture is at a historic low," he claimed, "coupled with an astounding disinterest in theology and a pervasive moral disorientation." He urged the 1,400 attendees to not view this situation with contempt but rather to pray for change: "Reformation is God's work; we are powerless to bring it about ourselves." Nothing is more urgent for churches in Germany than our prayers for renewal, and this begins in the heart of every believer. Lohman confessed, "I wish for myself, that my heart would burn anew for Christ!"
The Protestant Reformers, Duncan explained in his second talk, recovered sound doctrine and practice because they made Scripture their primary foundation. Yet they faced opposition from Catholic leaders who dismissed their reforms as new inventions. The Reformers turned this challenge on its head by showing the striking continuities between their views and the early church fathers. They found a model in patriarchs of the faith like Clement, Polycarp, Ignatius, and Augustine, who exposed the errors of false teachers in their own time by turning to the Scriptures. "The church fathers understood that the Scriptures interpret the Scriptures," Duncan stated. The Reformers followed this principle, ascribing the authority to Scripture it deserves as God's Word.
God calls every Christian to glorify him through the work of missions, Platt insisted in his second talk. Not every believer is called to go to a foreign land, but everyone should be engaged in the mission to spread the gospel in the world: "Without saving faith in Jesus Christ, every person is forever lost." As 2.8 billion people worldwide still have no access to the gospel, the Great Commission is all the more urgent. He reminded attendees of their responsibility: God saves lost sinners through human gospel proclamation. Through these means, God showcases his glory in all the world. "World missions is not a program or a special branch of a church administration, but the meaning and purpose of our lives."
While Rome took pride in claiming to never change, Dever noted in his second talk, the Protestant Reformers believed their task was to continually reform the church according to God's Word. This is exactly what Martin Luther wished to do at the Heidelberg Disputation (April 26, 1518). Here the German Reformer argued that we're accepted by God not on the basis of our goodness but on the basis of God's love and grace. This idea stood at the heart of the Reformation. In fact, Jesus declared this truth in his Sermon on the Mount to a group of Jews who thought God loves us because we are good. And many continue to believe this today! We are so prone to fabricate errors and idols. This is why, Dever said, "we need the Word of God to constantly be teaching us the truth" and reforming our thinking.
Get a FREE eBook to strengthen your family discipleship!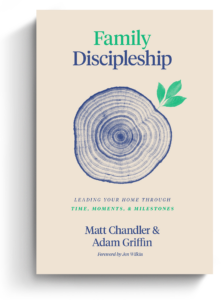 The back-to-school season is stressful for moms and dads. New rhythms of school, sports, and other extracurricular activities can quickly fill up a family's already busy calendar. Where do busy parents look for resources on discipling their family well? Aside from prioritizing church, what else can Christian parents do to instill healthy spiritual habits in their household?
Matt Chandler and Adam Griffin cover these questions and more in Family Discipleship: Leading Your Home through Time, Moments, and Milestones. And we're excited to offer this book to you for FREE as an eBook today.
Click on the link below to get instant access to your FREE Family Discipleship eBook now!