The biggest movies of 2017 were almost all sequels, franchise films, or reboots (like Disney's Beauty and the Beast). But that shouldn't depress movie fans too much, because biggest and best are different things.
The best films are often (though not always) the small, under-the-radar releases that come and go with little fanfare, and this was true of 2017. Only one film in my top 10 list below was a legitimate box office hit (Dunkirk). But all of my picks are praiseworthy cinematic achievements I wish had been more widely seen.
All lists of this sort are admittedly subjective. But I chose these films not only from my personal perspective as a critic who loves great cinema, but also as a Christian who wants to engage and highlight art that has implicit or explicit theological significance. I chose these films with The Gospel Coalition audience and mission in mind. They are movies that give voice to important questions in our culture; movies that are haunted by God and transcendence; movies that inspire us to virtue and provide glimpses of grace; and movies that can help Christians better read and relate to our secular age.
Given the sex abuse scandals of this year, Hollywood's moral authority is rightfully at an all-time low. And the continued prevalence of sexually explicit, morally bankrupt, generally toxic movies and TV shows doesn't help Hollywood's reputation. But none of this means there aren't still films out there that are good, true, and beautiful. The widespread darkness in the film industry doesn't mean there are no examples of light.
The widespread darkness in the film industry doesn't mean there are no examples of light.
Christians should acknowledge and engage these bright spots, even as we maintain a wise, careful, and discerning posture toward the glut of media at our disposal. Here are some of the bright spots I've found in 2017.
1. Dunkirk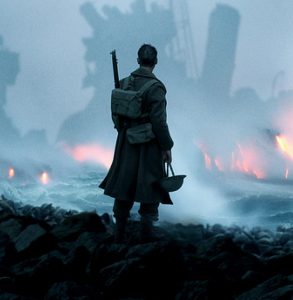 This masterful World War II epic from Christopher Nolan (The Dark Knight, Inception) is the best cinematic achievement of the year. Using image, sound, editing, and acting in a manner both classic and audaciously new, Nolan immerses viewers in the harrowing and inspirational story of the "Miracle of Dunkirk" in ways that put us in battle like few films ever have before. Nolan narrates the story from three intersecting perspectives (land, sea, air) that echo Winston Churchill's famous "We Shall Fight" speech ("We shall fight on the seas and oceans, we shall fight with growing confidence and growing strength in the air . . . we shall fight on the beaches, we shall fight on the landing grounds"). The on-the-ground-combat counterpoint to the in-the-halls-of-power perspective of Darkest Hour (see #9 below), Dunkirk is a thrilling and timely film that celebrates bravery, sacrifice, survival, and solidarity in the face of encroaching darkness. Read TGC's review here. Watch on Amazon.
2. A Quiet Passion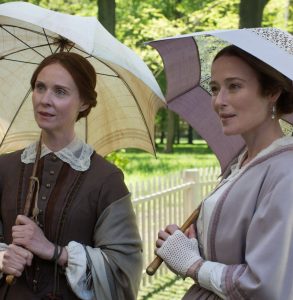 Some of the most memorable moments in A Quiet Passion, British director Terence Davies's film about Emily Dickinson, are shot in dark, fire-lit rooms with characters talking about death while their faces glow with a yellow pallor. This is fitting for a film about Dickinson (portrayed by Cynthia Nixon), whose poems were often about death (e.g., "This World Is Not Conclusion," "My Life Closed Twice before Its Close," or "Because I Could Not Stop for Death," all featured in the film). But death is not the only specter that haunts this film. God and religion are everywhere too, whether in Emily's expressions of doubt, in her pious devotion to art ("Poems are my solace for the eternity which surrounds us all"), or in the comical one-liners that offer witty levity ("You must never confuse the outer with the inner piety. Only Episcopalians do that."). Few films this year are more explicitly theological and quietly profound as A Quiet Passion. Read TGC's review here. Watch on Amazon.
3. The Lost City of Z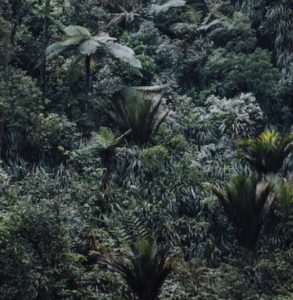 James Gray's latest film, an adaptation of David Grann's 2009 book, The Lost City of Z: A Tale of Deadly Obsession in the Amazon, is a refreshing throwback to classical Hollywood filmmaking. It's a sweeping epic, straightforwardly presented with minimal CGI but maximal cinematic flair. The film tells the true story of British explorer Percy Fawcett (Charlie Hunnam) and his early 20th-century adventures in the uncharted jungles of South America, in search of the mythic city of El Dorado. The story—which might be described as Indiana Jones meets Jim Elliot, with a smattering of Rudyard Kipling and Disney's Adventureland—is riveting, romantic, and spiritually haunting in a world where Google and Wikipedia are sometimes (depressingly) our farthest-flung frontiers. As I wrote in my Christianity Today review, the film "invokes a sense of curiosity, awe, and enchantment that feels foreign to the safe, enclosed, buffered existence of our modern era." Read TGC's review here. Watch on Amazon.  
4. A Ghost Story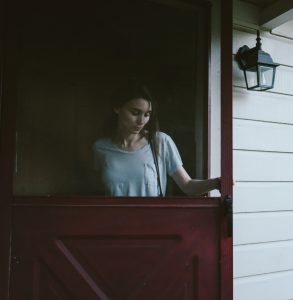 The poster for David Lowery's A Ghost Story is literal. It shows a ghostly figure shrouded in a sheet, with two cut-out holes for eyes, like a cheap Halloween costume. But the tagline is the poster's most literal part: "It's all about time." Indeed, for all its quirkiness—Casey Affleck spends most of the film silent and shrouded under the "ghost" sheet; Rooney Mara eats an entire pie by herself in one scene—the film is really just a sincere meditation on time, impermanence, and the ubiquitous reminders of death in a mortal world. What at first feels like a pretentious indie experiment turns out to be one of 2017's most thought-provoking and strangely moving existential ruminations. The film is not scary, but it is decidedly haunted—haunted by metaphysical questions about life, love, time, and the "can this really be it?" feelings of unsettled spirituality that cannot be escaped, even in our secular age. Watch on Amazon.
5. Columbus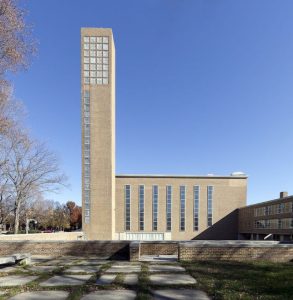 The debut feature from renowned video essayist Kogonada, Columbus is a Linklater–esque story of two strangers (John Cho and Haley Lu Richardson) who find unexpected connection and healing as they walk and talk around a particular place. In this case that place is Columbus, Indiana—a small town with big importance in the architectural world. Nicknamed "Athens on the Prairie," the town of 40,000 was recently ranked sixth by The American Institute of Architects on a list of most important U.S. cities for architectural innovation and design, mostly for its wealth of modernist buildings designed by the likes of I. M. Pei, Eliel and Eero Saarinen, and Richard Meier. Featuring long takes and several scenes in and around Columbus's architecturally notable churches (like First Christian Church and North Christian Church), Columbus ponders the ways modernist architecture—and art generally—slows us down, cultivates quietness and wonder within us, and gives expression to our longings for transcendence within the confines of secularism. Watch on Amazon.
6. The Florida Project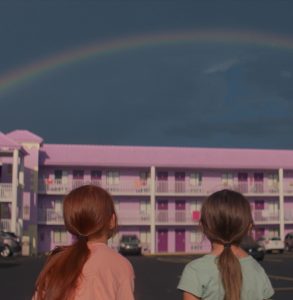 Sean Baker's The Florida Project is set in Orlando, an American epicenter of entertainment and escapism. But this film does not feel especially entertaining or escapist. In fact, this social-realist movie is downright hard to watch, focusing as it does on the stark realities—poverty, substance abuse, prostitution, parental neglect—of a "hidden homeless" population of a rundown motel (whose manager, played by Willem Dafoe, is full of tough love for his tenants). But as difficult and jarring as The Florida Project is, Baker's film is ultimately a lesson in empathy and grace. They may live in depressing squalor, but 6-year-old Moonee (Brooklynn Prince) and her friend Jancey (Valeria Cotto) are not trash; they are treasures. The camera's gaze captures these children in a manner that echoes Christ's "last will be first" elevation of the lowly and least, including children: "Whoever receives one such child in my name receives me" (Mark 9:37). Read TGC's review here. Now in theaters. Rated R for language and sexual references.
7. Three Billboards Outside Ebbing, Missouri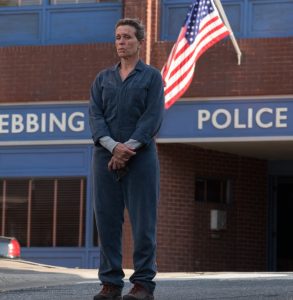 Though its title is a mouthful and its darkly comedic plot at times farfetched, this strange new film from Martin McDonagh (In Bruges) is perhaps the most "2017" of the films on my list. It's a movie seething with rage over personal and systemic sin, and marked by what feels like an Old Testament "how long, O Lord?" desperation for justice—most concentrated in the character of Mildred (an incredible Frances McDormand), a mother whose daughter who was raped and murdered. Mildred puts up three billboards in her small Missouri town that bear witness to the injustice of her daughter's unsolved murder: "Raped While Dying," "Still No Arrests?" and "How Come, Chief Willoughby?" But bearing witness to injustice isn't always well-received, and Mildred's bold act sets off a chain of calamitous events that viscerally demonstrate what Cornelius Plantinga calls the "remarkably generative" nature of sin: "Sin yields more and more sin." Or, as one character in the film says, "Anger begets anger." Now in theaters. Rated R for violence, language, and sexual references.
8. The Unknown Girl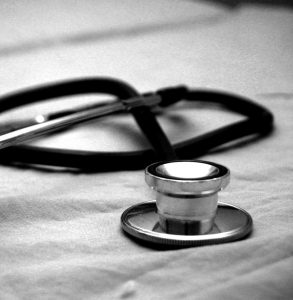 This French-language film, from Belgium's legendary Dardenne brothers (The Son, L'Enfant), follows a young doctor named Jenny (Adèle Haenel) who is plagued by guilt after she finds out about the murder of a woman she could have helped. The Dardennes have long made films that explore morality in the everyday circumstances of working life, and their latest is no different. In following Jenny as she compassionately tends to her patients' suffering, and then goes out of her way to help the family of the "unknown girl" whose death haunts her conscience, The Unknown Girl tells a specific but universal story of guilt, redemption, and empathy. As in The Florida Project, this is a film whose gaze is unflinching but deeply compassionate. It's a portrait of neighborly, healing, Christlike love at a time when our world desperately needs to see this modeled. Watch on Netflix.
9. Darkest Hour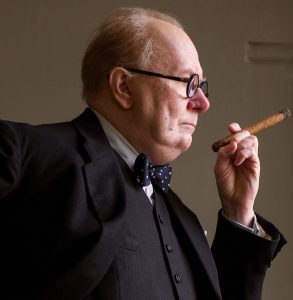 Most of the buzz surrounding Darkest Hour concerns Gary Oldman's brilliant performance as Winston Churchill, and indeed it deserves every accolade. But there is more to this film than just a one-man show. Directed by Joe Wright (Atonement, Pride and Prejudice), Darkest Hour is certainly an actor's showcase for Oldman (among others, like the excellent Ben Mendelsohn as King George VI), but it's also an important history lesson and a timely reflection on the value of virtuous, eloquent leadership in times of crisis. The film serves as a similarly intense, urgent companion piece to Dunkirk, providing another perspective on a tenuous moment in British (indeed, Western) history in which fascism was advancing rapidly and the fate of freedom hung in the balance. Read TGC's review here. Now in theaters.
10. Loving Vincent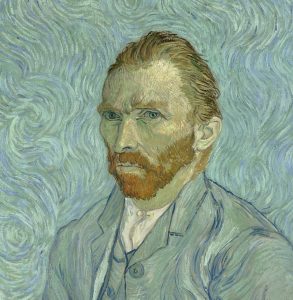 Loving Vincent is a remarkable work of art in the most literal sense. It's a film about the famous artist Vincent van Gogh, fashioned in a way that mimics the tortured artist's unique painting style. All of the film's 65,000 frames were hand-painted by a team of more than 125 artists. Incorporating actual van Gogh paintings (e.g., "Café Terrace at Night") with painted-over live action footage, the groundbreaking film examines the circumstances that led to van Gogh's untimely death at age 37. "I want to touch people with my art," van Gogh famously said. "I want them to say 'he feels deeply, he feels tenderly.'" And though he never lived to see this desire fulfilled (he only sold one painting in his lifetime), van Gogh has certainly touched millions across the world with his art. This film—which ends, fittingly, on a starry night (both painted and musical)—is a beautiful and worthy tribute. Now in theaters.
15 Honorable Mentions
After the Storm, All the Money in the World, All Saints [TGC's review], Blade Runner 2049, Detroit, Get Out, Lady Bird, Mudbound [TGC's review], The Salesman, The Son of Joseph, Song to Song, Stronger, Personal Shopper, War for the Planet of the Apes [TGC's review], Wonder
5 Best Documentaries
City of Ghosts, Five Came Back, Look & See: A Portrait of Wendell Berry, One of Us [TGC's review], The Vietnam War [TGC's review]