Movies about kids come in many different forms. Some are about kids and for kids. Others are about and for kids, but also appeal to adults (think Pixar). Still others are about kids but decidedly only for adults.
Wonderstruck is in that middle category—an artfully made indie that should appeal both to (sophisticated) kids and also film-going adults. The Florida Project is definitely in the latter category, a hard-to-watch but empathetic look at children raised in extreme poverty.
Both movies are Oscar-contenders and both explore the peculiar joys, struggles, and questions of childhood: Where do I belong? Who am I? Or—most powerfully in these films—Whose am I?
'Wonderstruck'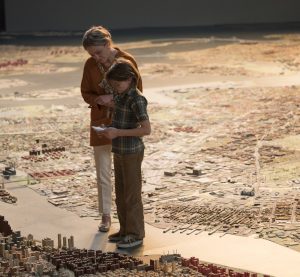 Directed by Todd Haynes and written by Brian Selznick (based on his 2011 young adult novel), Wonderstruck follows two lonely children—separated by 50 years—as they embark on adventures in search of family. Ben (Oakes Fegley) is a boy in 1977 Minnesota who lost his mother (Michelle Williams) in a tragic accident and never knew his dad. Being raised by an aunt, he hops on a bus to New York City, where he hopes to find clues about his father's identity.
Rose (Millicent Simmonds), who is deaf, lives in 1927 New Jersey with her strict father. Her largely absent mother (Julianne Moore), we come to find out, is famous silent-film actress Lillian Mayhew. Longing for a connection to the mother she misses, Rose runs away to New York City, where Mayhew is appearing in a stage production on Broadway.
Wonderstruck follows Ben and Rose, both 12, as they wander New York City in their respective time periods, sometimes in the same location (mostly the American Museum of Natural History), connected by space but separated by time. Haynes—a director who excels at period detail (see Far From Heaven or I'm Not There)—recreates 1927 and 1977 New York City in fascinating, immersive detail. The 1927 sequences are shot like a pre-color, pre-sound silent film, a nod both to its era and also to Rose's deafness. The 1977 scenes capture the gritty streets of 1970s Manhattan, where city buses are marked by graffiti and Tab advertisements. The film alternates between Ben's experiences in 1977 and Rose's in 1927, intersecting in fascinating ways until finally merging in the film's conclusion.
Somewhere between Home Alone 2, Night at the Museum, and Wes Anderson's Moonrise Kingdom, Wonderstruck explores the awe, innocence, and curiosity of childhood—even when surrounded by adult dangers and trauma. Ben and Rose bear intense scars from family strife, but they still find time to look at skyscrapers, to touch asteroid fragments in the museum, to gaze at the stars.
An Oscar Wilde quote figures prominently in the film: "We are all in the gutter, but some of us are looking at the stars." David Bowie's "Space Oddity," played a few times in the film, underscores the point.
The world is still large to children like Ben and Rose, the possibilities vast. Kids like them have yet to succumb to cynicism; their brokenness is very real, but their hope for wholeness has not yet been numbed.
'The Florida Project'
Different in tone but similar in theme to Wonderstruck is The Florida Project, a vérité-style movie about a "hidden homeless" community in Orlando. Sean Baker's film takes a jarring look at the lives of the impoverished residents of a rundown motel, whose manager (Willem Dafoe) does his best to show grace to often difficult tenants.
Seen through the eyes of 6-year-old Moonee (Brooklynn Prince) and her friend Jancey (Valeria Cotto), The Florida Project isn't a plot-driven film so much as a montage of episodes and images that alternate between whimsical and disturbing.
Like Ben and Rose of Wonderstruck, Moonee and Jancey are largely finding their way apart from parents, who are either out of the picture completely or otherwise neglectful. Indeed, Moonee's single mom (Bria Vinaite) is herself a child who leads a bleak, drug-addled, prostitution-prone existence.
Despite the seeming hopelessness of their tragic situation, the children of The Florida Project are mostly full of precocious joy. Too young to grasp the horrors around them (including the pedophiles, drug dealers, johns, and social workers who frequent the motel), they spend their days eating ice cream, playing hide-and-seek, hocking loogies, making fart noises, and getting into mischief.
The film is a social-realist expose of the hidden homeless all over our cities and communities (in this case, in the ironic shadow of "The Happiest Place on Earth"), but its child protagonists aren't aware of this context. Though they may wonder about their parents' dubious schemes to earn quick cash, or why a food truck of friendly Christians (inspired by Austin's Mobile Loaves & Fishes) comes by regularly to give them free food, the reality of their economic situation isn't their main concern.
Their concern, rather, is a deep need for relationships; for reliable, trustworthy friendships; for a father figure who cares and protects. Dafoe's character—Christlike in his compassion, patience, and tough-love grace (is he riffing on his character from The Last Temptation of Christ?)—is the closest thing they have.
Narratives of Escape
Escapism is everywhere in these films. Ben and Rose in Wonderstruck escape to New York City, in hopes of finding family. The children of The Florida Project frolic around seedy strip malls and kitschy streets ("Seven Dwarfs Lane") along Highway 192 in the shadow of Walt Disney World—the mother of all escapist wonderlands.
Both films highlight the fantasies, diversions, and simulacrum that distract from the pain of life. Sometimes the escapism is innocuous, as in movie theaters, world's fairs, theme parks, and "cabinets of wonder." Other times it's corrupting, as in substance abuse, pornography, and prostitution.
Whatever its form, escapism is everywhere. The children of Wonderstruck escape to hidden hideouts, secret rooms, and quiet corners of bookstores. The children of The Florida Project escape to abandoned houses and green cow pastures, while thousands around them escape to nearby Disney World (a place Moonee and Jancey can only dream of seeing).
What is really behind these impulses to escape?
Restless Until We Find Rest
I think the longings that fuel escapism generally, and particularly in these films, arise from the human need for relationship.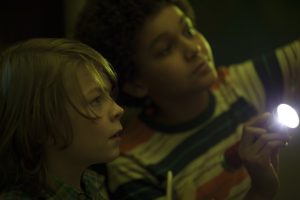 We are created in the image of a relational God. We are created to be husbands and wives, mothers and fathers, sons and daughters, brothers and sisters, friends, comrades, co-laborers. The existence of family is both a gracious gift and also a means by which we discover our identity as God's image-bearers.
When family bonds are ruptured or relationships strained—as they are for the characters in these films—we look everywhere to fill the void. Hence the escapism that so marks our lives; hence the tragic pattern of relational wounds leading to abuse and pain. We are wired to connect, and when the connections are severed, we don't fare well.
By focusing on the perspectives of children—whose lostness apart from community is hard for them to mask—Wonderstruck and The Florida Project remind us that this wonder-filled world is not meant to be experienced alone.
Thanks be to God, we are not on earth as orphans, left to discover ourselves and make sense of things solo. We are wired for a with-ness that pulls us toward one another, resulting in great joy and often great pain. These human connections fail us at times because they are but faint glimpses of the eternal withness we can have with God—the Father who adopts us into his family and gives us the right to become children of God (John 1:12). 
And so, like Ben and Rose in Wonderstruck, we can't help but turn our gaze to the stars. We look not only because the heavens are beautiful, but because they glorify the Father who never leaves; the Father of whom Augustine wrote: "Our hearts are restless until they find rest in Thee."