Over the past week, my inbox has been filled with people asking me for a way forward. In light of the murders of Ahmaud Arbery, Breonna Taylor, and George Floyd, many are wondering, "Where do I start?" and, "How can I faithfully prepare my child to see and treat all people with dignity rooted in the image of God?"
Although countless resources are easily accessible via Google, and various lists of anti-racism children's books have already been compiled, I can sympathize with feeling overwhelmed and uncertain about how to discuss these issues with my child. 
For that reason, I'm so grateful for these five children's books that cover topics like the image of God, the evil of racism, the gospel of grace, the beauty of diversity in the church, and what faithfulness to Christ looks like in a society that too often treasures white supremacy above Christ and his multiethnic, colorful kingdom.  
Of course, a list of only five books on these topics is by no means exhaustive. This is simply a place for your children—and, perhaps, yourself—to start.
Little Children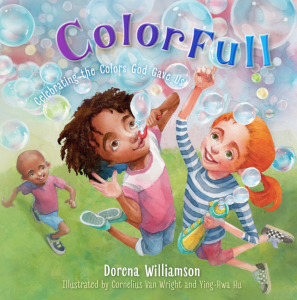 ColorFull: Celebrating the Colors God Gave Us by Dorena Williamson (Grade: PreK–2; Age: 4–8)
Dorena Williamson uses the many beautiful colors of nature to help children appreciate the various colors of people who are all made in God's image. Through a delightful story of two best friends, children are taught to not be colorblind but to be colorFULL, celebrating each color God created. My favorite line: "God must love color to have made all of the earth's people with such wonderful shades."
Elementary School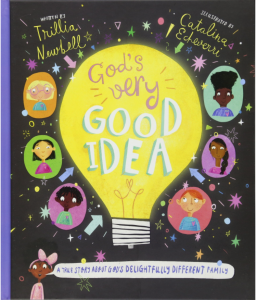 God's Very Good Idea by Trillia Newbell (Grade: 1–2; Age: 4–8) 
Every time I read this book I catch a detail I didn't see before in the unique illustrations of Catalina Echeverri. Trillia Newbell's joyful writing matches these brilliant illustrations as she helps children to delight in the diversity of humanity and the church. She takes us on a quick trip through redemptive history to show us how everyone needs the Savior and how Jesus brings us into his family through faith, no matter our background. My favorite line: "This is God's very, very good idea: lots of different people enjoying loving him and loving each other."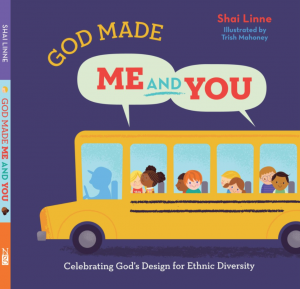 God Made Me and You by Shai Linne (Grade: 3–7; Age: 8–12)
I always hoped Shai Linne would write a children's book ever since I heard his song "Penelope Judd" on his 2008 album Storiez. A master storyteller and skillful lyricist, Shai's first book does not disappoint. He employs fun rhymes to teach about God's design for ethnic diversity. Not only that, but the end of the book offers parents "6 Ways to Show Your Child God's Design for Ethnic Diversity." My favorite line (also found in the accompanying song "God Made Me and You" on Shai's Jesus Kids album): "Different colors and different shades / All fearfully and wonderfully made / Through each, the glory of God displayed / God made me and you."
Middle School & High School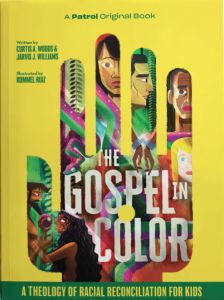 The Gospel in Color: For Kids by Curtis Woods and Jarvis Williams (Grade: 5–9; Age: 10+)
This book is a must-have for children, parents, and anyone else who appreciates gorgeous, vibrant art and simple, clear teaching about complex issues like race, reconciliation, and the gospel. Each chapter provides Bible passages for further study and discussion with your child, Scripture memory, and suggested ways to pray in light of the lesson. The Gospel in Color is a theology of racial reconciliation with a kids' edition and a parents' edition. Currently, you can purchase the ebook of the kids' edition. My favorite line: "For Christians, we must absolutely oppose racism, because it is an attack upon our unity as brothers and sisters in Christ."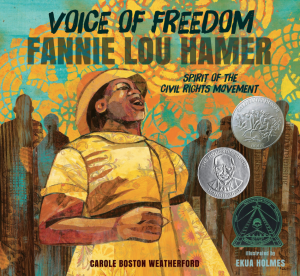 Voice of Freedom: Fannie Lou Hamer: The Spirit of the Civil Rights Movement by Carole Boston Weatherford (Grade: 7–10; Age: 12–16)
I can't help but notice strong parallels between Fannie Lou Hamer's life and the prophets in Scripture. She was abused, cheated, and victimized in the most traumatic ways, yet her faith in Christ and love for humanity remained unquenched. This beautifully illustrated, biographical book about an unlikely heroine—a voice of the civil-rights movement—displays the ugliness of systemic racism and the power of persevering hope. My favorite line: "I feel sorry for anybody that could let hate wrap them up. Ain't no such thing as I can hate anybody and hope to see God's face. Out of one blood, God made all nations."
Shining a Light
These children's books shine a light on the pervasive sinfulness of racism and the prevailing, transformative glory of the gospel.
In this time of grief, anger, and despair, may these resources help us train our children in the way they should go—the way of Christ.
Get a FREE eBook to strengthen your family discipleship!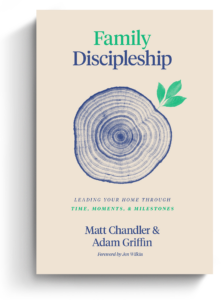 The back-to-school season is stressful for moms and dads. New rhythms of school, sports, and other extracurricular activities can quickly fill up a family's already busy calendar. Where do busy parents look for resources on discipling their family well? Aside from prioritizing church, what else can Christian parents do to instill healthy spiritual habits in their household?
Matt Chandler and Adam Griffin cover these questions and more in Family Discipleship: Leading Your Home through Time, Moments, and Milestones. And we're excited to offer this book to you for FREE as an eBook today.
Click on the link below to get instant access to your FREE Family Discipleship eBook now!