When my daughter was 3 years old, she loved the show PJ Masks—three kid superheroes who solve crimes at night when most people are wearing their pajamas. When we bought her a PJ Masks costume (Owlette, to be exact), she was so excited she refused to take it off for two days straight.
It's no secret: kids love superheroes. And adults do too! Who hasn't wanted to fly or to run faster than Usain Bolt? Who hasn't dreamed of having the power to teleport instead of enduring long road trips with a crying toddler? (Wait, is that just me?)
When a child dons a superhero costume, we see him transform into a character full of confidence and power. Our culture's love for all things superheroes gives Christians a huge opportunity to introduce kids to the ultimate superpower God wants to give them.
Different Kind of Power
Do you remember when Jesus was about to ascend back to heaven after the 40 days he spent as the resurrected Messiah on earth? Well, his best buds, the disciples, thought maybe now the Messiah's kingdom would be consummated and complete. Maybe now all oppression would cease. Maybe now, like what all superheroes do best, Jesus would rid the earth of evil.
But when they asked Jesus about this, he offered them a different kind of power: "It is not for you to know times or seasons that the Father has fixed by his own authority. But you will receive power when the Holy Spirit has come upon you, and you will be my witnesses . . . to the end of the earth" (Acts 1:7–8).
This power isn't marked by political dominance but gospel faithfulness. This power isn't expressed through superhuman strength but supernatural love. The Holy Spirit, who indeed is God, empowers followers of Jesus to be his witnesses—people who, through words and actions, embody the Messiah's kingdom of holy love—all around the globe.
Another Helper
This power would not be expressed through superhuman strength but supernatural love.
That superpower may sound a bit lofty and otherworldly. But that's only because it is. The disciples needed to learn that the power to love like Jesus in both word and deed is not a power they naturally possessed within themselves. We need to learn—and frequently relearn—this too.
To "love . . . another earnestly from a pure heart" (1 Pet. 1:22) isn't something we simply muster up the willpower to do. We need help. Kids (and adults) can find it difficult to share, to exercise patience, and to forgive when sinned against. How do we counsel them when we see this natural struggle?
Many of us (myself included) tend to resort to demands and threats for attitude and behavior modification:
"Fix your attitude!"
"Just share!"
"Do better!"
But Jesus offered a greater hope to his disciples: "I will ask the Father, and he will give you another Helper, to be with you forever" (John 14:16). What if our kids learned they don't have to come up with "the goods" for doing good? What if we saw prayer with our kids—asking the Spirit for help to change our often-straying hearts—as our first defense rather than a last resort? What if our kids learned, even now, to see the Holy Spirit as their Helper in weakness?
Love Came to Live in Us
Much of the superhero lore of our time encourages self-actualization and self-empowerment. But the superpower God offers us, through his Spirit, draws on the reserves of God's endless love, not our own limited love.
The superpower God offers us, through his Spirit, draws on the reserves of God's endless love, not our own limited love.
The good news of Jesus doesn't only tell us that God, in his superabundant love, gave us his only Son so that "whoever believes in him may have eternal life" (John 3:15). That good news also encompasses the fact that "God's love has been poured into our hearts through the Holy Spirit who has been given to us" (Rom. 5:5). Our supernatural Helper is the One who allows us to experientially know the love of God. Without this, we have no lasting power to love.
"God is love" (1 John 4:8). And the good news we share with our kids must include the fact that love came to live in us. And with love in us, we have 24/7 access to the power of God to experience his love for us and display his love to others.
Superpower Helper
Like a superhero who changes into her cape or mask before saving the day, we have access to a superpower. Unlike our typical superheroes, though, we don't have to run to a secret lab to change. We don't have to find our super suit. We need only to run, through prayer and the Word, to the Holy Spirit, who gives us the power to love like Jesus.
The power kids need to live confidently isn't found in themselves but in their God-given superpower Helper: the Holy Spirit. That's good news worth sharing with superhero-loving kids and grown-ups alike!
Get a FREE eBook to strengthen your family discipleship!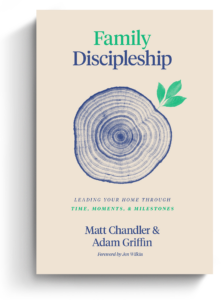 The back-to-school season is stressful for moms and dads. New rhythms of school, sports, and other extracurricular activities can quickly fill up a family's already busy calendar. Where do busy parents look for resources on discipling their family well? Aside from prioritizing church, what else can Christian parents do to instill healthy spiritual habits in their household?
Matt Chandler and Adam Griffin cover these questions and more in Family Discipleship: Leading Your Home through Time, Moments, and Milestones. And we're excited to offer this book to you for FREE as an eBook today.
Click on the link below to get instant access to your FREE Family Discipleship eBook now!