Our children are sponges, for better and for worse. It's no secret what they will soak in from the world. The question is, what are they soaking in from us?
Hip-hop artist Shai Linne [website | Twitter] wants to help. His two newest projects—a children's book and a children's album—are designed to implant big truths in little hearts. God Made Me AND You: Celebrating God's Design for Ethnic Diversity is an illustrated story, set in a school, that powerfully communicates God's creative wisdom and heart for diversity. Jesus Kids is a 12-track album—listen to one of the songs, "Only Jesus," above—that covers the building blocks of the Christian life. (You might even overhear your kids reciting the books of the Bible.)
I asked Shai about his vision for both projects, his conversations about race and diversity with his young son, his favorite song on the record, and more.
---
What burdened you to write a children's book on this topic?
Actually, the publisher, New Growth Press, approached me about it almost two years ago. My book is the second in a series that helps parents talk with children about difficult subjects in a biblical, gentle, wise way.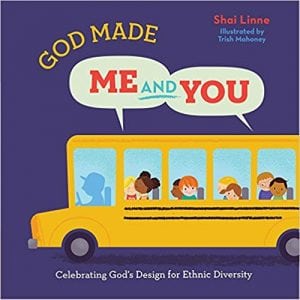 The first book, Justin and Lindsey Holcomb's God Made All of Me: A Book to Help Children Protect Their Bodies, is meant to help children be on their guard against sexual predators. I had already been thinking through issues of ethnic diversity for some time. I considered it a worthy challenge to try to communicate something so fraught with controversy (sadly!) in language a child could understand.
In the introductory note to parents and caregivers, you write, "Countercultural, biblical views don't just happen." Can you elaborate on what you mean? And how does this claim relate to the issue of diversity?
I'm reminded of J. B. Phillips's take on Romans 12:2, where he paraphrases "Do not be conformed to this world" as "Do not let the world squeeze you into its mold." Worldly mindsets are constantly pushing and pulling at us. It takes no work to be worldly. If we do nothing we'll be dragged along by it.
It takes no work to be worldly.
When it comes to ethnicity, we have to fight against two tendencies: idolatry and apathy. Idolatry makes ethnicity ultimate; apathy seeks to ignore it altogether. But there's a third way, which I believe is the biblical way: ethnicity, like everything else in creation, exists for God's glory. It should be celebrated as a gift and a pointer to God's creative and redemptive genius. This kind of thinking isn't inherent; it must be taught.
You have young children. What have your conversations with them about race and diversity looked like?
Thankfully, our kids exist in a multi-ethnic environment, where it's normal for them to see and interact with people of all flavors at church, at school, and at the dinner table. So that's really all the younger ones know. But I did have an incident with my oldest son, Sage, who is 6 now. When he was 4, he was the only black boy at a basically all-white classical Christian school. While learning about the ancient Egyptians in class, the pictures they saw had people with dark skin, which prompted one of the children to say, "Sage has brown skin!" while pointing and laughing. This was my son's first introduction to feeling "other." At one point, he said to my wife and me: "I don't want to have brown skin. I want to have white skin."
This isn't something I was excited to interact with my 4-year-old about! At least, not in those circumstances. So with him, our conversations about race have been about building him up in the truth that he's made in God's image and that he's fearfully and wonderfully made. It's also meant transferring him to a more ethnically diverse Christian school, which he loves. That experience with Sage was definitely on my mind as I put the book together.
What was your goal for the Jesus Kids album? What unique contribution do you hope it makes?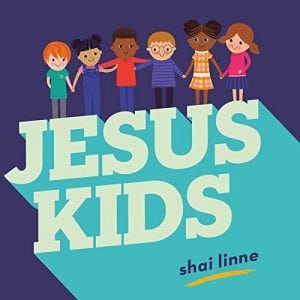 My goal for Jesus Kids is to present biblical truth in a catchy, memorable way in order to help lay a foundation of the basics of the Christian faith. My hope is that parents, teachers, and caregivers would use this album to start (or continue) conversations with the children in their lives about what it means to be a follower of Jesus Christ.
Why did you intersperse catechism questions throughout the album? Does catechesis really work in the 21st century?
Our children are being catechized by the culture every day, so yes, it works! Advertisers and children's television programmers figured this out decades ago. Catechisms are a great way to capitalize on children's natural capacity for memorization. Our hope is that God would regenerate their little hearts, and connect the dots between the truth they're memorizing and the Spirit's saving work in their souls.
What was your favorite song on the album to write and produce, and why?
You should know by now not to ask an artist that! You know, what's your favorite kid and all that? But if I had to answer, the song that affects me the most is called "Our Father in Heaven," which focuses on prayer. There's a childlike simplicity about it that reminds me of God's kind disposition toward his children. It makes me thankful for the access that we have to him through Christ.
---
Jesus Kids is Shai Linne's eighth studio album. Learn more about his music at www.shailinnemusic.com.