In light of projections from early census data, Michael Cooper of The New York Times reported on December 12 that very soon the United States will no longer be considered a nation consisting of a majority and multiple minorities. He insists the new census data points to the United States becoming a "plurality." "The term 'minority,' at least as used to describe racial and ethnic groups in the United States," Cooper writes, "may need to be retired or rethought soon." Cooper explains that by the end of this decade "no single racial or ethnic group will constitute a majority of children under 18. And in about three decades, no single group will constitute a majority of the country as a whole."
No doubt J. D. Payne's Strangers Next Door: Immigration, Migration, and Mission comes at an appropriate time in our nation's history. The book effectively informs Western Christians—particularly North Americans—about God's kingdom activity as it relates to the movement of people across the globe. An ethnographer, a demographics guru, or an urban strategist might consider Strangers Next Door a mile wide and an inch deep. I would argue the breadth and depth is just right for the American audience.
Some Gems
In this concise primer Payne, pastor of multiplication at The Church at Brook Hills in Birmingham, Alabama, has bundled a few invaluable gems into one volume. A few examples include:
• A survey of current and foundational works on the topic
• A migration primer
• A synopsis on relevant theological and missiological issues
• A perspective-altering discussion of God's historical activity through major movements of people, particularly as it relates to kingdom expansion among the unreached
• Anecdotal evidence from models of ministry working in North American and Canada
• A simple explanation of a multi-directional strategy
• Helpful tables and figures
Multi-Directional Strategy
What is Payne suggesting by this multi-directional strategy? What are we supposed to do in light of a world that has "come to us"?
Strangers Next Door illustrates and advocates a strategy built off of the concept of globalization. Too often churches and ministries assume a stasis among migrants. We think our new neighbors come to Canada or the United States or the UK to stay, and that is the end of it. However, Payne points to migration data that documents back-and-forth movement. So, yes, we need to care for refugees and immigrants who move into our neighborhoods. And yes, we need to engage in cross-cultural evangelism that results in multiplying churches. But starting a church among Somalis in Atlanta is not an end in itself.
More than ever, North America is being flooded by people from all around the world, many of them here illegally. How should the church respond to these sojourners among us? In Strangers Next Door professor of evangelism and church planting J. D. Payne introduces the phenomenon of migrations of peoples to Western nations and explores how the church should respond in light of the mission of God.
Somalis, Haitians, West Africans, and Brazilians naturally network with their family members and friends back in their countries of origin. Payne's multi-directional concept foundationally changes the way we approach diaspora missions. Multi-directional mission follows the natural flow of communication and travel that inexpensively bounces from here to there and back again.
So What's Different in This Model?
The distinction of the mult-directional strategy has to do with connecting local and global ministry among internationals. What does that mean for me in particular?
(1) It means that as a concerned Christian I will continue reaching out to unreached mountain people in Afghanistan. I will partner with missionaries and indigenous workers who translate Scripture and develop strategies for evangelism and church planting in Central Asia.
(2) Beyond partnering in distant Afghan work, I also need to reach my Afghan friend Ali who lives in my town. I will seek to engage in faithful cross-cultural ministry to Ali and his family. If Ali comes to Christ, I will disciple him with the coaching of some American friends who are experts in Afghan work.
(3) The substantial difference Payne encourages takes place in my discipleship with Ali and his family. My global and local ministries converge as I disciple Ali with a view toward him reaching Afghans both here and around the world.
This multi-directional strategy is not unique to Payne. But Strangers Next Door places the strategy on a shelf everyone can reach. Payne advocates discipling Ali here in the States with the assumption that he'll become an instrument in God's hand to reach his family in Memphis, in California, and even in the mountains of Afghanistan. In fact, Ali has family members in Ontario and Amsterdam. He communicates often with them and may be returning regularly to his homeland.
Regrettably, most of us bifurcate our missional activity. We separate our ministry in the States from our mission work around the world. Personally, in my global ministry I narrowly focus on the least reached who live in Afghanistan. But for the most part, my local ministry is directed toward underprivileged, inner-city Memphians to the exclusion of internationals. Both groups deserve my attention, but Payne presents another dimension.
Strangers Next Door has challenged me to re-examine my own city in light of the connected threads here and "over there." I am eager to more faithfully practice multi-directional, multi-national local ministry in my hometown as an extended connection to the world.
Does a North American-based multi-directional strategy suffice? Is it the singular, comprehensive global strategy? Absolutely not. But in Strangers Next Door, J. D. Payne has offered a better way for us to serve and reach international migrants while connecting discipleship to global evangelism.
Get your FREE 7-day devotional!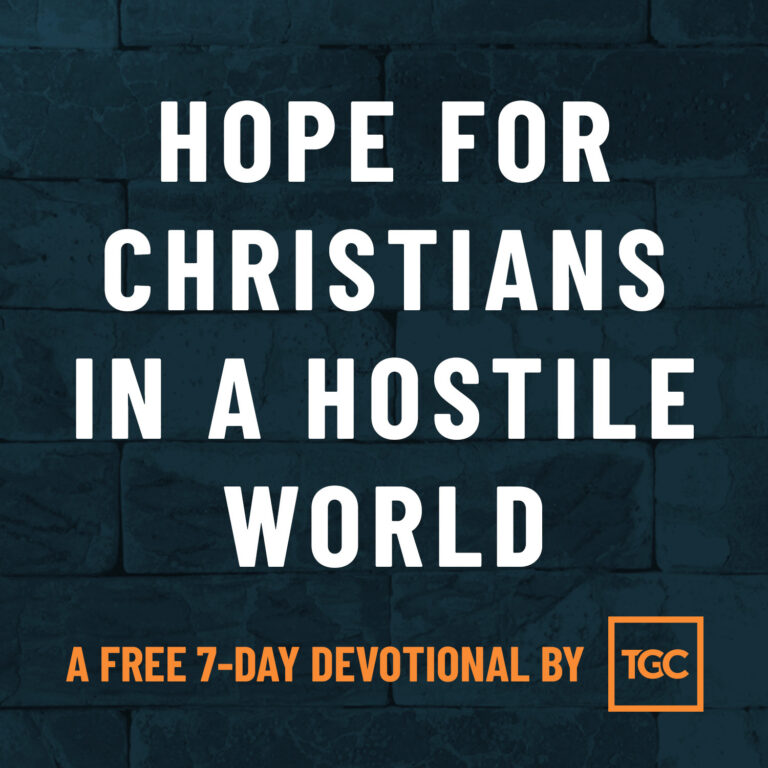 God's people have always been strangers and sojourners in this world. Do you feel that way, too?
You're not alone. Since the church's beginnings, Christians have often felt ostracized. And the Bible offers great encouragement for how to live with hope.
If you're feeling the weight of cultural exile today, our new 7-day devotional, Hope for Christians in a Hostile World, will encourage you.
If you sign up for this FREE resource, we'll send you an email each day for a week with a daily devotional featuring Bible readings and reflections written by TGC staff and friends.