What will our church look like in this new era? This is the question many pastors are trying to think through now.
Thom Rainer's new book, The Post-Quarantine Church: Six Urgent Challenges and Opportunities That Will Determine the Future of Your Congregation, is a timely answer to this question.
Rainer—founder and CEO of Church Answers and former CEO of LifeWay Christian Resources—doesn't claim to have all the answers, but he seeks to start the conversation. He brings vast experience to the exercise having heard from "thousands of church leaders and members every week." The book is a quick and easy read. It offers a great number of ideas and carries an irrepressible tone of optimism.
A trustworthy and respected guide for pastors and church leadership in the post-quarantine world, providing hope and vision for the future of your congregation. From thousands of surveys of church leaders and in-person consultations, Thom Rainer and his Church Answers team have gathered the essential wisdom you will need to face the challenges and opportunities that the quarantine crisis creates for the local church, including:
New and better ways to lead the gathered church
A wide-open door for growing the digital church
A moment to rethink the facilities
New strategies for church growth . . . and much more!
Driving all of this is Rainer's heart for mission. He notes that the church has gradually drifted in its "outward focus." Rather than bemoan or merely critique, Rainer writes that "[t]he Post-Quarantine era is the perfect time to reset." Powerfully true. Anything that helps us make the most of this time—to better align our churches for faithful, effective gospel ministry—is a gift.
I want to offer a quick survey of the content, with some reflection on the helpful aspects of the book. But together with a couple of small critiques, I want to suggest a major possible problem.
Practical Help
The book starts with the practical and concrete: how can we, in this new context, better use our buildings? Then he discusses the digital world. How can we make the most of these "new fields and opportunities"? He stresses the importance of prayer, dedicating a whole chapter to the ways we can improve congregational prayer life. He makes some significant observations about what the church will be like post-COVID—though I do wonder if it's too early to tell. He suggests the church will be more strongly anchored in the local community. He calls this "recovering our church address." He suggests that, ironically, we may become "more people orientated." (It only took a pandemic to get us back to core business!)
Rainer makes observations around the future of "big box services" (large auditorium church experience). His sense is that even after restrictions have lifted, "worship services will be smaller"—again, though this is certainly true in the short term, I wonder if these conclusions are a bit premature.
Rainer provides many real-life examples of churches seeking to make changes and better engage in mission. This is all done to "stir our creative juices." No doubt it will do this for many readers, but therein lies something of a danger. I must confess to being a staunch advocate of the basic principle of his earlier book Simple Church. Usually, pastors need the courage to do fewer things, chosen according to a clear philosophy of ministry, and do them well. More ideas can easily push desperate pastors back toward areas not conducive to deep discipleship. Rainer seems aware of this risk; he mentions early on the need for simplicity and later devotes a larger section to this concern. But is this enough in the context of so many ideas? And without a larger ministry philosophy that helps to adjudicate between the endless decisions?
The last chapters on change management are helpful. Rainer comes at this negatively and then positively—negatively, the mistakes we can make in working for change; positively, seven key principles for lasting change. He then finishes with nine key changes. In my view, this kind of material is critical. Near the end of the book, Rainer writes, "The opportunity to lead change is likely greater than at any other point in our lifetimes." He reminds us that "without a doubt most church leaders have not been trained and equipped for this new season." He's right. In this season of great opportunity, we need all the help we can get.
Who's the Church For?
Now to the concern to which I alluded at the beginning.
Throughout the book, Rainer relies on shorthand language that makes contextual sense, but possibly betrays an unhelpful assumption about church life. This assumption reinforces a broader, more problematic notion about the church.
The issue is Rainer's use of "inward" verses "outward." It's clear that Rainer is targeting what he calls "country club Christianity" (an evocative phrase). This is an important concern. My problem isn't with his intent, but with his language. I think it lacks nuance. It's too blunt. It's like chemotherapy in that, during the process of expunging what is bad, it also kills the good. Inside-focused ministries are good things. There are important and necessary insider-focused ministries. Indeed, the dominant use of the word "church" in the New Testament refers to the actual gathering of believers. So strictly speaking, church is for the insider (1 Cor. 14). Certainly, it's to have an intentional eye to the outsider, but it's for believers. Even when the language of church is stretched to refer to the non-gathered community of believers (who gather on Sundays) such that it ought to have an outward focus, there is still an important emphasis on insider ministry.
A properly shaped insider ministry will honor the biblical imperative and go on to create Christlike disciples. It will transform comfortable Christians into gospel-driven missionaries.
Yes, it's certainly possible for insider-focused ministry to become the "country club" church: the church is for me, my comfort, and my friends. But a properly shaped insider ministry will honor the biblical imperative and proceed to create Christlike disciples. It'll transform comfortable Christians into gospel-driven missionaries. The Spirit uses this to drive a healthy outward focus. While it may help, simply adding a new use for our church buildings, a new program of prayer for businesses, or six extra services through the week won't bring the kind of change we need. But—as Rainer may well agree—it won't last.
What the post-quarantine church most needs is a renewed sense of what Bible-shaped insider ministries look like, and the imagination to reshape our churches in the current climate so that we can better disciple our congregations with an outward focus.
Rainer's book is a quick start to an important conversation.
Get a FREE eBook to strengthen your family discipleship!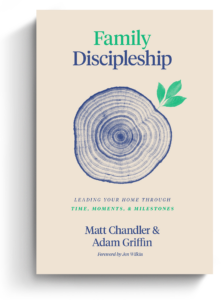 The back-to-school season is stressful for moms and dads. New rhythms of school, sports, and other extracurricular activities can quickly fill up a family's already busy calendar. Where do busy parents look for resources on discipling their family well? Aside from prioritizing church, what else can Christian parents do to instill healthy spiritual habits in their household?
Matt Chandler and Adam Griffin cover these questions and more in Family Discipleship: Leading Your Home through Time, Moments, and Milestones. And we're excited to offer this book to you for FREE as an eBook today.
Click on the link below to get instant access to your FREE Family Discipleship eBook now!