In 1661, a pastor in England was imprisoned for 12 years. His crime: holding a religious gathering with more than five people outside of his family in a building other than the state-sanctioned parish church. The law that convicted him was rarely enforced, used most often to suppress political organizations masquerading as churches.
The pastor didn't have political motives, so he could have avoided such a lengthy sentence by promising not to re-offend. But his conscience didn't allow him to make that promise. He spent 12 years in prison and wasn't released until the king signed a leniency act.
The pastor was John Bunyan, and during his time in jail he began writing one of the most influential works of Christian fiction ever published: The Pilgrim's Progress. The book has been translated into hundreds of languages and has never been out of print.
The Pilgrim's Progress tells the richly allegorical story of a pilgrim's journey from the City of Destruction through various trials to the Celestial City, where a good king reigns forever.
In the past year, three excellent new versions of the book have been published with simplified wording and illustrations. Young readers can now access this influential work of Christian literature that has remained popular for over 300 years.
In this fresh, imaginative new edition, bestselling illustrator Joe Sutphin portrays the characters of Bunyan's tale as animals living in a woodland realm. Children will delight in the lavish illustrations, reading alongside their parents or interacting on their own with the timeless words and beautiful imagery that they discover on every page. This book will help children see the trials and triumphs of faithfulness with fresh eyes, leading them to declare along with Christian, "I am going to the King!"
---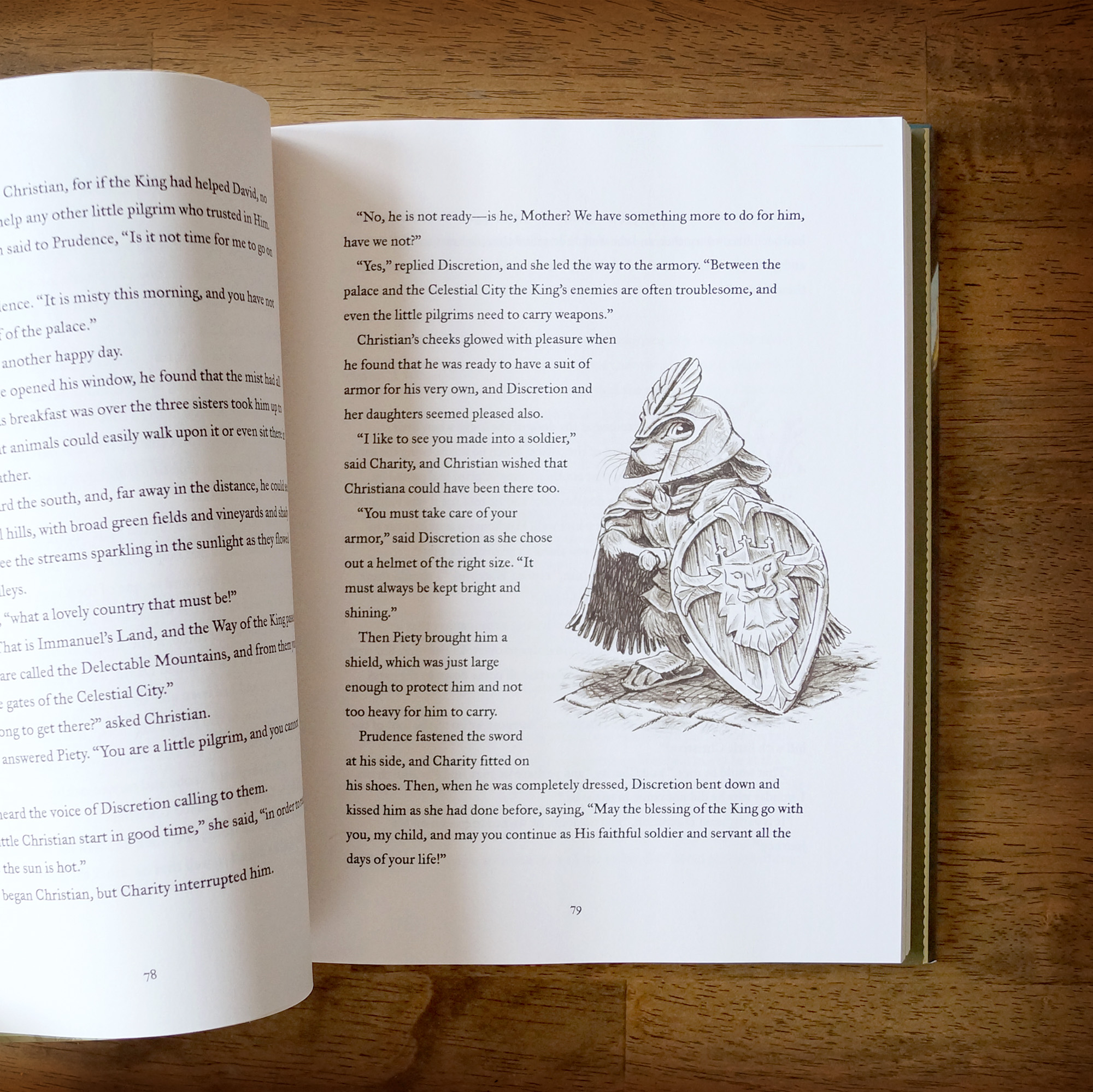 In 1947, Helen Taylor published a version of Pilgrim's Progress written in contemporary language, specifically for kids, and it became a classic in its own right, selling hundreds of thousands of copies. Taylor changed the original protagonist, Christian, from a man to a boy when she told the story. In this 2021 retelling, Joe Sutphin imagines young Christian as a little rabbit and all the characters as different animals.
The language and story are both engaging and accessible, but the illustrations really make this version stand out. Sutphin provided the illustrations for Andrew Peterson's Wingfeather Saga and for the forthcoming graphic novel version of Watership Down, and his pictures here are expressive, arresting, tender, detailed, sometimes frightening, and very beautiful.
The book reads like an epic fantasy adventure story, with sword fights, castles, giants, and wolves—and the pictures are almost vivid enough to tell the whole story on their own in a way that even a child who cannot read words can still follow and understand.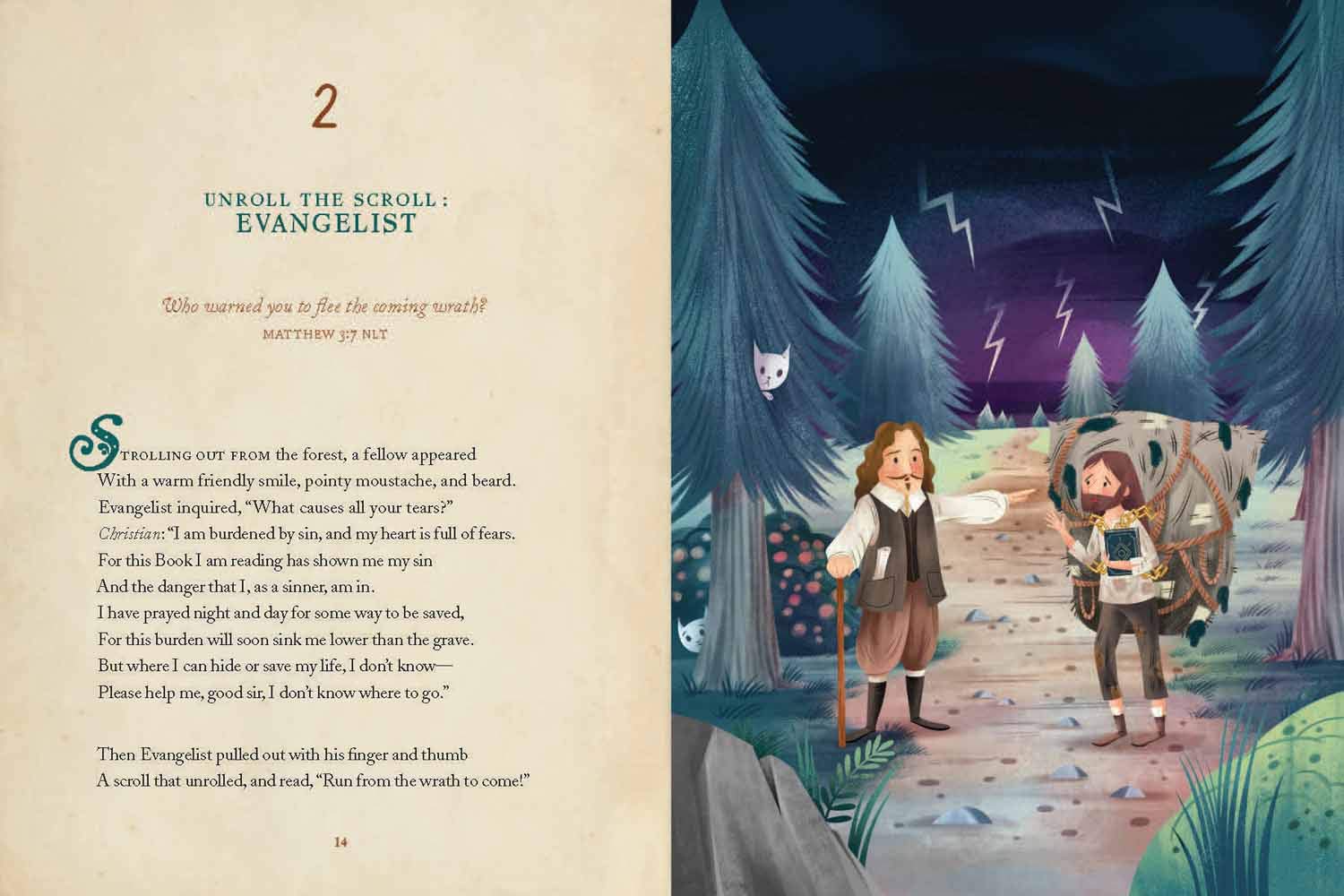 Even though the language is contemporary, the story in this version is unexpectedly close to the original. It retains many of the
details and vignettes of John Bunyan's version, which lends it the wonder and power of the original.
This faithfulness also runs the risk of making the retelling too dark or baffling for its intended grade-school audience (Bunyan's work contains metaphors within metaphors, and many characters get lost or perish in sometimes gruesome ways). That risk is dramatically reduced by the book's delightful innovations that make it fantastic to sit and read with a child.
For instance, it's written in rhyme, which lightens the tone and makes it a joy to read aloud. It has short chapters with lots of pictures (both huge parental wins for read-alouds) and the chapters mostly end on hopeful notes, even if the characters are struggling through some hard parts.
My 9 year old got impatient to find out what would happen, so he finished the book on his own. But my 6 year old and I are working through it slowly together, savoring the strangeness and talking through some of the sad or hard parts as we go.
This version stands out because it is written in a way that an elementary-aged child could easily read independently. The book begins with a one-page biography of John Bunyan and a one-page explanation of allegory. Every chapter ends with a summary and a brief analysis of the allegories. There's an illustration and a small amount of text on every page.
In this version, the main character of the story is once again recast as a child, and many of the harder and darker passages are significantly less detailed or end in escape rather than death. The advantage is that pretty much any child old enough to read independently could access John Bunyan's classic through this version.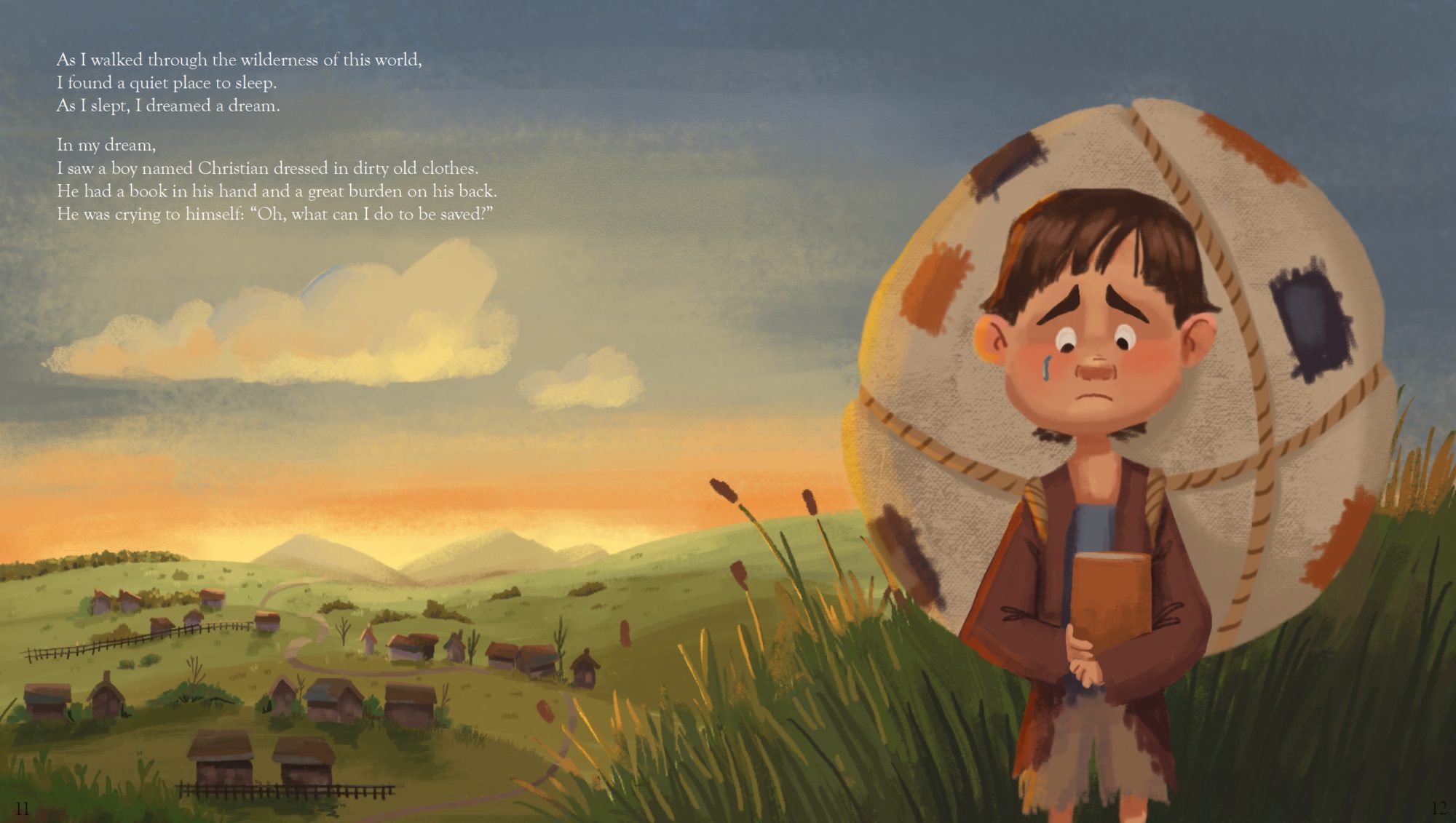 John Bunyan's original story of The Pilgrim's Progress is wildly imaginative and heartbreakingly insightful. In a note on her 1947 version of the book, Taylor said: "If John Bunyan were alive at the present time, I think he would forgive me for the liberty I have taken in attempting to unlock his treasury and to bring 'that gold, those pearls, and precious stones' a little nearer to the childish hands, which are always so ready to receive such gifts."
These new editions further sift out the gold for even the youngest readers to access, and each of them brings different strengths to its interpretation of the original.