Mentoring . . . Discipleship . . . Spiritual Mothering.
We have many words to describe what many of us long for: an example to follow—someone to embody the truths of the gospel so we can learn from their faithful living. We want someone who will speak truth, share godly wisdom, and be a listening ear when we feel at a loss of where to turn or what to do.
To help us catch a vision for the importance of spiritual mentoring, I've asked a variety of women a few questions about mentoring and over the next couple of months, I'll share our interviews. Today, we'll hear who mentored Shar Walker and learn that discipleship is more than just sharing what we know—it's about sharing our lives with one another.
Here's my interview with Shar Walker.
---
Who spiritually mentored you in the faith?
Gail was the type of woman who wouldn't just say, "I'll pray for you," and walk away only to think about the next item on her to-do list. She would take your hands in hers and ask if she could pray with and for you right then and there.
At the time, she was a grandmother of two and a former nurse, and I was single and in my 20s. While a lot of young moms understandably had little time to give to invest in younger women like me, Gail had an abundance of time she was generous with.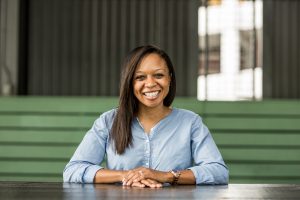 Our time together varied. I usually went to her house where we drank tea. Sometimes it was structured, and we studied God's Word together. Other times it was more informal and fluid and she let me talk and ask questions, or we'd cook together or go on a walk. Our time together always incorporated prayer.
I got to see Gail in a lot of different contexts. If we weren't at her house praying, we were serving together at a weekly potluck where we engaged people in the community and built relationships. We also went to the same Bible study and prayer groups.
What did you learn from her life and example?
If Gail taught me anything, she taught me how to pray and how to train my first response in times of anxiety or crisis to be prayer before flying into "fix it mode" (my natural instinct).
I learned a lot from Gail by watching her life and through formal teaching. Because she invited me into different aspects of her life, I saw how she responded in situations of stress. I watched her respond to life's mishaps in ways that honored God.
There's something comforting about the slow, steady plodding of older saints.
She also formally taught me and others. One season she led a small-group discussion on prayer and spiritual warfare—a topic I was more likely to ignore than over-emphasize.
Perhaps Gail's greatest gift to me was her steady faithfulness to walk with God for decades. There's something comforting about the slow, steady plodding of older saints. She also gave me a picture of what discipleship, advancing the kingdom, and raise up laborers could look like when I'm in my 60s.
If a younger woman desires a mentoring relationship with an older woman, how would you advise her to find a mentor?
Find contexts in your local church where you can get to know women who are in different seasons of life than yourself. Spend time observing their life as much as possible. There are likely many women in your church who have lives worth emulating, we just need to be intentional about getting around them long enough to see it.
A brief word of advice: don't discredit women who are retired or older. They're a wellspring of godly wisdom and love, and they often have more time than women in other seasons. And to the older saints, I pray you know how much your younger sisters in Christ need you.
A brief word of advice: don't discredit women who are retired or older.
If you find a woman who you would like to mentor you, ask her to hang out. Develop a friendship. Invite her to get coffee or tea or for brunch and ask her about your life. How long has she been a Christian? If she's married how did she meet her spouse? What's something hard she's had to trust God with? You can slowly build a relationship over time before asking her to mentor you.
If you're desiring something more formal, share with her that you value her walk with the Lord and you'd love to have a regular space where you could learn from her both formally and informally. At this point, it's helpful to be clear about your desires. I imagine some women may not have a category for what you're desiring and expecting. Perhaps start by asking if you could meet up once a month or every other week to study God's Word and pray.
Why is discipleship in the local church context so important for spiritual growth?
We can't have the full and abundant life Christ desires for us (John 10:10) outside of intimate relationships with other believers. If we relegate spiritual growth to going to church and Bible study and listening to Christian podcasts, we've mistakenly assumed growth is solely equated with obtaining knowledge. In this case, we stunt our development, and we've missed out on one of God's greatest gifts to us—his people.
Articles and social media are great avenues for obtaining information. But growing spiritually is so much more than gathering correct doctrine—it's right doctrine married to godly living in community with God's people. The knowledge we obtain about Christ's goodness is always meant to change us. The people on the other end of the articles, podcasts, and social media channels can't tell you when you're wrong. They can't tell you how to walk in wisdom in your particular situation. We have an embodied faith where we thrive when we're with people, in person.
Discipleship isn't just sharing what we know, it's sharing our lives and who we are in Christ (1 Thess 2:8).
Discipleship is a primary way we grow in spiritual maturity.
Discipleship is a primary way we grow in spiritual maturity. To know other Christians and be known by them gives us a context to learn, develop, question, wrestle, and be corrected. In these relationships we experience that, as my pastor says, "The church is not like family, it is family." Discipleship isn't about knowing more, it's about being known more.
What particular piece of wisdom or advice do you hope to pass on to younger women in your life?
There isn't a Christian "type." While it's common to hear God is conforming us into the image of himself, I've subtly (and wrongly) assumed he's making us all the same. Perhaps it's more accurate to say he's making us a more Christ-like version of ourselves. While it's tempting to put too much stock in personality (especially today), learning ourselves is a way we learn of God. As Augustine said, "Grant, Lord, that I may know myself that I may know thee."
In knowing ourselves and God, we'll inevitably see how unlike him we are. May we savor the cross in these moments. Sometimes sanctification can really hurt—Jesus calls it pruning for a reason (John 15). It can feel like it's killing us. It's not though. It's refining us, and he's with you in the process and so are his people (if you let them). Always stay closely tethered to his Word and his people.
Always stay closely tethered to his Word and his people.
Be humble, and always be a learner of God and others. If you can look back can see the ways your thinking has changed about a particular situation, you're likely growing. Surround yourself with a few trusted, godly men and women who are a safe place for you to learn, to struggle, and who will give you honest correction when necessary.
---
SharDavia "Shar" Walker lives in Atlanta, Georgia, with her husband and son. She works on staff at the North American Mission Board (NAMB) as the senior writer. Shar is a writer and speaker and is pursuing a MA in Christian studies at Southeastern Baptist Theological Seminary. She loves getting lost in a good story (historical fiction is her favorite genre), watching the show Survivor, hand lettering, movies, and all things chocolate. You can find more of her writings at sharwalker.com.
---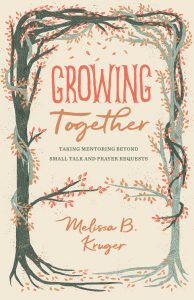 I have a new book, Growing Together: Taking Mentoring beyond Small Talk and Prayer Requests that released on June 9. It's not primarily a book about mentoring, but a book that two women can use in a discipleship relationship to help discuss a variety of topics. It's meant to be one way to get the conversation started, but by no means is it the only way to mentor. If you're looking for a place to begin, I hope it will be a helpful resource.
Other posts in this series: