Mentoring . . . Discipleship . . . Spiritual mothering.
We have many words to describe what many of us long for: an example to follow—someone to embody the truths of the gospel so we can learn from their faithful living. We want someone who will speak truth, share godly wisdom, and be a listening ear when we feel at a loss of where to turn or what to do.
To help us catch a vision for the importance of spiritual mentoring, I've asked a variety of women a few questions about mentoring, and over the next couple of months, I'll share our interviews. Today, we'll learn who mentored Hunter Beless and how she looks for spiritually mature mentors who humbly and faithfully live out God's Word. We share a common passion for encouraging mentoring in the local church, and I highly recommend her series on discipleship at the Journeywoman Podcast.
Here's my interview with Hunter Beless.
---
Who spiritually mentored you in the faith?
I've had the gift of learning from a host of mentors in different seasons of life. Each one of those relationships looked different, but all of them included the basics of the Christian life. 
These mentors have taught me to love the Word by treasuring it themselves.
These mentors have taught me to love the Word by treasuring it themselves. They've taught me to pray by praying with me. They've taught me to show value to others by engaging me with intentional questions. They've loved me, served me, and shared their lives with me. 
As they've done this, the Lord has used their own personal hardships to remind me to persevere when I face struggles of my own. I watched one mentor process the loss of her son, another face marital struggles, one walk through infertility, and another live with a debilitating, chronic illness. 
I think it's helpful to note that they didn't count these difficulties as disqualifying them from being able to teach and encourage me. Instead, they humbly acknowledged their hardships, offering a tangible picture of what it looks like to look to the Lord in faith.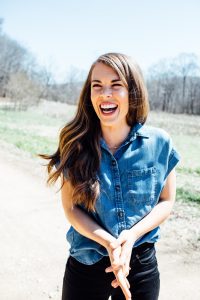 What did you learn from their lives and examples?
"For it is no empty word for you, but your very life!" (Deut. 32:47). This is a phrase I heard often from Joyce Lasse, one of the many women the Lord used in my journey. 
She'd place her palm firmly on the cover of her Bible, speaking with the confidence one can only possess after having walked a lifetime with Jesus. Joyce shared not only the gospel with me but also herself in such a way that I truly became an imitator of her and of the Lord Jesus.
It's been a decade since we did life together, but I'm still gleaning from the way she loved her Bible. She spoke about it with hunger, reverence, and awe. She adored it, craved it, meditated on it, prayed it, and saturated herself with it. And this was evident, not only when she quoted the Bible, but in the way that she lived life and loved others. 
We didn't spend the bulk of our time talking about my problems and how to fix them. Instead, we wondered at the Word.
Joyce knew the struggles I faced at the time, but we didn't spend the bulk of our time talking about my problems and how to fix them. Instead, we wondered at the Word. We prayed the Word together. We dug into it, asked questions, and sought answers. I was young enough to be her daughter, but she treated me like a friend.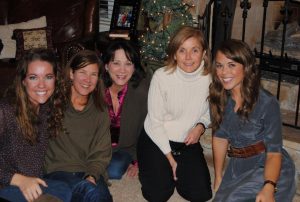 I wanted Joyce to mentor me because she genuinely loved the Word of God. I could see that she loved it because she was always directing me there. The way she loved the Word and lived it out in her everyday life was congruent with what Paul lays out in Titus 2:3–5 when he says that older women are to be reverent in the way they live, not slanderers, not addicted to wine, able to teach with is good, sensible, pure, working at home, kind, and subject to their husbands. All of those characteristics are nestled under the exhortation to teach sound doctrine, which gives our mentors the foundation from which to train us as younger women.
If a younger woman desires a mentoring relationship with an older woman, how would you advise her to find a mentor?
First, ask the Lord to open your eyes to women in your proximity who can come alongside you in your season and cheer on the work of the gospel in your life.
In her book Spiritual Mothering Susan Hunt says, "The method used to identify the older women in a local congregation is based on spiritual maturity [. . . ] Those who manifest the Christian virtues given in Titus 2:3 are to be viewed as the mature women in the congregation. The character of Christ qualifies a woman to be a spiritual mother. This has nothing to do with biological birthing. It has everything to do with a knowledge of sound doctrine that produces faithful living." 
So, we're looking for someone who is spiritually mature—not just by getting older and growing in life experience (though that does help), but by spending time in God's Word. Like my college mentor, Joyce, you'll find that spiritually mature women consistently direct you back to God's Word. 
Once the Lord gives me eyes to see a woman like that, I approach her by saying something like, "Hey! I've noticed you're really good at asking intentional questions both of the text we're studying and of other women in our Bible study! Can I come over and help you fold laundry and hear about how you developed that skill?" A humble inquiry about a specific attribute can lighten the unnecessary pressure that women often feel when they hear a well-intentioned question like, "Will you mentor me?" 
I've found no better place to get to know the most devoted followers of Jesus than serving in the nursery and helping set up coffee.
I've found no better place to get to know the most devoted followers of Jesus than serving in the nursery and helping set up coffee before women's Bible study. Get involved and look for women who you desire to learn from. Ask them to boldly speak truth into your life. 
If the answer to the question, "Who can mentor me?" isn't super clear, I've found that asking a pastor or the elders of your church can be helpful. If there isn't anyone in your church who qualifies as spiritually mature, keep praying and seeking out mentorship from books written by Christian women or from mentors in the past as you continue searching for someone who is in your proximity. 
Why is discipleship in the local church context so important for spiritual growth?
As disciples, we grow as we study the Word in the context of Christian community. We also grow by witnessing the lives of members in our community. We can learn what it means to be submissive to our husbands by studying Ephesians 5, but it's really helpful to be in each other's homes and see the way that those biblical convictions flesh themselves out in the marriages of those we know and love. This is the stuff you can't really witness through the screen of your iPhone.
As disciples, we grow as we study the Word in the context of Christian community.
In Christian community, we welcome one another not only to do Sunday morning things but Monday through Saturday things too. As we do that, we strive to live life under the authority of the Word of God, ever being reformed by the Word and sharpening one another to live in submission to it and to one another. It's pretty organic stuff. 
We see this in the life and ministry of Jesus with his disciples!.They did synagogue stuff together, but they also ate together, went fishing, went to a wedding, prayed together, and evangelized. Doing life together under the Word of God offers a tangible picture of what we believe actually being lived out in everyday life.
What particular piece of wisdom or advice do you hope to pass on to younger women in your life?
Our generation is able to take in lots of information as a result of technology. We're being encouraged to learn and to grow in our theology, which I love. But while we're striving to love God with our minds, we face the temptation to look down on older women who might not be as quick to defend their doctrine and theology. 
We might write them off as not having the "sound doctrine" Paul encourages in Titus 2 because they aren't able to defend their soteriology at the drop of a hat. My prayer is that we will have humble hearts, and that we will be quick to listen and slow to speak. We have much to learn from the women who have weathered many seasons of life and remained faithful.
On the flip side, humility also encourages us to go about the business of sharing our messy lives with others with the hope of training them in godliness, regardless of how much head knowledge we maintain. 
Humbly going about this work looks like acknowledging that we won't go about it perfectly.
I personally spend too much time questioning whether or not I am capable of leading. Humbly going about this work looks like acknowledging that we won't go about it perfectly. This causes us to graciously receive correction and trust God when he says that he delights in using broken vessels to accomplish his purposes for his glory. 
---
Hunter Beless is the founder and executive director of the Journeywomen Podcast. She believes God has called her to seek after those whom he has awakened to guide them back to their Heavenly Father. Hunter exercises this God-given design through her roles as a wife, mama, and podcast host. Though they stumble often, she and her husband Brooks strive to display God's covenant-keeping love through their marriage and oneness. They have three children and love journeying through life together for the glory of God.
---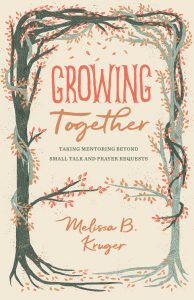 I have a new book, Growing Together: Taking Mentoring beyond Small Talk and Prayer Requests that releases on June 9. It's not primarily a book about mentoring, but a book that two women can use in a discipleship relationship to help discuss a variety of topics. It's meant to be one way to get the conversation started, but by no means is it the only way to mentor. If you're looking for a place to begin, you can preorder now. To read more, here's the initial article in this series.