In 1859, an American minister named "Rev. H." traveled to London to meet the famous pastor of the New Park Street Chapel.
When Spurgeon discovered his guest was from Alabama, his "cordiality sensibly diminished." A six-month American preaching tour would expedite the construction of the Metropolitan Tabernacle, but could Southerners tolerate Spurgeon's stance against slavery? When Spurgeon asked his guest this question, the Alabamian said he "had better not undertake it."
This advice might have saved Spurgeon's life.
The same year, S. A. Corey, pastor of Eighteenth Street Baptist Church in New York City, invited the 24-year-old to preach at the Academy of Music opera house for $10,000. News of Spurgeon's visit was met with anticipation in the North and hostility in the South. According to an Alabama newspaper, Spurgeon would receive a beating "so bad as to make him ashamed." On February 17, 1860, citizens of Montgomery, Alabama, publicly protested the "notorious English abolitionist" by gathering in the jail yard to burn his "dangerous books":
Last Saturday, we devoted to the ames a large number of copies of Spurgeon's sermons. . . . We trust that the works of the greasy cockney vociferator may receive the same treatment throughout the South. And if the pharisaical author should ever show himself in these parts, we trust that a stout cord may speedily find its way around his eloquent throat.
On March 22, a "Vigilance Committee" in Montgomery followed suit and burned Spurgeon's sermons in the public square. A week later Mr. B. B. Davis, a bookstore owner, prepared "a good ore of pine sticks" before reducing about 60 volumes of Spurgeon's sermons "to smoke and ashes." British newspapers quipped that America had given Spurgeon a warm welcome, "a literally brilliant reception."
Prince of Bonfires
Anti-Spurgeon bonfires illuminated jail yards, plantations, bookstores, and courthouses throughout the Southern states. In Virginia, Mr. Humphrey H. Kuber, a Baptist preacher and "highly respectable citizen" of Matthews County, burned seven calf-skinned volumes of Spurgeon's sermons "on the head of a flour barrel." The arson was assisted by "many citizens of the highest standing." In North Carolina, Spurgeon's famous sermon "Turn or Burn" found a similar fate when a Mr. Punch "turned the second page and burned the whole." By 1860, slave-owning pastors were "foaming with rage because they [could not] lay hands on the youthful Spurgeon." His life was threatened, his books burned, his sermons censured, and below the Mason-Dixon Line, the media catalyzed character assassinations. In Florida, Spurgeon was a "beef-eating, puffed-up, vain, over-righteous pharisaical, English blab-mouth." In Virginia, he was a "fat, overgrown boy"; in Louisiana, a "hell-deserving Englishman"; and in South Carolina, a "vulgar young man" with "(soiled) sleek hair, prominent teeth, and a self-satisfied air." Georgians were encouraged to "pay no attention to him." North Carolinians "would like a good opportunity at this hypocritical preacher" and resented his "endish sentiments, against our Constitution and citizens." The Weekly Raleigh Register reported that anyone selling Spurgeon's sermons should be arrested and charged with "circulating incendiary publications."
Southern Baptists ranked among Spurgeon's chief antagonists. The Mississippi Baptist hoped "no Southern Baptist will now purchase any of that incendiary's books." The Baptist colporteurs of Virginia were forced to return all copies of his sermons to the publisher. The Alabama Baptist and Mississippi Baptist "gave the Londoner 4,000 miles of an awful raking" and "took the hide off him." The Southwestern Baptist and other denominational newspapers took the "spoiled child to task and administered due castigation."
More Distant Future
In 1860, an article entitled "Mr. Spurgeon and the American Slaveholders" offered the following words: "Southern Baptists will not, hereafter, when they visit London, desire to commune with this prodigy of the 19th century. We venture the prophecy that his books in [the] future will not crowd the shelves of our Southern book merchants. They will not; they should not." In 1889, Spurgeon uttered a prophecy of his own: "For my part, I am quite willing to be eaten of dogs for the next 50 years; but the more distant future shall vindicate me."
The more distant future did vindicate Spurgeon. His sermons do crowd the shelves of Southern bookstores. As Carl F. H. Henry rightly noted, Spurgeon has become "one of evangelical Christianity's immortals." Throughout Alabama, Virginia, and the United States of America, the books of "the notorious English abolitionist" still burn—casting light and life in a dark and dying world.
---
Editor's note: This is an adapted excerpt from Christian George's preface to The Lost Sermons of C. H. Spurgeon Volume I: His Earliest Outlines and Sermons Between 1851 and 1854 (B&H Academic, 2017). See the book to access all 31 footnotes from this section.
Get a FREE eBook to strengthen your family discipleship!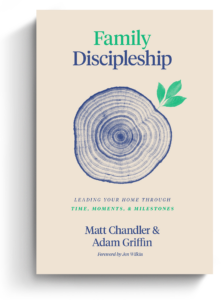 The back-to-school season is stressful for moms and dads. New rhythms of school, sports, and other extracurricular activities can quickly fill up a family's already busy calendar. Where do busy parents look for resources on discipling their family well? Aside from prioritizing church, what else can Christian parents do to instill healthy spiritual habits in their household?
Matt Chandler and Adam Griffin cover these questions and more in Family Discipleship: Leading Your Home through Time, Moments, and Milestones. And we're excited to offer this book to you for FREE as an eBook today.
Click on the link below to get instant access to your FREE Family Discipleship eBook now!