I'm glad you're not at my home on Sunday mornings when I'm trying to get the kids out the door to church. It's not pretty. I race around trying to find clothes, locate shoes and socks, pack a lunch (to occupy the toddler during coffee hour after the service), and figure out how to get the baby to take a nap before his normal nap time. My husband has to leave early for church, so like many pastors' wives, I fly solo on Sundays.
When parenting gets stressful, I find it helpful to put on some music. Just as a soundtrack changes the mood of a scene, good music can change the mood of the morning. And if I start filling my mind with the truth before I even get to church, my heart is more ready to serve and receive when I get there.
The next time Sunday morning gets hectic, I hope this hour-long playlist will lighten the mood in your home or car and help you lift your thoughts to the Lord.
Find the playlist on Spotify or Apple Music, and see the tracklist below.
1. "Grace (La-De-Da) (Ephesians 2:8)," Seeds Family Worship
2. "Jesus Kids," Shai Linne
3. "We Are the Church," Awesome Cutlery
4. "God's Great Family," Sovereign Grace Music, Bob Kauflin
5. "To You, O Lord," Slugs and Bugs
6. "Q48 What Is the Church?" Songs from The New City Catechism
7. "A Mighty Fortress," Shai Linne
8. "He's Got the Whole World in His Hands," GroupMusic
9. "Big Bible Story," Colin Buchanan
10. "Get Up! (John 5:6–13)," Slugs and Bugs, Propaganda
11. "Open Our Eyes (feat. Sandra McCracken)," Rain for Roots
12. "Q42 How Is the Word of God to Be Read and Heard?" Songs from The New City Catechism
13. "Our Father in Heaven," Shai Linne
14. "Deuteronomy 6:5," Slugs and Bugs
15. "This Little Light of Mine," GroupMusic
16. "Don't Forget to Remember," Ellie Holcomb
17. "2 Timothy 3:16 (All Scripture)," The Rizers
18. "All Creatures of Our God and King," Keith & Kristyn Getty
19. "Q31 What Do We Believe by True Faith?" Songs from The New City Catechism
Editors' note:
Get ready for Sunday with Meg Is Not Alone, a new picture book by Megan Hill from TGC Kids (available now at Amazon and the TGC Bookstore). Meg Is Not Alone is the story of a girl who learns that the church is always ready to help.
Get a FREE eBook to strengthen your family discipleship!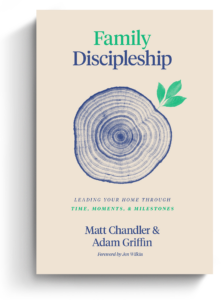 The back-to-school season is stressful for moms and dads. New rhythms of school, sports, and other extracurricular activities can quickly fill up a family's already busy calendar. Where do busy parents look for resources on discipling their family well? Aside from prioritizing church, what else can Christian parents do to instill healthy spiritual habits in their household?
Matt Chandler and Adam Griffin cover these questions and more in Family Discipleship: Leading Your Home through Time, Moments, and Milestones. And we're excited to offer this book to you for FREE as an eBook today.
Click on the link below to get instant access to your FREE Family Discipleship eBook now!