Editors' note:
TGC's new "Thorns & Thistles" column seeks to apply wisdom with practical advice about faith, work, and economics. If you have a question about how to think about and practice your work in a way that honors God, let us know at [email protected]
I work for a Christian organization that doesn't look Christian from the inside. I've been trying to patiently change the culture from within, but I'm just one person, and I'm getting worn down. Is it worth it to stay in a job at a Christian organization that is currently culturally unhealthy because of what the organization could be or was intended to be?
---
Knowing what to do when there isn't a specific biblical verse to give us the exact answer, which is the case for most of life's decisions, requires us to be the kind of people who have kingdom "know-how." This means much more than memorizing a list of steps; we must be people characterized by biblical virtue. Godly wisdom is formed as we root ourselves in a community of saints, model our lives after Christlike exemplars, prayerfully meditate on the Scriptures, and practice habits that direct our hearts to the King.
With this backdrop in place, two theological guardrails can help you navigate this question.
Two Guardrails
First, you need to be realistic about what you can expect from work in a fallen world. There is no perfect job fit. Even when you are in a relatively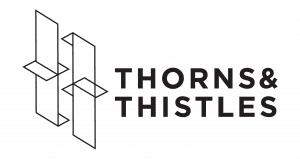 healthy organization with a job that matches your skill set, some days will be hard. The problem could be that you've become jaded from an overly idealistic view of what work should be. Theologians call this over-realized eschatology. If this is the case, remember that, east of Eden, we're called to work in the midst of thorns and the thistles, which will be found even in Christian organizations.
Second, if your superiors are asking you to do something unethical, you shouldn't do it. This could mean you'll have to leave, but not necessarily. When you let your superiors know you can't do what they're asking and why, your transparency and integrity could spark a healthy conversation that leads to organizational change. In any case, if the choice is between obeying God or your boss, you must be willing to walk away.
Important Questions
Within the guardrails of chastened expectations—even for Christian organizations—and commitment to a high standard of personal ethics, there are a few questions you should ask yourself.
Does the culture of the organization, including its practices and functional aims, almost inevitably malform those within it? Again, I'm not suggesting a smug self-righteousness. All of us have blind spots—times we're unaware of the consequences or appearances of things we do routinely that are less than ideal. But are there many people in the organization who have had a long tenure and who have retained Christian virtues and integrity? Or have most long-termers been so influenced by the maladies of the organization (perhaps the dualism between work and faith that excuses dishonesty or dehumanizing practices as just "the way things are done") that recurring vices (such as greed, dishonesty, apathy) are all too pervasive?
If God is not providing another option, most of the time the prudent decision is to stay, at least for the time being, and seek to be faithful, serving your colleagues, clients, and company the best you can.
Our vocational contexts form us. Often the label "Christian" can blind us to the dominant functional worldview (not the same at the stated worldview) of the organization and how it is shaping us. It might be prudent to stay, at least for a while. But make sure, if you stay, you do so with your eyes wide open. If you remain in such an organization, you need to place yourself in counter-communities that help you to identify the false narratives of your workplace and to offer a counter-catechesis. Centering your life in a faithful church is essential, but you could also be aided by like-minded co-workers or Christian professional guilds.
Finally, if you were to leave, where would you go? It's easy to imagine that the grass is greener on the other side, but the other pastures may be closed or just as unhealthy as—if not worse than—your present organization. If it's not a situation where the company is asking you to do something unethical, you have some time. Don't prematurely run from one unhealthy situation to another. Yes, the Lord provides, but at times he asks us to stay and trust that his grace is sufficient. If he's not providing another option, most of the time the prudent decision is to stay, at least for the time being, and seek to be faithful, serving your colleagues, clients, and company the best you can.
---
You can read other installments in the Thorns & Thistles series.