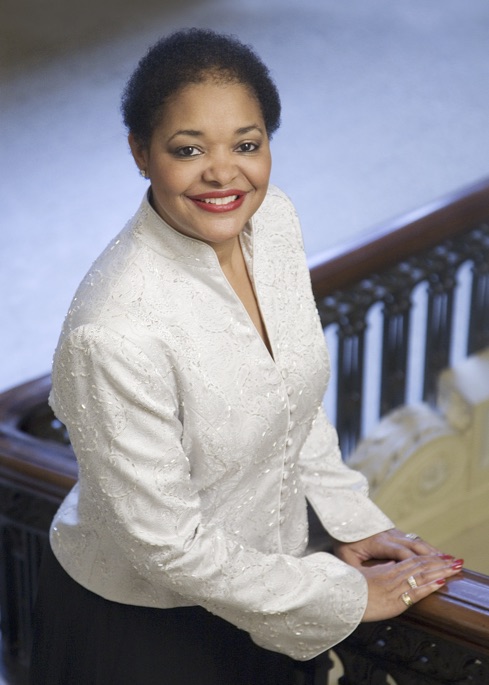 Ollie Watts Davis (DMA, University of Illinois) is a professor of music at the University of Illinois at Urbana-Champaign and conductor of the award-winning University of Illinois Black Chorus. As a vocal artist, Davis made her New York debut at Carnegie Hall in 1990, has been heard on NPR, and has released three albums. She is a life member of the National Council of Negro Women and co-founder of the TALKS Mentoring Leadership Program. She is actively involved in Grace Fellowship Church in Champaign where her husband, the Rev. Dr. Harold D. Davis, serves as pastor. They have five adult children and three grandchildren.
---
What do you do every day?
As a professor, I'm usually either meeting with other faculty at the school of music, teaching aspiring singers in my studio, or conducting my favorite choir, the University of Illinois Black Chorus. As a performing artist, I'm usually at the piano in my house, doing vocal exercises or learning new music for a concert program. I also read literature, study languages, and do translations.
Have you ever had a vocal injury that has kept you from work?
Whatever is happening to me affects my voice, so I try to live a healthy lifestyle. As a Christian, I have the comfort of the Spirit and the truth of the Scripture, which has had a calming effect on my instrument. Thankfully, in more than 30 years of performing, I've never had to cancel a concert.
How do you love and glorify God in your work?
God has given me a tremendous gift, and I want to offer my body as a living sacrifice to him, holy and acceptable, which is my spiritual worship (Rom. 12:1–2)—even as I recognize that what I offer as my gift to him was first his gift to me, since all things come from him (1 Chron. 29:14; 1 Cor. 4:7).
Where do you see your personal brokenness cutting against your calling?
In my field we audition and compete, so I can be tempted to strive for wordly achievement and success. Years ago, though, as I was preparing for an audition, my manager told me that, even though they weren't looking for my voice type, she wanted me to do the audition to meet the maestro. I was frustrated, thinking it was a waste of my time, but then I was liberated, realizing it didn't have to be a competition; it could be an offering. When I finished singing, the maestro put his pencil on the score and simply said, "Bravo." I got the job, and I worked with that maestro 21 times. This story, along with prayer and Bible study, reminds me to seek my identity in Christ alone.
How do you love your neighbors, or what do you hope your listeners will hear when they experience your music?
When people attend concerts, they want more than a musical performance. They want to know that they're okay, that they can move beyond their current circumstances and imagine what is possible. I want to create spaces for them to do that. I want them to experience beauty, love, and light.
I also want to be a good host. So even if some of the music may be unfamiliar to them, I try to include pieces that make them feel at home. Sometimes this means an African-American spiritual. Other times, when I'm singing in another country, this means a set of pieces in their own language, hoping they understand—despite the space between us—that I'm trying to connect and converse.
---
Editors' note: TGCvocations is a weekly column that asks practitioners about how they integrate their faith and their work. Interviews are condensed.