An endless array of choices peeks over the shelf's edge. Which book will Tony choose for his bedtime story tonight? Clifford the Big Red Dog? Goodnight Moon (for the hundredth time)?
After a moment, his delightfully chunky fingers close on a thick volume. "David and Goliaf!" he says excitedly, bringing a toddler story Bible over. Already a seed of love for God's Word is being planted and watered in Tony's 3-year-old heart.
As parents, we have such an opportunity to share the wealth of the Bible with our children. But how can we encourage a genuine desire for Scripture? We can do at least five things.
1. Raise readers.
A child who rarely experiences the wonder of the written word is less likely to get excited about reading the Bible than one who has. Go ahead and make reading (anything!) a normal part of your preschooler's life. Here are some strategies for establishing a culture of reading in your home:
Clutter her room with picture books.
Make the library a regular stop each week.
Let him enjoy appropriate Sunday comics with you.
Plan "family reading time" in the evenings, when everyone gathers for a read-aloud adventure.
Find kid-friendly treasures at used bookstores and garage sales.
Generally welcome books as part of daily life at home.
A child who rarely experiences the wonder of the written word is less likely to get excited about reading the Bible than one who has.
If you're doing all you can to encourage the habit of reading in general, you've taken one giant step toward opening your child to the Bible.
2. Take advantage of preschool Bible resources.
Good news! When it comes to raising Bible-friendly kids, you don't have to work alone. Use the words of expert storytellers and pictures of imaginative artists to relate biblical stories to your toddlers in fun, child-friendly, age-appropriate ways.
For instance, The Big Picture Story Bible by David Helm and Gail Schoonmaker (Crossway, 2014) is an excellent choice for preschoolers. As advertised, "with simple words and striking illustrations" it retells God's story of love from Genesis to Revelation. Similarly, Sally Lloyd-Jones's The Jesus Storybook Bible (Zonderkidz, 2007), illustrated by Jago, is a delightful, visually interesting way to help your young one discover the Savior at the center of God's fantastic story.
Other preschool-friendly Bible storybooks include:
3. Model the value and joy of the Scriptures.
We can't inspire a love for God's Word in our children if we don't have that love ourselves. Your child will know you value the Bible when he sees you reading it, hears you talking about it, and watches you act on what you've shared.
We can't inspire a love for God's Word in our children if we don't have that love ourselves.
Your toddler will adopt your attitude toward the Bible. If you approach reading it as a chore rather than a privilege, your child will too. On the other hand, if your 4-year-old notices excitement and enthusiasm in your own personal devotions, she'll pick that up as well. So live what you want your child to imbibe: God's Word is precious and life-changing (2 Tim. 3:16; Heb. 4:12).
When this happens, the Bible becomes a familiar friend in your precious child's life.
4. Remind kids the whole Bible is about Jesus.
Scripture is more than tales of moralistic intent, more than life lessons meant to make us better people. As Matt Smethurst puts it, "Imagine a single, unfolding, thrilling drama; a story of epic proportions that is more fascinating than your favorite fairy tale because it is true. That's God's Word."
How exciting is that? And though the Bible is for us, it's not finally about us. As Smethurst reminds us, "The Bible has one ultimate plan, one ultimate plot, one ultimate champion, one ultimate King."
In other words, the whole thing points to Jesus—it tells his story of "God becoming man to bring [us] back to God." That, dear friend, is good news. Revel in it whenever you glimpse it in the stories you share with your kids.
5. Rely on the Holy Spirit.
Remember that only God can spark a flame of love for his Word in the hearts of your children. Your inability should drive you to your knees, praying for the Lord to warm your toddler's heart toward Scripture, exposing them to the Bible's joys, and planting seeds of its truth in their life.
Then be ready to read when God prompts your preschooler to come to you (for the hundredth time) shouting, "David and Goliaf!"
In a season of sorrow? This FREE eBook will guide you in biblical lament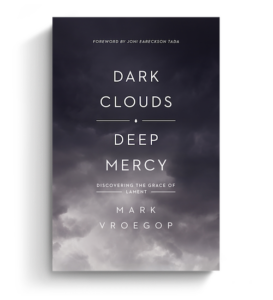 Lament is how we bring our sorrow to God—but it is a neglected dimension of the Christian life for many Christians today. We need to recover the practice of honest spiritual struggle that gives us permission to vocalize our pain and wrestle with our sorrow.
In Dark Clouds, Deep Mercy, pastor and TGC Council member Mark Vroegop explores how the Bible—through the psalms of lament and the book of Lamentations—gives voice to our pain. He invites readers to grieve, struggle, and tap into the rich reservoir of grace and mercy God offers in the darkest moments of our lives.
Click on the link below to get instant access to your FREE Dark Clouds, Deep Mercy eBook now!