Just Mercy, Dark Waters, and A Hidden Life did not receive any Oscar nominations when they were announced last week. These 2019 films were largely bypassed by the year-end buzz machine. But they deserve attention and praise—especially from Christians—for their moral clarity and courage.
In my December recap of moments of goodness in 2019 pop culture, I highlighted the "inescapable longing for justice" that showed up often in movies and TV shows last year. "Even as society tries to rid itself of God and religion," I wrote, "we can't rid ourselves of the realities of injustice and evil. Accordingly, our collective ache for a perfect justice is palpable."
There were many examples of these common grace, justice-longing narratives in 2019 (Netflix's Unbelievable and When They See Us were especially potent). But Just Mercy, Dark Waters, and A Hidden Life stand out because they illuminate aspects of pursuing justice that are important and instructive.
Justice Is a Long Pursuit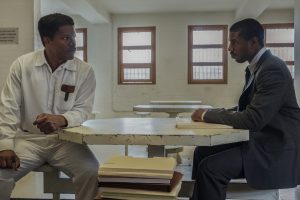 Seeking justice is not for the impatient or easily distracted. Justice is not quickly won and often requires long-haul grit. A frenzied day of Twitter activism doesn't move the needle; a decade of focused, organized action might. 
Just Mercy, directed by Destin Daniel Cretton (Short Term 12) and now in theaters, tells the true story of Walter McMillian (played by Jamie Foxx), an African American man wrongfully put on death row for a murder in Alabama he didn't commit. A young lawyer, Bryan Stevenson (Michael B. Jordan), takes on McMillian's case. The film is based on Stevenson's 2015 book about the fight to exonerate McMillian and other wrongfully convicted prisoners. Though not a perfect film, Just Mercy powerfully captures the maddening anguish of innocent people who spend years of their lives behind bars—years they can never get back. The stakes of the fight are raised because the clock is ticking on their lives. 
Dark Waters, directed by Todd Haynes (Wonderstruck), captures the "long pursuit" aspect of justice especially well. Based on a 2016 New York Times Magazine article, the film tells the true story of an Ohio lawyer, Rob Bilott (Mark Ruffalo), and his 20-year legal battle against DuPont for knowingly releasing toxic chemicals into the water supply of Parkersburg, West Virginia. The poisoned water led to hundreds of cases of cancer, birth defects, and other ailments in the local population. In two hours the film takes us through a two-decade span, showing us characters age before our eyes—especially Bilott, whose perseverance in the long, uphill battle takes its toll on his own health.
Terrence Malick's A Hidden Life—which I wrote about at length—also tells a true story of one man's stand for justice: Franz Jägerstätter, an Austrian farmer who stood up to the Nazi regime in World War II. There were no 60 Minutes segments or magazine profiles of Jägerstätter, however, and he died without seeing victory in his justice pursuit. His story shows how seeking justice is not only a long pursuit, but often one that outlasts us. In Life, justice is still hidden by film's end. Hope is deferred. Injustice seemingly wins. It's a hard reality for those seeking justice: sometimes it doesn't come in this life.
Justice Is a Lonely Pursuit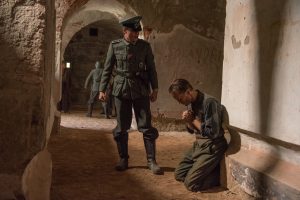 These three films also capture the loneliness of pursuing justice. In each case, the protagonist is a David fighting Goliath. The prospect of winning is so slim, and the cost of fighting so high, that the justice-seeker's sanity is questioned. Naysayers, critics, and opponents are many; allies are few.
In Just Mercy, Stevenson is one lawyer fighting a whole system of embedded racism. In Dark Waters, Bilott fights one of the world's biggest business titans. In A Hidden Life, Jägerstätter is a humble farmer going up against an entire nation—and church establishment—that views his conviction with disdain. During their fights, each man loses friends and sacrifices his reputation. Even those closest to them question the worthiness of the battle. Each struggles internally with moments of despair; maybe the cynics are right. Maybe it's a lost cause.
In Waters, one low moment finds Bilett (Ruffalo) lamenting to his wife (played by Anne Hathaway) that no system—no corporation, no government, no regulatory group—has our best interest in mind. "The system is rigged," he says. "They want us to think it'll protect us. We protect us! We do!" It's a sad admission and maybe too cynical. But our fallen world is indeed cold. The Darwinian logic of self-protection proliferates. It's not a world where doing what's right has obvious payoff. That's why seeking justice is often a lonely pursuit. It doesn't win profits or popularity. It's costly more than lucrative. And perhaps most important (and contrary to fleshly logic), it's not primarily about saving or serving yourself. Whether the fight is against racism, corporate malfeasance, reckless pollution, genocide, abortion, sex trafficking, or some other evil, a justice fight is others-focused: advocating for and defending the vulnerable.
Justice Is a Loving Pursuit
In this way, justice is rooted in love—the sort that defies the logic of self-preservation and speaks to a higher truism stamped on every image-of-God-bearing heart: serving others, even dying for them, is the most meaningful human act. We pursue justice because we love others and recognize their inherent dignity. We heed the call—from our conscience, or from Christ—to pursue justice not as an act of hubris but as an act of love.
To be sure, anger is also in the mix. The protagonists in each film have moments of understandable indignation. But their central motivation—the reason they undertake the crusades that prove so costly to them—is not anger at villains so much as love for the vulnerable. Stevenson sees the weary, defeated face of McMillan (beautifully portrayed by Foxx) and loves him. This love inspires advocacy. Bilett is similarly motivated by love—for the hardworking souls who are sick or dying because of DuPont chemicals in their blood. Jägerstätter stands up to the Nazis out of love for Jesus and his Word, for the church so tainted by nationalism, and for the innocent victims of fascism's onward march. 
In these days of internet-fueled anger overload, it's good to remember that justice pursuits are better born out of steady love than hot-tempered revenge.
In these days of internet-fueled anger overload, it's good to remember that justice pursuits are better born out of steady love than hot-tempered revenge. The ongoing fight to end abortion should be more about saving the lives of unborn children than defeating "the libs." Environmental campaigns should be motivated more by love for those harmed by pollution than hatred of those doing the polluting.
Justice Is Not a Hashtag
"Justice" is a word that has been tragically abstracted and politicized in today's combustible social-media environment. But justice is not a concern for only one side or the other. It's a concern for all of us—and for Christians, a significant biblical theme.
When we reduce justice to a hashtag or partisan fodder in "woke" wars, we miss its human reality. But movies and TV series—by showing us real faces, real suffering, real injustice—can re-sensitize us to the burden of loving our neighbors by pursuing justice. For this reason I encourage Christians and churches to watch and discuss films like Just Mercy, Dark Waters, and A Hidden Life. Watch documentaries like One Child Nation or For Sama. Listen to podcasts like White Lies. These narratives aren't easy. But insofar as they soften our hearts to human suffering and injustices that can be addressed, they are worthwhile.