One paradox of the internet age is that popular culture is easier than ever to access but harder than ever to find. We gained convenience but lost clarifying consensus on what might be worth our time. Streaming sites have made access to music, movies, and TV incredibly easy, but they have also bombarded us with a paralyzing array of choices. How does one navigate the crazy amount of cultural content being served up daily by social-media friends and algorithms? Given how much junk-food entertainment is out there, how is the prudent Christian supposed to find nourishing bits of culture to consume?
Some have suggested it's better for Christians to just unplug or delete their streaming accounts. I sympathize with these arguments but ultimately believe the answer is not total avoidance, but moderation and intentionality; not engaging popular culture more, but better. That's what I try to encourage in the reviews and curated lists I write for TGC, as well as in my monthly arts and culture newsletter. I know pop culture can be hazardous to one's health. But there are bits of goodness, truth, and beauty to be found. 
To that end, here are 19 pieces of pop-culture goodness (everything from films and TV shows to YouTube clips and cultural trends) I came across in 2019. Like last year's list, what's listed (in alphabetical order) is not an exhaustive account of all that was good this year. But for those lost in the glut of content who don't know where to start, here are a few ideas.
A Beautiful Day in the Neighborhood
If the only thing America could watch on a screen for the next year was a livestream of Tom Hanks in character as Mister Rogers, we would all be better off. Seriously, though, Hanks as Rogers in A Beautiful Day in the Neighborhood (now in theaters) is what we need right now. The movie may be darker than some viewers hoped it will be, but so was the world Rogers helped young children navigate. Like last year's excellent documentary, Won't You Be My Neighbor?, this film captures the authentic, believable, and contagious goodness of Fred Rogers—a man who wasn't naïve to the world's darkness, but who didn't let it make him cynical or hopeless in his effort to be a light.
Amazing Grace 
There were some good music documentaries in 2019—Pavarotti, Homecoming, Echo in the Canyon—but none was better than Amazing Grace. This decades-in-the-making film resurrects lost footage to immerse viewers in a 1972 concert at New Temple Missionary Baptist Church in Los Angeles, where a young Aretha Franklin recorded a live Gospel album. As I wrote in my TGC review of the film, "The experience of watching the film is visceral and goosebump-inducing, something noted in most secular reviews of the film, which have called it 'transcendent,' 'a revelation,' and 'the closest thing to witnessing a miracle.'" It's the sort of film that captures how deeply our secular age still longs for transcendence. 
Anderson Cooper and Stephen Colbert Discuss Suffering
Every so often, a moment on cable news hits on something deep, even transcendent. This moving clip was one of those moments. In it, Anderson Cooper and Stephen Colbert tackle one of the hardest of all subjects: what to do with the problem of suffering. Cooper asks Colbert if he really meant it when he said "What punishments of God are not gifts?" Colbert goes on to unpack the "gift" of suffering in a Christian worldview, that "you're really not alone" in suffering because "God does it too." It's a remarkable moment and one Colbert is uniquely positioned to pull off. Here's hoping he continues to use his platform to winsomely share theological truth.
You said "what punishment of gods are not gifts. Do you really believe that?" @andersoncooper, choking back tears, asks Stephen Colbert, as they discuss grief.

"Yes," replies the comedian. "It's a gift to exist and with existence comes suffering. There's no escaping that." pic.twitter.com/p5rUUhZKxq

— Anderson Cooper 360° (@AC360) August 16, 2019
Biola University President Serenaded by Justin Bieber
Just a few days into 2019, the internet delivered its first feel-good viral moment of the year (at least for evangelicals familiar with Biola University). It happened in a valet pickup area at the Montage Hotel in Beverly Hills, where Justin Bieber was serenading his wife, Hailey, with Marvin Gaye's "Sexual Healing." Standing nearby—apparently oblivious to the crooning young man's identity—was Barry H. Corey, president of one of America's largest evangelical universities, Biola. Eventually Corey (dubbed "random guy" in tabloid reports) shared a moment with Bieber (who he thought might be Justin Timberlake), and the internet smiled at the serendipitous episode. 
Chernobyl
Was there anything better on TV in 2019 than HBO's Chernobyl? Not in my book. Based on true events surrounding the infamous 1986 Soviet nuclear disaster, the limited series was utterly harrowing to watch. But more than a captivating thriller with superb acting and production values, Chernobyl raised timely questions about truth and deception in politics. As Nancy French wrote in her TGC review, "The series poignantly shows the despair of a society where dishonesty is the norm, where truth is snuffed out by government officials even at the cost of real human lives." 
Excellent Films About the First World War
A century after the conclusion of The Great War, two excellent 2019 films have helped a new generation remember that cataclysmic moment in world history. Peter Jackson's They Shall Not Grow Old—if you were lucky enough to see it in its limited engagements—was a state-of-the-art documentary breathing fresh life into 100-year-old war footage. Sam Mendes's 1917—releasing in theaters this Christmas—is equally as immersive and technologically impressive. Both films use the unique possibilities of the cinematic form to make history come alive in memorable ways. 
Healthier Digital Habits
The backlash to tech overload has begun, and for good reason. As we become more and more aware of how sick a digital diet is making our society, more voices are speaking up with guidance for healthier habits. Cal Newport's Digital Minimalism: Choosing a Focused Life in a Noisy World and Justin Earley's The Common Rule: Habits of Purpose for an Age of Distraction were helpful books released this year. Here at TGC we published many resources along these lines in 2019, including a podcast with Tech-Wise Family author Andy Crouch, and articles on screen-time advice for parents, how to avoid anger overload, and how to avoid being a social-media narcissist. 
Inescapable Longing for Justice
One of the easiest-to-spot common graces in our secular age is the longing for justice. Even as society tries to rid itself of God and religion, we can't rid ourselves of the realities of injustice and evil. Accordingly, our collective ache for a perfect justice is palpable. We saw it everywhere in 2019 pop culture, from Netflix's When They See Us (read TGC's review) to NPR's White Lies podcast (read TGC's review), to films exploring racial injustice (Harriet, Just Mercy) and socioeconomic injustice (Parasite, Knives Out, Peterloo). Even Quentin Tarantino's revisionist history Hollywood fairytale, Once Upon a Time . . . in Hollywood, reflects this theme. As I wrote in my review, the film "inflames our longing for injustice to be addressed and death to be reversed."
Inside Bill's Brain 
Netflix sometimes feels like more trouble than it's worth, but amid the hard-to-navigate glut of content, there are gems. This year's Bill Gates documentary, Inside Bill's Brain, is one of them. It's everything you want in a documentary: fascinating, informative, inspiring, and curious. This isn't agenda-driven (too many documentaries are); it's simply a visual document of how Bill and Melinda Gates are trying to apply their considerable financial and cerebral resources to solving some of the world's toughest problems. Watching their philanthropic example is time well spent.
Kanye West
Who would have thought at the beginning of 2019 that Kanye West would become the biggest theology story of the year? His remarkable conversion—from profane narcissist to God-fearing evangelist, from proclaiming "I Am a God" to shouting "Jesus Is King"—is the good-news headline few could have predicted. There is much to applaud about this turn of events. Kanye's album, Jesus Is King, is Christian hip hop at its best and debuted at the top of the Billboard 200, as well as Billboard's Christian albums and Gospel albums charts. The accompanying IMAX film was even better than the album, and Kanye's "Sunday Service" concerts are soaring worship experiences, even if they showcase the rapper's somewhat underdeveloped ecclesiology. Kanye's conversion seems utterly genuine, evidenced in part by his joyous new disposition—on lovely display in his "Airpool Karaoke" episode with James Corden (watch below). Should we tread carefully in elevating this still-in-process new convert? Should we be wary about what might happen next? Absolutely. But we can still rejoice in what's already happened. 
Kodi Lee on America's Got Talent
This viral clip was this year's Susan Boyle moment. On the 14th season of America's Got Talent, Kodi Lee—who is blind and autistic—wowed the judges (and the more than 50 million who watched on YouTube) with his performance of "A Song for You." These type of feel-good reality TV moments may be clichéd at this point, but they're still beautiful. It's a glorious thing to watch someone's raw talent and passion upend expectations like this.
Masterpiece Theater's Les Misérables
Did we need another adaptation of Victor Hugo's theologically rich novel? Arguably not. But the quality of this new version—a six-episode series produced by the BBC and aired on PBS in the United States this spring—is stellar, so fans of the beloved story will not regret watching it. Drawing from the original novel rather than the contemporary musical, the series allows viewers to focus on the rich plot and compelling characters—beautifully rendered by an impressive cast. Christian actor David Oyelowo plays Javert, Dominic West plays Jean Valjean, and the rest of the cast is equally impressive (especially Lily Collins as Fantine and The Crown's Olivia Coleman as Madame Thénardier).
The Peanut Butter Falcon
"Feel-good films" can often be accused of being emotionally manipulative, formulaic, and saccharine. But Peanut Butter Falcon is a feel-good film that manages to steer clear of those stereotypes. It's an indie film that is well-acted, artistically interesting, gritty in theme yet wholesome in content. As I wrote in my TGC review, "This is a rare movie that is sincere, joyous, and un-cynical, but also artfully made. It's not cheap or cheesy. In dark and anxious times, we need more films like this."
Playlists Help Navigate Music Glut
Music in general has never been better, though it's easy to deny this and retreat to nostalgia. Why? Because while music has never been more accessible, it has also never been more overwhelming. One of the ways we can celebrate the new streaming age is by taking advantage of the social dynamic of sharing playlists on Spotify, Apple Music, Amazon Music, and similar platforms. Whether through personalized algorithm playlists like Spotify's Discover Weekly (which I find to be remarkably good), or through real curators whose taste you trust, playlists are great ways to discover excellent music. To that end, don't miss the new playlist I created for TGC to highlight 119 excellent Christian songs from 2019. Find it on Spotify or Apple Music. 
Putting Scripture to Song
Scripture as an inspiration for music is not new. But in 2019 the musically creative offerings in this genre were especially strong. Consider Psallos, who released their take on the epistle of Jude this summer, or The Corner Room, who released a collection of songs based on Isaiah 53. Then there are the psalms. Cardiphonia Music released an album of songs inspired by Psalm 119, a follow-up to two volumes of original psalm settings inspired by the Psalms of Ascents (120–134): Songs for the Sojourn, Vol. 1 and Vol. 2. And Kansas City–based folk duo Poor Bishop Hooper announced the remarkable EveryPsalm project—a three-year project that begins January 1. Several of these songs and artists, along with many others, are featured in my newly created TGC playlist: 119 Great Christian Songs from 2019. 
Running Club Records
At a time when contemporary worship music feels stuck in a formulaic rut, the roster of artists being assembled by Running Club Records (RCR) is a breath of fresh air. The UK-based label is home to Rivers & Robots and has introduced me this year to talented new artists like Josh Gauton, Tenielle Neda, Junior Garr, and Danny O'Callaghan. Describing its mission, RCR says, "It may not sound like traditional Christian music, whatever that means, but we think something special is brewing in this part of culture and we're going to do everything we can to get behind it." Something special indeed. 
Secular Spotlight on Marriage
The common-grace goodness of marriage was everywhere in popular culture in 2019. Chance the Rapper's The Big Day was a lovely concept album celebrating the fallen-on-hard-times marital covenant. Rolling Stone called the record "a modern monument to matrimony." Similarly, Vampire Weekend's album Father of the Bride explored matrimonial themes, even at times in a theological vein. Then there were movies like A Hidden Life, which celebrates the sanctity of marital fidelity under great duress, and Marriage Story, which laments the coming apart of a one-flesh union. All these cases and others reveal a clear longing to preserve and fight for this most precious institution. 
Spider-Man: Into the Spider-Verse
Technically this film was released in the last few weeks of 2018, but it was still in theaters in 2019 when I saw it. Wow! I'm not a huge comic-book movie fan, but this animated entry in the Spiderman franchise was electrifying. Not only is the movie stylistically compelling—capturing the comic form better than any other film I've seen—but its themes are powerful and good. Joe Carter wrote about the film for TGC in January: "While not directly religious, Spider-Man: Into the Spider-Verse is a deeply moral movie that examines the importance of choices and virtue from a common-grace perspective."
Tobe Nwigwe's Tiny Desk Concert
Nigerian American rapper Toby Nwigwe made my list last year as well, and since then he has only continued to produce excellent, faith-infused rap that is crossing over to the mainstream. This August he was invited by NPR to give a "Tiny Desk Concert" (a delightful series of intimate, stripped-down concerts that has recently featured the likes of Taylor Swift and Carly Rae Jepson). The 16-minute video of his performance—which features Tobe's musically impressive entourage, including his wife and 7-week-old-daughter—is joyful in every sense of the word. 
In a season of sorrow? This FREE eBook will guide you in biblical lament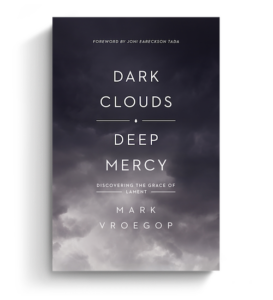 Lament is how we bring our sorrow to God—but it is a neglected dimension of the Christian life for many Christians today. We need to recover the practice of honest spiritual struggle that gives us permission to vocalize our pain and wrestle with our sorrow.
In Dark Clouds, Deep Mercy, pastor and TGC Council member Mark Vroegop explores how the Bible—through the psalms of lament and the book of Lamentations—gives voice to our pain. He invites readers to grieve, struggle, and tap into the rich reservoir of grace and mercy God offers in the darkest moments of our lives.
Click on the link below to get instant access to your FREE Dark Clouds, Deep Mercy eBook now!