Both of them were nicknamed "Queen." That's how highly the talents of Aretha Franklin ("Queen of Soul") and Beyoncé ("Queen Bey") were esteemed in their respective eras. Two newly released concert documentaries show why.
Both films depict performances—a half-century apart—that have been called "transcendent." But what do we mean by "transcendent" when it comes to musical performances and art generally? By comparing and contrasting these similar-yet-different films, we can see how society's concept of transcendence has changed in a secular age.
Two Iconic Performances
Amazing Grace is an acclaimed documentary that presents, for the first time, footage recorded in 1972 of Aretha Franklin performing at the New Temple Missionary Baptist Church in Los Angeles over two nights. The songs recorded were for a live album, Amazing Grace, that became the highest-selling Gospel music album of all time.
Homecoming is a recently released Netflix documentary that presents Beyonce's 2018 headlining performance at the Coachella Valley Music and Arts Festival.
Both films depict iconic performances, in Southern California venues, from black female superstars at the height of their careers. Both celebrate African American culture and history, as channelled through music. Both capture the cross-pressures between immanence and transcendence that have defined pop music for much of its history.
And while one is overtly religious and takes place in a church (Grace)—the other is decidedly secular at one of the world's most influential pop music festivals—both performances inspire intense religious fervor in their audiences. Both films show people in the crowds with tears streaming down their faces, their hands raised, their bodies shaking, their voices crying out—both in the church where Aretha performed in 1972, and also in the music festival where Beyonce performed 46 years later.
'Amazing Grace': Aretha Franklin at Church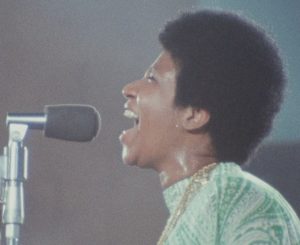 By the time she recorded Amazing Grace, Aretha Franklin was already the "Queen of Soul," having a string of chart-topping hits—"Chain of Fools," "(You Make Me Feel Like) A Natural Woman," "I Say a Little Prayer," among others—with Atlantic Records in the late 1960s. Having first learned to sing at Detroit's New Bethel Baptist Church, where her father was pastor, Franklin's 1972 recording of Amazing Grace was touted as a return to her Gospel roots. But even her secular hits were infused with the Gospel music of her upbringing—hence the name "soul."
"If you want to know the truth," Franklin's pastor-father says at one point in the concert that Grace documents, "she has never left the church."
But even if this is true—that the sounds of Christian church music infused Franklin's secular hits, as it did for many other pop icons, from Elvis Presley to Whitney Houston—it's also true that Amazing Grace features specifically church music and overtly Christian music. The songs speak of Jesus and heaven. Franklin sings them from a deep well of spiritual longing, with the backing of the Southern California Community Choir.
Near the start of the film, Gospel music legend James Cleveland—who plays piano for Franklin and acts as a sort of emcee for the live audience—reminds the crowd (which includes Mick Jagger and Clara Ward) that "we are here for a religious service" and invites them to participate and engage as if this were Sunday morning. And the crowd does. As Franklin sings songs like "What a Friend We Have in Jesus" and "Never Grow Old," audience members appear enraptured and spiritually moved, both believers and unbelievers alike.
The experience of watching the film is visceral and goosebump-inducing, something noted in most secular reviews of the film, which have called it "transcendent," "a revelation," and "the closest thing to witnessing a miracle." "Even for those who do not believe that God's grace is amazing," writes Brad Wheeler (The Globe and Mail), "it is hard not to see Franklin in her prime as something near miraculous." Richard Brody (The New Yorker) called the film's very existence "a secular miracle."
'Homecoming': Beyoncé at Coachella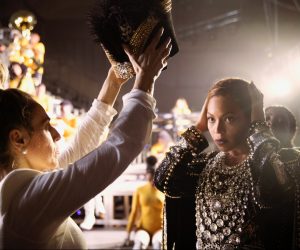 Similarly grandiose praise was heaped on Beyoncé's 2018 Coachella performance (documented in Homecoming), with critics calling it "world-shattering," "transcendent," "a landmark moment for black culture," and (in the words of Chance the Rapper), "the greatest show to ever happen." The New York Times declared of the performance: "There's not likely to be a more meaningful, absorbing, forceful and radical performance by an American musician this year, or any year soon."
Indeed, the "Beychella" performance is something to behold. Backed by 100 dancers, a marching band, and a drumline performing on pyramid-shaped risers, Beyoncé sings and dances flawlessly for two hours. It's a passionate performance packed with symbolism and homage to black history and culture, particularly that of historically black colleges and universities (HBCUs). It's worth celebrating when a performer's God-given talents are deployed as powerfully and joyously as they are by Beyoncé here.
But as I watched Homecoming it struck me that Beyoncé's performance has been widely regarded as a zeitgeist-capturing cultural landmark in part because it weaves together threads—art, entertainment, identity politics, autonomy, empowerment, justice—that have for many replaced organized religion as sources of meaning, purpose, and transcendence.
To be sure, Franklin's performance in Amazing Grace also fuses religion with cultural identity and politics. Perhaps the film's emotional center is when Franklin pauses to linger on the third verse of John Newton's hymn: "Through many dangers, toils, and snares, I have already come . . ." Franklin's slow, emotional delivery of these words invokes centuries of black struggle and ring especially potent in their immediate context: a black church in Watts, on the heels of the civil-rights movement.
But while this cultural history and identity is there in Amazing Grace, the music is upward focused. God, not Aretha, is the primary object of praise. She is a vessel through which the audience, moved by the skill and force of her singing voice, can contemplate the holy. The concert creates "sacred space" not because it dismisses or downplays the concerns of this world, but because it also looks beyond it.
Franklin's concert creates 'sacred space' not because it dismisses or downplays the concerns of this world, but because it also looks beyond it.
To the extent that Beyoncé's performance also creates "sacred space"—and doubtless many who watch it wouldn't dispute this term—it is a much more this-worldly "religious" display. The audience's eyes are not drawn to God above, but to the "divine" spectacle on the stage before them. From start to finish, Beyoncé is the focus. The dramatic entrance of "Queen Bey" that kicks off the show positions her as a goddess; her Balmain outfit is crafted to evoke Egyptian queen Nefertiti, complete with a crest that makes visual nods to black power (a black panther and a black fist).
The songs she performs are liturgies of empowerment, confidence, and defiance: "I'm so crown, bow down b****es" ("Bow Down"); "I break chains all by myself" ("Freedom"); "Get what's mine, take what's mine, I'm a star, 'Cause I slay" ("Formation"); "Middle fingers up, put them hands high" ("Sorry"). Performed with unapologetic swagger and sequins by a black female superstar, they are liberation anthems for the marginalized—but also calls to be fiercely true to yourself, no matter what anyone else says. They are the hymns of our secular age.
Documenting History-Making Performances
As a concert documentary, Homecoming is carefully crafted to underscore the hallowed, historic status of #Beychella, which was the first time an African American woman had top billing at the festival. Co-directed by Beyoncé herself, the film contains stylistic elements meant to further enshrine the performance's iconic status. Grainy, black-and-white footage of rehearsals and behind-the-scenes moments lends the film an "archival" quality. Interspersed quotes from black artists and intellectuals (e.g., Nina Simone, W. E. B. DuBois, Toni Morrison, Maya Angelou) reinforce the performance's cultural significance. Footage of Beyoncé mothering three children in between months of grueling rehearsals—while holding herself to a no-gluten, no-dairy, no-meat, no-alcohol diet—further frames the singer as a wonder woman.
The flawless perfectionism and precise architecture of Homecoming contrasts with the imperfect, improvisational spirit of Amazing Grace (haphazard camerawork, sound glitches, and production errors that kept the film shelved for decades). Both films depict praiseworthy and iconic performances, but the latter feels more organic and less self-referential.
To See and Be Seen
Perhaps one way to distinguish the two films—and their respective approaches to transcendence—is to say Amazing Grace helps the audience see God, while Homecoming helps the audience feel seen. In Homecoming, Beyoncé says of her ambitions with the Coachella performance: "It was important to me that everyone that had never seen themselves represented felt like they were on that stage with us."
Certainly the Christian faith is about both seeing God and also being seen by him. God sees us and knows us. Unlike anyone else in history, Jesus saw the marginalized and valued them. He dignifies all humans, even when society demeans them (which is not to say he affirms them in their sin). Why does he dignify them? Because all humans bear the image of God. Because of that, celebrating the diversity of human culture is a good, worthwhile goal. Both Amazing Grace and Homecoming capture this goodness.
But it can be a fine line between celebrating culture and identity in a way that glorifies God, and doing it in way that only glorifies the self. The tendency of our secular age is to glory in self-expression without glorying in God; to fight for autonomy and freedom and representation at all costs, because what else is there? If God doesn't exist, then humans are indeed the most sacred thing in existence. Being seen, being affirmed, being allowed to be whoever we want to be—these become the only sources of transcendence. That's why fights over representation, and being affirmed in whatever identity we assert, are the "holy wars" of a secular age.
The tendency of our secular age is to glory in self expression without glorying in God; to fight for autonomy and freedom and representation at all costs, because what else is there?
Christianity offers a different view. It celebrates the diversity of image-bearing humans, but cautions against turning them into idols. It rejoices that God sees us and has mercy on us, but not because of anything we've done or earned. The remarkable potential of human creativity and culture-making is on display in both Amazing Grace and Homecoming, but the former couches it more in other-worldly grace (as its title suggests) while the latter chalks it up to this-worldly effort.
Our secular age may find transcendence in being seen. But seeing God and being seen by him, because of the atoning sacrifice of Christ, is far greater. The most beautiful thing God sees when he looks at us is not us, but Christ in us. Christ alone makes it possible for sinners and enemies of God (Rom. 5:10) to be brought into God's family and presence (Eph. 2:13, John 1:12; Gal. 3:26). More important than expressing one's self is accepting that only Christ makes us beautiful in the eyes of a holy God.
Amazing grace, indeed.