"Remember," said a retiring nuclear engineer played by Ed Asner in a Saturday Night Live skit about Chernobyl. "You can't put too much water in the nuclear reactor."
The other nuclear engineers were confused. Did he mean they should put a great deal of water into the nuclear reactor ("you can't put too much") or a small amount of water ("you can't put too much").
My 10-year-old self delighted in the comic effect of the ambiguity. Though this was not the sum total of my knowledge about the worst disaster in the history of nuclear power, it was close.  
Decades later, with great reluctance, I began watching the acclaimed HBO miniseries Chernobyl with my family. The ensuing years made me less inclined to be entertained by the agony of countless people affected by the most disastrous nuclear power plant accident in history. But I still watched the complete series, and I found it not only compelling drama but also full of insights for the modern American Christian. Here are three.
1. We Have a Watered-Down View of Courage
On April 26, 1986, an explosion and fire at Chernobyl's Unit 4 reactor spread radioactive contamination across Soviet and other European lands. In the ensuing panic, brave and courageous souls sacrificed their health and lives to save others.
The miniseries tells the stories of the firefighters who went to the plant, unaware the radiation would cause their grisly, slow deaths. We meet defiantly naked miners who excavated under the molten core, which threatened to melt the concrete on which it sat and contaminate 50 million people's water supply. We witness skilled helicopter pilots, willing to risk (and give) their lives to drop boron on the reactor. We see liquidators willing to rush out in 90-second increments onto the shaky, torn roof of the reactor to throw graphite over the edge.
The "courage climax" comes when Soviet nuclear physicist Valery Legasov (Jared Harris) testifies in court about the government decisions that helped cause the meltdown, in spite of their efforts to minimize the disaster. After pointing out that he'd already shortened his life because of the radiation, Legasov laments the possible consequences of his truth-telling: "I will get the bullet."

Even though he believed it would be futile and fatal, Legasov courageously revealed the accurate details of his investigation to the larger world. After his death, his writings eventually caused much-needed reforms, saving an untold number of lives.
2. Veracity Is Vitally Important
Romans 6:23 warns that the wages of sin is death, and we see this repeatedly in Chernobyl, as engineers refuse to come to grips with the scale of the disaster, officials won't evacuate people in order to save face, and as Legasov lovingly feeds his cat before hanging himself.
"What is the cost of lies?" he narrates in a voice over in the opening, thematically framing lines of the series. "It's not that we'll mistake them for the truth. The real danger is that if we hear enough lies, we no longer recognize the truth at all. What can we do then?"
The series poignantly shows the despair of a society where dishonesty is the norm, where truth is snuffed out by government officials even at the cost of real human lives. Though American Christians don't live in such a society, Chernobyl is a sobering reminder not to regard lies as "political theater" or mere "score settling," but actual evil—especially if they are coming from government officials attempting to squelch the communication of truth. The show's creator, Craig Mazin, told the L.A. Times the series spoke directly to our era: "We are now living in a global war on the truth."  
The series poignantly shows the despair of a society where dishonesty is the norm, where truth is snuffed out by government officials even at the cost of real human lives.
In the last lines of the miniseries, Legasov says deception cannot win, because truth "lies in wait for all time." Though Mazin may not have been deliberately evoking the idea of an eternal God in this line, the series does hint at the existence of an objective, transcendent reality of truth that can only come from a divine power.
3. God's Omnipotence Is Mind-Boggling
After watching the first episode, my college-aged daughter remarked, "It's amazing how God packed such immense power into individual molecules, how the forces holding a single atom together can wreak such havoc."
Havoc, in deed. At least 350,000 people who lived around the Chernobyl plant lost their homes, and a 19-mile-wide "exclusion zone" was established around the reactor. The disaster cost an estimated $235 billion in damages, and scientists predict the zone around the plant will not be habitable for up to 20,000 years.  
So, isn't Chernobyl a Tower of Babel-style cautionary tale, showing man's hubris and pride in attempting to get energy in this manner? Didn't we learn anything from Blinky, the three-eyed fish in Bart Simpson's Springfield? Not so, according to nuclear physicist William C. Pollard, the former executive director of Oak Ridge Institute of Nuclear Studies.
"Our sun is a natural nuclear power plant, and there are over a hundred billion other main sequence stars like it scattered throughout our galaxy," he wrote. In other words, our existence depends on the sun (so does the existence of coal, oil, gas, and even wind). Regardless of one's political views on nuclear energy, we've depended on it all along. Though obviously the Soviets mishandled such power, Pollard describes nuclear energy as "merely tapping directly the universal energy source for all of creation that previously we have used only indirectly and derivatively."
A power that can destroy and give life?
As a kid, I learned about God in Sunday school through words like "omnipotent," "omniscient," and "omnipresent." Though these words weren't the sum total of my knowledge about God, they were close. Unlike the words uttered in the old Saturday Night Live routine, however, they are not ambiguous. They are precise theological definitions about the attributes of God, but my mind has never quite been able to grasp the concepts.
After watching Chernobyl, however, I my mind wondered about a God who hid such power in simple atoms. After seeing the devastating effects of radiation, the series caused me to ponder a God who could so easily hang the sun in the Milky Way and allow it to burn in a life-giving suspension. And not just our sun. Billions of other galaxies are populated with "suns" as well.
"A large fraction of all the matter in the universe is incorporated in such 'nuclear power plants,'" Pollard wrote. "It is a sobering thought that God has made more of them than he has anything else."
Yes, it is.
---
Author's note: As a dramatic telling of the world's worst nuclear disaster, Chernobyl takes some liberties with the facts. (I was disappointed to learn Legasov didn't actually have a courtroom showdown; the female nuclear physicist Ulana Khomyuk, played by Emily Watson, was a fictional amalgamation of other scientists; and the miners did not toil in the nude.) But even though much in the series was dramatized, Christian viewers should consider Chernobyl's lessons on courage, warnings about lies, and defenses of truth well after they hear the final, haunting lines of the series:
"To be a scientist is to be naïve," Legasov says. "We are so focused on our search for truth, we fail to consider how few actually want us to find it. But it is always there, whether we see it or not, whether we choose to or not. The truth doesn't care about our needs or wants. It will lie in wait for all time."
Editors' note:
Chernobyl contains disturbing violence, language, and a scene of non-sexual male nudity. Viewer discretion is advised.
In a season of sorrow? This FREE eBook will guide you in biblical lament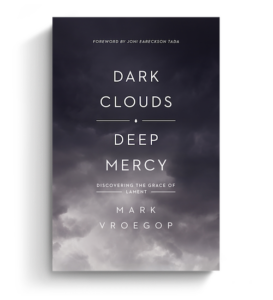 Lament is how we bring our sorrow to God—but it is a neglected dimension of the Christian life for many Christians today. We need to recover the practice of honest spiritual struggle that gives us permission to vocalize our pain and wrestle with our sorrow.
In Dark Clouds, Deep Mercy, pastor and TGC Council member Mark Vroegop explores how the Bible—through the psalms of lament and the book of Lamentations—gives voice to our pain. He invites readers to grieve, struggle, and tap into the rich reservoir of grace and mercy God offers in the darkest moments of our lives.
Click on the link below to get instant access to your FREE Dark Clouds, Deep Mercy eBook now!