Sometimes when I'm reading through familiar texts of Scripture, one line from a passage stops me in my tracks. Often, it's not necessarily the main point of the passage, but a truth hidden behind the larger story that the Lord uses to challenge me in new ways. Recently, I encountered this situation while reading the story of the paralytic brought to Jesus by his four friends and lowered through the roof (Mark 2:1-12).
The part of the story that caught my imagination was verse 4, "they removed the roof above him." In the midst of reading, my thoughts drifted to the family who hosted this gathering in Capernaum (most likely Peter and his wife). What was on their minds as their home filled with people? Did Peter's wife glance upward with incredulity as her roof was removed? Was she frustrated or fascinated? Did the four friends take the time to restore the opening they created? Or, in the midst of all the excitement, did they leave a gaping hole in the middle of the roof?
None of these questions is answered in the text. And by no means is hospitality the main point of the passage. Yet their faithfulness to open up their home made me stop and ponder this question: Do I have an "open roof policy" in my home? Am I willing for my home to be filled, refashioned, and torn asunder so that people can meet with Jesus? Am I willing for carpet to be stained so that the laughter of children can be the music of my home? Am I willing to put aside my concern of impressing others so that I can focus on house-altering hospitality that points others to Jesus?
Faithful Example
My parents were a true example of people who used their home in unconventional ways to love others. When I was 4 years old, my Papaw (my mother's father) came to live with our family. The doctors expected him to live for just a year. He exceeded their expectations and lived with us for 19 years. I cannot remember any childhood memories without him in our home.
Two years after he first came to live with us, Papaw fell and broke his hip. He could no longer manage the stairs to the guest room, so my parents refashioned our formal living room with a hospital bed, TV, and table where I spent hours putting together puzzles with him. A few years later, his bother (my great uncle) also came to live with us. Diagnosed with cancer, Uncle Jimmy spent the last two years of his life in our home. My mother took him to chemo treatments, cared for his needs, and provided him with the fellowship of family in his last days.
Our formal living room housed two hospital beds. As a child I never realized that this might be unusual (and a bit like the opening scene of Charlie and the Chocolate Factory). I never heard my parents utter a word of complaint about the care they gave or the way their home was rearranged to lovingly provide for these men. By their example, they taught me the beauty of true hospitality.
Servant's Heart
A hospitable home does not require exquisite taste or pristine perfection. It does not need a large dwelling or perfect situation. The term hospitable literally derives from the practice of washing the feet of any guest entering the home. At the heart of biblical hospitality is a humble willingness to serve others. It is not intended to show off what we have, but to demonstrate whom we follow.
As we open our homes, we provide an opportunity for those who enter to encounter the love of Jesus. Perhaps they will hear his words in a Bible study hosted faithfully week after week. Perhaps they will see his kindness as a mom warmly welcomes children into her home, humbly cleaning up the muddy spots they leave behind. Perhaps they will experience his gentleness as one friend tenderly takes the time to sit and listen to the concerns of another.
Instead of focusing our efforts on perfecting our earthly homes, we would do well to set our hearts on the perfect home that awaits us in heaven. As we increasingly hope in our heavenly home, we become people who faithfully practice hospitality in our earthly tents. Romans 12:13 encourages us to "contribute to the needs of the saints and seek to show hospitality." We seek to invite others into our homes knowing that Jesus is among us, working modern-day miracles in our midst.
Get a FREE eBook to strengthen your family discipleship!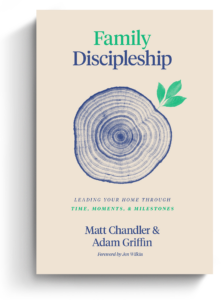 The back-to-school season is stressful for moms and dads. New rhythms of school, sports, and other extracurricular activities can quickly fill up a family's already busy calendar. Where do busy parents look for resources on discipling their family well? Aside from prioritizing church, what else can Christian parents do to instill healthy spiritual habits in their household?
Matt Chandler and Adam Griffin cover these questions and more in Family Discipleship: Leading Your Home through Time, Moments, and Milestones. And we're excited to offer this book to you for FREE as an eBook today.
Click on the link below to get instant access to your FREE Family Discipleship eBook now!