On My Shelf helps you get to know various writers through a behind-the-scences glimpse into their lives as readers. I corresponded with Elyse Fitzpatrick, author of numerous books, about what's on her nightstand, what she's learning about following Jesus, books she re-reads, and more.
---
What's on your nightstand right now?
Tactics: A Game Plan for Discussing Your Christian Convictions by Greg Koukl, Bono on Bono: Conversations with Michka Assayas, and, just for fun, The Voyages of Dr. Doolittle by Hugh Lofting. (When you say nightstand, I assume you mean iPad . . . )
What are you learning about life and following Jesus?
He's got it all. As I've gotten older and see how I've worried and fretted for so much of my life, and I look back on how he's kept and guided me, I can see that he really is so trustworthy. You know I can write that, but in the middle of the night I have to remember it—and, more importantly, believe it.
What are some books you regularly re-read and why?
I regularly re-read Les Miserables by Victor Hugo, Till We Have Faces by C. S. Lewis, The Suffering Savior by F. W. Krummacher, and The Hammer of God by Bo Giertz. I don't think I need to explain why Les Mis should be read and re-read—if for no other reason than as a writer I need to be humbled before someone who really knows how to use words. I re-read Lewis because I need to remember I'm loved, and my self-perception is probably not correct. I re-read Suffering Savior because I forget him and what he's done, so that book needs to be read every Lenten season. Last, I re-read The Hammer of God because I keep forgetting the earth-shattering power of the gospel.
What books have profoundly shaped how you serve and lead others for the sake of the gospel?
Of course, everything by Tim Keller; On Being a Theologian of the Cross by Gerhard O. Forde; Luther's Commentary on Galatians; and anything by Mike Horton, especially Christless Christianity.
What biographies or autobiographies have most influenced you and why?
William Wilberforce, John Newton, and Dietrich Bonhoeffer most recently. I need courage and the backbone to stand for the truth.
What are your favorite fiction books?
See some of the above, plus Flannery O'Connor, Brett Lott, and P. D. James.
Get a FREE eBook to strengthen your family discipleship!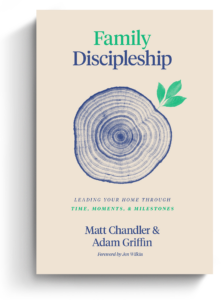 The back-to-school season is stressful for moms and dads. New rhythms of school, sports, and other extracurricular activities can quickly fill up a family's already busy calendar. Where do busy parents look for resources on discipling their family well? Aside from prioritizing church, what else can Christian parents do to instill healthy spiritual habits in their household?
Matt Chandler and Adam Griffin cover these questions and more in Family Discipleship: Leading Your Home through Time, Moments, and Milestones. And we're excited to offer this book to you for FREE as an eBook today.
Click on the link below to get instant access to your FREE Family Discipleship eBook now!