Single people in the church are often the recipients of unsolicited "words of encouragement"––words which, if not rooted in the truths of Scripture, can inflict pain and cultivate despair. These well-intended platitudes miss the mark of edifying talk. For those who haven't experienced a long season of singleness, it can be hard to know what to say to those who have.
Let's take a look at three clichés that misunderstand the loneliness and lack of purpose singles often feel, and replace them with true promises of Scripture.
Cliché #1: 'You have to be content before God will give you a spouse.'
Telling a fellow believer his or her season of singleness will end upon a proper exercise of contentment mistakenly presupposes three things. First, it assumes this single person isn't already content in the Lord's will for her life. Second, it suggests married people are content or they reached some pinnacle of contentment before finding their spouses. And third, it foolishly implies we can identify a formula for God's providence––our God, whose goodness is sure but whose plans are a mystery.
We shouldn't tell a grieving couple that their infertility would be resolved if they were more content in childlessness. Nor should we tell someone struggling financially that he'd get his dream job if he accepted where God has him now. Likewise, we shouldn't make such careless promises to single people.
What to Say Instead
That's not to say we can't encourage single brothers and sisters to seek contentment in this season. Remind them contentment isn't a means to some greater blessing. It's a blessing in itself and an end that glorifies God (Ps. 16:11). Paul says he knows the secret to contentment––he can do all things through Christ who strengthens him (Phil. 4:12–13). Singleness can be hard, but the answer isn't to decide not to be so upset. It's to lean into God's promises and ask for strength and comfort.
Remind singles contentment isn't a means to some greater blessing. It's a blessing in itself and an end that glorifies God.
Paul's statement about contentment occurs in the context of his gratitude for those who've shown physical care for him (Phil. 4:14). If you know a discouraged single person, ask him how you can be an encouragement to him in this season. Ask if he'd like to schedule a time for coffee or invite him into your home for dinner. Ask a single friend if there are any practical burdens you can take from her shoulders and how you can pray for her. We're all one body and are called to lift one another up (1 Cor. 12:26).
Cliché #2: 'You're so wonderful—why aren't you married yet?'
This is also sometimes communicated as "Whoever God has in store for you must be really special." I've heard versions of this since I was a little girl, so when I hit my young adult years, I already had a misplaced idea of where my value and validation came from within my church community.
A large part of my desire for marriage was a need to be affirmed, to feel worthy and loved, to feel I had a place in the family of God. It seemed that if someone didn't love me romantically, all my positive qualities would never be fully validated and employed. The singles in our churches are already valuable––not because of their relationship status or their character or their service but because our Savior died for them.
What to Say Instead
If this brother or sister is so wonderful, explain why. Don't ponder who she might bless in a marriage relationship––thank her for being a blessing right now. Tell him you're grateful he's in your church, workplace, or life.
Don't ponder who she might bless in a marriage relationship––thank her for being a blessing right now.
More than that, make sure singles know their worth isn't dependent on finding someone to marry. They, as much as anyone else in the church, are running the race of faith. A single person's primary identity is as a sinner who has been redeemed (Gal. 3:28; Col. 3:1–4). God brings good people into our lives in various relationships, but ultimately, the one God truly has in store for each of us is Christ––let us fix our eyes on him (Heb. 12:1–2).
Cliché #3: 'Your turn is coming!'
If ever there was a promise that couldn't be kept, it's this one. In the same way that we can't formulate God's timing for providing spouses, we can't know if he has one in store at all.
But the real sting of this piecrust promise is the implication we're missing out as we wait. Consider aspects of marriage like companionship, sanctification, family, and deep bonds with a coheir. Single people can enjoy those things now! Paul certainly thought so (1 Cor. 7:25–35). Life isn't about marriage; life is about Christ (Phil. 1:21). If Christians keep confusing the two, we'll set both married and single people up for the disappointment of a false god who cannot bring joy.
What to Say Instead
As you talk with single people struggling with despair and disquiet, remind them that the sweetness of life is here in the days God has ordained for them. Sanctification comes by the work of the Spirit as we wait on the Lord and trust his goodness (2 Tim. 2:21). Companionship, community, and precious fellowship with eternal brothers and sisters are ours in the body of Christ as we delve into serving his church and loving his people (Acts 2:42; 1 John 1:7).
To a large extent, single brother or sister, your "turn" is already here. But more than that, one great and glorious day, you will meet the Bridegroom (Isa. 62:5). The church triumphant, the Bride of Christ, will worship our God forever––and in that way, dear saint, your turn is coming.
Get a FREE eBook to strengthen your family discipleship!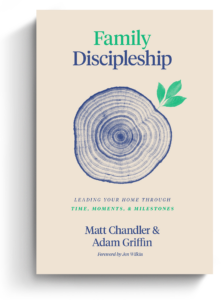 The back-to-school season is stressful for moms and dads. New rhythms of school, sports, and other extracurricular activities can quickly fill up a family's already busy calendar. Where do busy parents look for resources on discipling their family well? Aside from prioritizing church, what else can Christian parents do to instill healthy spiritual habits in their household?
Matt Chandler and Adam Griffin cover these questions and more in Family Discipleship: Leading Your Home through Time, Moments, and Milestones. And we're excited to offer this book to you for FREE as an eBook today.
Click on the link below to get instant access to your FREE Family Discipleship eBook now!