Why does Paul encourage people to think twice before getting married?
"Those who marry," he writes, "will have worldly troubles, and I would spare you that" (1 Cor. 7:28). In fact, he uses the same word for "worldly troubles" elsewhere to describe poverty (2 Cor. 8:2), persecution (1 Thess. 1:6), and even the cross (Col. 1:24). That doesn't mean marriage isn't filled with incredible joy. All of Paul's deepest joys came through sacrifice and suffering (Rom. 5:3–5). Like everything difficult done for Christ, marriage strengthens us to endure in faith, refines and purifies our character, reinforces the hope we have in our Redeemer, and reminds us of the flood of God's love that's been poured into hearts and lives.
Later he says, "I want you to be free from anxieties. The unmarried man is anxious about the things of the Lord, how to please the Lord. But the married man is anxious about worldly things, how to please his wife, and his interests are divided" (1 Cor. 7:32–34).
Anxiety in marriage isn't ungodly or unnecessary. In fact, anxiety is critical to having a healthy marriage that makes much of Jesus. If a husband isn't anxious for his wife, or a wife has no concern for her husband, the marriage might survive, but it can't be healthy. We have to feel a constant responsibility for one another, being attentive to each other's needs—daily (and joyfully) being distracted with one another.
The distractions aren't (necessarily) burdensome, but they're real. Paul does the simple math for married people: some of the time and energy and attention you spend caring for your spouse can't also be spent on Jesus and others. It doesn't mean you won't find creative and meaningful ways to pursue Christ and do ministry together. You will, and you should.
It does mean you'll have to spend lots of time focused on your spouse's needs and not on your personal devotion to the Lord or on using your gifts to fulfill the Great Commission. In marriage, you'll see and experience the gospel in ways you never have before, and you'll probably have fewer opportunities to pray, read, and serve than you did while you were single. It's a good trade—I love being married—but it's a real trade.
Paul so believed in the potential of singleness that he even encouraged widows to remain single. He says a little later, "A wife is bound to her husband as long as he lives. But if her husband dies, she is free to be married to whom she wishes, only in the Lord. Yet in my judgment she is happier if she remains as she is" (1 Cor. 7:39–40). Think about that for a minute—a 30- or 40- or 50-year-old woman left alone, maybe with children, no husband to provide for or protect her. Paul says even she might be better off not marrying.
He could only say that because of how focused he was on the next life and on making this life count for that one. His conclusion? "So then he who marries his betrothed does well, and he who refrains from marriage will do even better" (1 Cor. 7:38). Marriage is very good. Singleness may be even better. Are your views of Jesus, heaven, and hell big enough to believe that?
Life Is Short
Many will strive just to survive singleness and wait to get serious about Jesus and his mission later, when things have settled down in life. A brave few of us will develop not-yet-married habits of knowing him deeply and sharing him freely, likely far beyond what we'd be able to do after our wedding day. Singleness has the potential to be a garden—or a gym, or a kitchen, or a school—for undistracted devotion to Jesus unlike any other season of our lives. To believe that, we need to learn some things about this life. Those who live for God's glory—who live for the next life in this one—will feel a persistent, even painful urgency.
The work we have to do, in our own hearts and for the sake of the lost, is the most important work that's ever been done in history, and there isn't much time. John writes, "The world is passing away along with its desires, but whoever does the will of God abides forever" (1 John 2:17). Unlike you and heaven, earth is expiring, and relatively quickly. In the light of eternity, everything around you that looks so strong, real, and entertaining will be gone before we know it. This world—its promises, its experiences, its priorities—aren't the best investment of our energy and anxiety.
Singleness has the potential to be a garden—or a gym, or a kitchen, or a school—for undistracted devotion to Jesus unlike any other season of our lives.
Life is short. You and everyone around you will live, on average, a little more than 70 years. That will feel like less than a bathroom break compared with the eternity ahead of us. Everything in the world is teaching you to stretch out every moment as long as possible, to soak up every last drop from your time here on earth. But you weren't made for this, and you won't be here long.
We have to stop believing the lie that everything we have here is all we have, and start thinking of everything we have here as something to invest in what's to come. If the whole world passed away today, would we love what's left? We develop those spiritual muscles now by saying, with everything we have and do now, that Jesus is our greatest treasure. Life is short, and everything we have and see here is passing away. Everything but Jesus.
---
Editors' note: This is an adapted excerpt from Marshall Segal's new book, Not Yet Married: The Pursuit of Joy in Singleness and Dating (Crossway, 2017). It is published here in partnership with Crossway.
Get a FREE eBook to strengthen your family discipleship!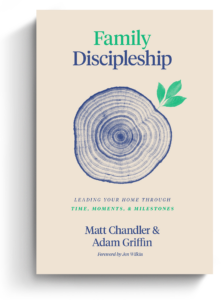 The back-to-school season is stressful for moms and dads. New rhythms of school, sports, and other extracurricular activities can quickly fill up a family's already busy calendar. Where do busy parents look for resources on discipling their family well? Aside from prioritizing church, what else can Christian parents do to instill healthy spiritual habits in their household?
Matt Chandler and Adam Griffin cover these questions and more in Family Discipleship: Leading Your Home through Time, Moments, and Milestones. And we're excited to offer this book to you for FREE as an eBook today.
Click on the link below to get instant access to your FREE Family Discipleship eBook now!