Let me first explain why I hesitate to even use the word academic in reference to myself, and also the word persecution in reference to what I'm about to write. First, I write stories for a living, and I occasionally teach others to write stories, and I have an advanced degree focused on the writing of stories. Because this is so much fun for me, I hesitate to use the word academic, which connotes, if not tweed sport jackets and committee meetings, then definitely white lab coats and microscopes.
I hesitate to use the word persecution because there are Christians facing severe persecution in nightmarish situations around the world—kidnappings, beatings, imprisonment, and worse. I put what I'm about to write in a different and much less intense category. That said, it's still a category.
Act 1
A telephone conversation between myself and an English department chair at an average, secular university about an adjunct teaching opportunity in which the conversation is flowing and there is laughter, book-talk, and shared meaning until the following happens.
Him:  "I couldn't help but uh . . . (silence) . . . notice . . . that uh . . . (more silence) . . . a lot of your, um, books are um . . . religious . . . and even . . . erm . . . Christian.  
Me:  "Yes, they are."
Him:  " . . . Well, you know . . . it's just that in this highly politicized academic world that we live in . . . in lieu of money . . . political issues are currency . . . I mean, personally I don't have any problem with it."
Me:  ". . ."
Him:  "It's just that, you know, people can be touchy about religion."
Me:  "For sure. But I've never had any issues or complaints about it at any of my previous teaching stops."
Him:  "Great, it shouldn't be a problem here, then."
---
What's strange is that the conversation didn't seem awkward to me until I thought about what would happen if the concepts of "religious" or "Christian" were replaced by "black" or "gay" or "Buddhist." Then I realized that the conversation would never have happened in our day.
I don't mean to impugn the person (I like him) or the school (ditto). Rather, I intend to show what it's like out there for "outed" Christians in academia. It can be tougher for those of us in the humanities, whose book titles and publishers sometimes do the "outing" for us.
---
Act 2
A composite sketch of quotes from true brothers in Christ who love me and care for me and are concerned about my professional future.
"I think you should really consider 'cleaning up' your LinkedIn page."
"I had a conversation with a professor at (name of school omitted) who said that they 'wouldn't touch' anyone with Christian publications on their CV."
"You should consider doing an alternate resume for secular schools."
---
I never had any peace about these options. My CV and LinkedIn page are only "Christian" inasmuch as they list books published by Christian houses. And I realize that writing this piece for publication may be akin to signing my own Teaching Career Death Warrant.
But I write, in part, to encourage others who may be going through similar things, and also to ask about the propriety/wisdom of an "alternate" CV. To me, it seems somewhat sneaky, somewhat underhanded and (most troublingly) like an indirect way to deny Christ before men that I do not want to do. Especially when a quick trip to Amazon.com or a Google search would reveal the totality of my work, Christian and secular.
That said, I don't want to be foolish about my career and take lightly the call to provide for my family. And I continue to long for an opportunity to teach, encourage, and build up tomorrow's writers, be it in a secular or Christian school context.
Be Prepared
I was recently reminded of this challenge when I heard a beautiful sermon on persecution from pastor Norm Dufrin. He cited 2 Timothy 3:12, which reads, "In fact, everyone who wants to live a godly life in Christ will be persecuted," adding, from 1 Peter 5:8-9, "Be sober-minded; be watchful. Your adversary the devil prowls around like a roaring lion, seeking someone to devour. Resist him, firm in your faith, knowing that the same kinds of suffering are being experienced by your brotherhood throughout the world."
I can thank God for my junior-varsity persecution because it unites me with brothers and sisters in Christ around the world who are suffering for their faith. And I can thank God for the provision he has given me for today—albeit more humble and less impressive than a faculty position—which may be exactly what my character needs.
Finally, I can stop being surprised by this kind of thing. The surprise is really a function of fear—fear of failure, and fear that my grad degree was a waste of time and money. But I'm reminded to not fear "those who kill the body" (or the career, or our dreams) but "rather fear him who can destroy both body and soul in hell" (Matthew 10:28).
Get a FREE eBook to strengthen your family discipleship!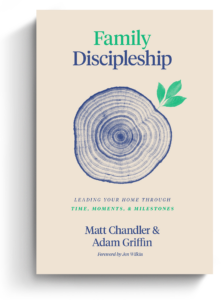 The back-to-school season is stressful for moms and dads. New rhythms of school, sports, and other extracurricular activities can quickly fill up a family's already busy calendar. Where do busy parents look for resources on discipling their family well? Aside from prioritizing church, what else can Christian parents do to instill healthy spiritual habits in their household?
Matt Chandler and Adam Griffin cover these questions and more in Family Discipleship: Leading Your Home through Time, Moments, and Milestones. And we're excited to offer this book to you for FREE as an eBook today.
Click on the link below to get instant access to your FREE Family Discipleship eBook now!