About two-thirds of the way through NFL quarterback Andrew Luck's thrown-together retirement press conference, it occurred to me that he is the Christian athlete I've always wanted there to be . . . even though he's never indicated that he's a Christian.
Let me explain.
I grew up during the era of the heavily curated, heavily marketed Christian-athlete industrial complex—meaning the way we (Christians) made stars out of guys for whom faith was a core (or any?) part of their "brand." To be honest, they rarely seemed especially humble, even though the right things were, technically, coming out of their mouths.
Humility is a hard thing to quantify, and I fully admit that I'm far from the best judge of it, but this was confusing for me as a child and even as a young adult. And to add hypocrisy to my confusion, as a writer I've even made some money over the years writing about some of these guys. I guess I went into each project (or potential project) thinking, Maybe this will be the guy. But in doing that writing, I may well have contributed to the problem.
Keep Talking
When Andrew Luck was thanking everybody in the Colts organization, confessing to being jealous and bitter about the fun backup QB Jacoby Brissett was having last year, crying because of how much he'll miss football, being honest about how much it hurt that some Colts fans booed him, and professing his love for his wife and his teammates . . . I loved him. I thanked God for the experience of listening to him, and when the (roughly) 24 minutes was over, I wanted more of him talking. This is a rare response for me, given that I work in academia and spend what feels like my entire life sitting in rooms listening to guys talk. I usually just desperately want them to stop talking.
"This guy would be a great hang," I texted to a buddy.
"If you ever get a chance to talk in public, be like this," I said to my son.
Other favorite moments:
Luck explaining how proud he is to call Indianapolis his home. As a former resident of that city, I was reminded of how great it is, and of all the nostalgic warmth in my heart for that place.
When Luck said he came back last year, just so that he could "throw the football to his friends."
Luck apologizing for being dressed in a "ratty athletic T-shirt."
Uncommon Humility
"Andrew Luck must have received a heaping dose of common grace," I texted to a Christian friend.
What I meant was that clearly he's gifted as a thinker and a communicator, and that he shows evidence of a soft, teachable heart. Not to mention his freakish combination of height, weight, speed, and arm strength. Yet Luck's greatest accomplishment may have been that he survived young fame and money, and came out the other side with what appears to be real humility. As we see even in church circles, this rarely if ever happens.
As a Christian I'm challenged by Luck, and by what I can learn from non-believers in my life. There is much to learn. Recently at my son's school, a teacher indicated that he thought pro sports are ridiculous and pro athletes are, essentially, a waste of time/space/attention. In addition to being a questionable teaching moment, I think he's dead wrong. And as evidence I present all 24 minutes of Andrew Luck's press conference.
As far as I know, Andrew Luck isn't a Christian. I hope he is. I am one, but I wish I acted a lot more like him.
Get a FREE eBook to strengthen your family discipleship!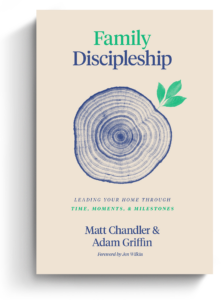 The back-to-school season is stressful for moms and dads. New rhythms of school, sports, and other extracurricular activities can quickly fill up a family's already busy calendar. Where do busy parents look for resources on discipling their family well? Aside from prioritizing church, what else can Christian parents do to instill healthy spiritual habits in their household?
Matt Chandler and Adam Griffin cover these questions and more in Family Discipleship: Leading Your Home through Time, Moments, and Milestones. And we're excited to offer this book to you for FREE as an eBook today.
Click on the link below to get instant access to your FREE Family Discipleship eBook now!