In the opening chapter of The Benedict Option, Rod Dreher observes, "American Christians are going to have to come to terms with the brute fact that we live in a culture in which our beliefs make increasingly little sense." He then adds this sobering postscript, "We speak a language that the world more and more either cannot hear or finds offensive to its ears."
Nowhere is this more the case than when we speak about the biblical and historic Christian vision of sexuality—what I call "mere sexuality." To talk about sexual complementarity and God's design for marriage is a conversation-stopper and may even earn you looks of contempt. But these kinds of strong and at times strident reactions from those outside and inside the church have many of us who love the historic Christian vision of sexuality asking how we might contend for orthodoxy without being perceived as contentious, callous, or cruel.
Beyond Confessing
What seems clear to me, for starters, is that our task must go beyond merely confessing the historic Christian position on human sexuality. If we're going to avert the slide of evangelical Christianity into neo-pagan sexuality, we need to cast vision for mere sexuality. This involves not simply clarifying the church's historic teaching in a series of affirmations and denials but also engaging in pastoral persuasion—speaking creatively, winsomely, and sensitively to our contemporary context.
We need to win the aesthetic, not just the argument.
We need more than sound exegesis and good theology; we need compelling Christian rhetoric and prose and poetry. Our challenge is not only to convince minds but to capture imaginations. Yes, we want people to be convinced of the truth of God's design for human sexuality. But we also want them to be attracted to its goodness and beauty. Taking a cue from Carl Trueman, we need to win the aesthetic, not just the argument. As he puts it:
Arguments can be true or false, good or bad. But today who cares? We live in an age where the primary moral binary is between the tasteful and distasteful. Control of aesthetics is where the real power to change people lies.
How do we do that? Well, I don't presume to have all the answers or even a silver bullet. But if our vision casting for God's design for human sexuality is going to be effective, it must be done with joy, with tears, and with hope.
Joy
First, it must be done with joy, as those who are ravished by the beauty of mere sexuality, not just convinced of the truth of it. The rising generation of evangelicals needs to encounter both the rational coherence of the Christian vision of sexuality and also its moral and aesthetic beauty.
Here we can take a cue from C. S. Lewis, who early in his career realized rational argument would only take a person so far. Ultimately, he insisted, a baptized imagination is needed. This is why Lewis not only wrote the The Abolition of Man, but also followed it with The Space Trilogy series of novels, fleshing out some of the same points.
Writing on natural law, Lewis explained that "by casting these things into an imaginary world, stripping them of their stained-glass and Sunday school associations, one could make them for the first time appear in their real potency." That's a wonderful description of what is required for us to commend the beauty of mere sexuality: to make it appear for the first time in its real potency, whether in our preaching, our tweets, our songs—or, better yet, as an embodied reality in our lives.
Tears
But our vision-casting also needs to be done with tears, as those who share with others in the heartbreaking complexity of these issues. There is a lovely gentleman in our congregation, a godly man in his early 60s, who wakes up most mornings wishing he were a woman. He's had these desires for most of his life, starting when he was just 5 years old. I weep with him in his struggle.
Or consider the email I recently received from a young couple thinking about moving to Chicago and attending our church. Their dreams and plans were interrupted with the birth of their first child, who was born with female genitals but an XY chromosome—a rare medical condition known as intersex. This precious young couple didn't even know what intersex was until they had a child born with the condition.
We will never communicate a faithful and compelling vision for mere sexuality if our posture is overly muscular and not sufficiently brokenhearted.
These are the stunningly complex and often heartbreaking situations of people in our world and in our churches. They're not "issues" to be solved, but people to be loved, even to the point of shedding tears of grief and sadness with them. We will never communicate a faithful and compelling vision for mere sexuality if our posture is overly muscular and not sufficiently brokenhearted.
Hope
Finally, if our efforts are going to be effective, we need to cast this vision with hope, as those who believe in the future promise of the gospel—that while we experience a measure of healing in this life, complete transformation only occurs in the life to come. This promise is not grounded in the righteousness of our sexual propriety, but in the death and resurrection of Jesus Christ—and it's true for even the chief of sinners.
Ultimately, each of us must know in the depth of our soul that "none is righteous, no, not one . . . All have turned aside; together they have become worthless; no one does good, not even one" (Rom. 3:10, 12); that "a person is not justified by works of the law"—nor by his heterosexuality—but only "through faith in Christ Jesus" (Gal. 2:16); that we all deal with sexual struggles of one kind or another; that we all need forgiveness and healing for our sexual sin; and that we all need to know, in the depth of our souls, that Jesus is more than willing to meet us there—in our brokenness, in our shame, in our sin.
"Behold," Jesus says, "I stand at the door and knock. If anyone hears my voice and opens the door, I will come in to him and eat with him, and he with me" (Rev. 3:20). Most importantly, we need to know that as our churches open the door to Christ Jesus, he will enter in, bringing with him all grace and beauty and power—washing us, sanctifying us, and justifying us in his own glorious name.
---
Editors' note: This is an adapted excerpt from Todd Wilson's new book Mere Sexuality: Rediscovering the Christian Vision of Sexuality (Zondervan, 2017).
Get a FREE eBook to strengthen your family discipleship!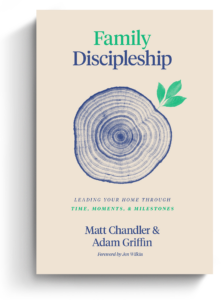 The back-to-school season is stressful for moms and dads. New rhythms of school, sports, and other extracurricular activities can quickly fill up a family's already busy calendar. Where do busy parents look for resources on discipling their family well? Aside from prioritizing church, what else can Christian parents do to instill healthy spiritual habits in their household?
Matt Chandler and Adam Griffin cover these questions and more in Family Discipleship: Leading Your Home through Time, Moments, and Milestones. And we're excited to offer this book to you for FREE as an eBook today.
Click on the link below to get instant access to your FREE Family Discipleship eBook now!