At the 2003 annual meeting of the Evangelical Theological Society (ETS) in Atlanta, two words were seemingly on the minds of every attendee: open theism.
That year, a controversy over open theism that had been brewing since the mid-1990s came to a head when members of ETS voted on a recommendation to remove from membership open theist scholars Clark Pinnock and John Sanders. A two-thirds majority is required for removal from ETS, and members voted by a narrow margin to allow both Pinnock and Sanders to remain in the society.
While open theism was embraced by a small number of scholars within ETS, the controversy was large and heated: many scholars believe openness theology, with its rejection of classical theism's doctrine of God's exhaustive foreknowledge, represents a re-envisioning of the God of Scripture. Many conservative evangelical scholars contended that open theism necessarily denies the inerrancy of Scripture, since a God who does not know the future cannot guarantee that Old Testament prophecies will come true.
In the wake of the controversy, members adopted the Chicago Statement on Biblical Inerrancy in 2006, a move aimed at safeguarding membership from those who hold aberrant theological positions such as open theism. Adoption of the Chicago Statement ended the ETS debate.
"I don't recall it being discussed at ETS for a number of years," current ETS president Tom Schreiner said. "I believe a small minority advocated the view, and once the debate simmered down, people were tired of discussing it and talking about it."
The debate may have lost any remaining momentum in the death of the two figures at the forefront of the ETS controversy. Pinnock, open theism's best-known scholar, and Roger Nicole, the Reformed theologian and founding member of ETS who brought charges against Pinnock and Sanders, died within four months of each other in 2010.
Bruce Ware, who served as ETS president in 2009 and was intimately involved in defending the classical view of God, said that openness adherents seem to have virtually disappeared from ETS, and that publishing from open theists seems to have dried up as well. But, he added, the view itself remains alive and growing within some pockets of evangelicalism.
"Since the ETS vote took place, the issue of open theism, which had been dominant for a decade, came to an end as a pressing issue," Ware said. "Interestingly, there has been less presence of members (if they still are) who would advance an openness position since that vote. I suspect that even though the vote was in their favor, the vote was also very close . . . this did send a signal."
While ETS no longer debates whether open theism is an orthodox evangelical option, the view continues to receive sympathy among some Arminian scholars, pastors, and theological progressives. But to what degree? Was it a mere theological fad?
Central Tenets, Central Figures
Centrally, open theists argue that God's foreknowledge of future events is limited and that God sometimes changes his mind in the face of unforeseen circumstances brought about by his creatures. They posit that God has left the future open; even he does not know the future exhaustively, because the future has not yet happened. Therefore, there is nothing about it that can be known.
Pinnock (1937-2010), longtime professor of systematic theology at McMaster Divinity College in Hamilton, Ontario, was perhaps the movement's leading popularizer. In 1994, he co-edited a volume titled The Openness of God: A Biblical Challenge to the Traditional Understanding of God along with fellow openness scholars Richard Rice, John Sanders, William Hasker, and David Basinger. The book took direct aim at classical Protestant theism's understanding of God's providence and sought to uphold what the writers called "biblical personalism" by positing an intimate give-and-take relationship between God and humans. In the opening essay that sought to give "biblical support for a new perspective," Rice, a Seventh-day Adventist theologian, established the two basic convictions of openness theology:
Love is the most important quality we attribute to God, and love is more than care and commitment; it involves being sensitive and responsive as well. These convictions led the contributors to this book to think of God's relation to the world in dynamic rather than static terms. This conclusion has important consequences. For one thing, it means that God interacts with his creatures. Not only does he influence them, but they also exert an influence on him. As a result, the course of history is not the product of divine action alone. God's will is not the ultimate explanation for everything that happens; human decisions and actions make an important contribution too. Thus history is the combined result of what God and his creatures decide to do.
Further, the God of open theism learns from his creation, Rice wrote:
Instead of perceiving the entire course of human existence in one timeless moment, God comes to know events as they take place. He learns something from what transpires. We call this position the "open view of God" because it regards God as receptive to new experiences and as flexible in the way he works toward his objectives in the world. Since it sees God as dependent on the world in certain respects, the open view of God differs from much conventional theology.
Other tenets and implications of open theism include:
Tragic events occur over which God has no control, and when they do occur, God should not be blamed because he was unable to prevent them from occurring, and he did not will or cause them to occur. God feels the pain of those who endure this suffering.
God is love, and he may be trusted always to do his best to offer guidance intended to serve others' well-being. However, God sometimes realizes that his guidance may have inadvertently and unexpectedly led to unwanted hardship and suffering.
At times, God may repent of his own past actions, realizing that his choices have not worked out well, have led to unexpected hardship, and may not, in retrospect, have been best. God sometimes changes his mind.
As a result, many Reformed scholars argue that open theism represents a reconfiguring of the God of historic Christian orthodoxy.
Evangelical Response
Books by open theist authors from the mid-1990s to the early-2000s hit conservative evangelical seminaries like a mile-wide asteroid. Many evangelical Arminian scholars rejected—and continue to reject—the openness view as a biblical option. And Reformed scholars such as Ware, professor of systematic theology at The Southern Baptist Theological Seminary, warned evangelicals about the novel view of God. In 2000, Crossway published God's Lesser Glory: The Diminished God of Open Theism, Ware's biblical and theological critique of open theism. Four years later, Ware published a sequel in defense of classical theism, God's Greater Glory: The Exalted God of Scripture and the Christian Faith.
For Ware, as for others in the Reformed tradition, open theism undermines both the inerrancy of Scripture as well as the biblical view of God. When the openness view gains traction within the academy, it is apt to trickle down to the church to devastating effect, Ware said.
"The God of open theism is clearly not the God of classical theism," Ware said in a 2000 interview. "This is a complete re-definition of God as the church has understood him throughout its history."
Other evangelical pastors and scholars responded vigorously as well, publishing a multi-contributor volume Beyond the Bounds: Open Theism and the Undermining of Biblical Christianity (Crossway, 2003), edited by John Piper, Justin Taylor, and Paul Helseth. Ware, Wayne Grudem, Michael Horton, Ardel Caneday, and several others contributed chapters showing open theism's departure from the historic orthodox view of God.
Open Theism in 2014
Much has changed since members of ETS wrestled with open theism more than a decade ago. You will not find papers in defense of open theism being read in seminars at ETS today. Books are less likely to emerge from evangelical publishing houses to debate the merits or demerits of this theology over against the classical Christian view of God. Instead, open theism mainly finds its voice through more popular means. A quick internet search reveals numerous blogs written by pastors and laypersons espousing open theism. Open theism today makes its case not so much through books and refereed scholarly journals, but through the mostly unfiltered voice of the blogosphere.
One key figure who actively upheld open theism during the ETS controversy and still wields considerable influence is author and pastor Greg Boyd, founder of Woodland Hills Church in St. Paul, Minnesota. He writes a popular blog called ReKnew and has authored several books articulating, defending, and applying the openness of God, including God of the Possible: A Biblical Introduction to the Open View of God (Baker, 2000) and Is God to Blame? Beyond Pat Answers to the Problem of Suffering (IVP, 2009). According to a section on controversial issues on Woodland Hills Church's website, the congregation seems to accept both classical theism as well as the openness view of God.
Many evangelical Arminians reject open theism out of hand. Yet open theism emerged among Arminians as a possible solution to the "problem" of God's exhaustive foreknowledge as it relates to his providence and man's free will. For many Arminians, the price paid by open theists to preserve the absolute free will of man is simply too high—it recasts God into a deity who is different than the sovereign, all-knowing God of Scripture. However, the theological conundrum persists, so it is not surprising that open theism remains as a perceived "viable option" in some corners of the church world.
Ware, who labored on the front lines of the ETS battle, says he warned evangelicals against open theism when it began to gain traction because openness theology, unlike classical Arminianism, should not be considered a viable, biblical option for evangelical Christians.
"I receive emails on occasion from college students who tell me of their theology or philosophy professors at their Christian colleges who teach open theism as their own view," he said. "I have not heard of these people, and they haven't published their views (to my knowledge), but they simply view open theism as a viable alternative. I feared this taking place back during the days of hot debate on this issue, and this is one reason I argued in my 2001 plenary address at ETS that open theism should not be considered a viable evangelical position. Sadly, many have disagreed with me."
Wherever open theism is found today, whether in the academy or blogosphere, this much is clear: evangelicals must continue to defend the classical doctrine of God's exhaustive foreknowledge and meticulous providence as the view that coheres most closely to God's Word.
"It is incumbent on the rest of us to continue to be clear and forthright about the Bible's teaching on God's nature, character, attributes, and his full providential oversight of creation and human history," Ware said. "We need to see God as he is, in the full glory that is his, which includes centrally his knowledge of and sovereign control over the whole of human affairs, including all that stands now as future (Isa. 41-48)."
In a season of sorrow? This FREE eBook will guide you in biblical lament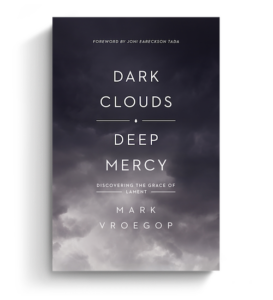 Lament is how we bring our sorrow to God—but it is a neglected dimension of the Christian life for many Christians today. We need to recover the practice of honest spiritual struggle that gives us permission to vocalize our pain and wrestle with our sorrow.
In Dark Clouds, Deep Mercy, pastor and TGC Council member Mark Vroegop explores how the Bible—through the psalms of lament and the book of Lamentations—gives voice to our pain. He invites readers to grieve, struggle, and tap into the rich reservoir of grace and mercy God offers in the darkest moments of our lives.
Click on the link below to get instant access to your FREE Dark Clouds, Deep Mercy eBook now!