Editors' note:
Join The Gospel Coalition for our first West Coast Conference—Enduring Faithfulness: Expositions from 2 Timothy—this October 16 to 18 in Southern California. Speakers include Alistair Begg, Michael Horton, Ligon Duncan, Kevin DeYoung, Jeremy Treat, Ray Ortlund, D. A. Horton, and more. Register today at TGC.org/West18.
When Oye Waddell was 14 years old, he noticed that his friends were starting to make quite a bit of money.
"We played basketball at the park," he said. "They started to drive around in nice cars and wear brand-new clothes. We all grew up together. I was like, 'Man, I know your family doesn't have this money. How are you doing this?'"
He didn't wonder for long. "One of my friend's moms asked me for dope. She just assumed I was [dealing drugs] too."
Waddell wasn't, and didn't (though it was tempting). When his high-school friends went to prison or the funeral home, he went to the University of Washington. From there, he watched drug addictions, violence, and prison sentences continue to wreck everything—individual lives, families, and the community.
Anxious to help, he took classes in community development. He moved back to L.A.to start a Christian sports program, moved to Phoenix to learn how to start charter schools, and thought about church planting.
Then, six years ago, Waddell veered off the well-worn paths that nonprofits take into under-resourced neighborhoods.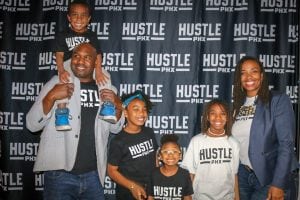 He started scoping out the hustlers, people who reminded him of his old friends—ambitious, bright, entrepreneurial, but without capital or connections to legal marketplace opportunities. He offered to teach them business skills, connect them with other businessmen, and give them financial backing.
He also taught them a new way to think about labor. He told them that God created work in the Garden of Eden, that it was corrupted by sin, and that they could help restore it to the healthy, legal serving of God and neighbor it was intended to be.
Waddell was giving hustlers in Phoenix a new hustle—a restorative hustle.
"It's like when my kids were young and playing with something they shouldn't have," said Riccardo Stewart, who grew up in a Los Angeles neighborhood like Waddell's. Now he pastors at Redemption Tempe and sits on Waddell's board. "I wouldn't have just said, 'Don't play with that.' I would have put something else in their hands."
Since 2012, Hustle PHX has helped entrepreneurs start window-cleaning businesses, expand lawn-care companies, and market homemade ice-cream cones. It's helped a flower shop owner understand why she runs her business (to serve God and others), helped a woman who owns a cleaning business know how to charge customers and mentor employees, and helped a coffee-shop owner expand her reach in ways that facilitate community.
"Being able to notice the ingenuity and creativity and giving in the neighborhoods Hustle PHX serves is amazing," Stewart said. "We're watching God redeem [those gifts] for their community and family."
Los Angeles
Waddell was born in inner-city Los Angeles in 1978. When he was 4, crack cocaine—easier to work with and cheaper than cocaine—hit the streets. Its main port of entry into the United States was southern Florida; when federal authorities cracked down there, drug traffickers rerouted through the gangs of Los Angeles.
"I used to fight a lot because I wouldn't do it," Waddell said of joining a gang or selling drugs. The money was tempting, especially for a guy with Waddell's entrepreneurial bent. But he had his mom, sports, and a church home (though he was only nominally Christian then) to ground him.
Waddell got serious about his faith in college. He moved in with Athletes in Action leader Mike Gunn—"it was supposed to be a month; it turned into two years"—and watched him. "He discipled me, and I saw Christianity in a different way," Waddell said.
Waddell was "passionate about business," but didn't major in it—or even take any classes in it.
"My classes were all related to community development," he said. "I wanted to go back south central Los Angeles and do something about my community."
Waddell headed for politics until one of his professors told him nonprofits were better agents for change. So he switched gears and got a master's degree in public administration with an emphasis in nonprofit management. Then he went back to California and started Eternal Sports Outreach.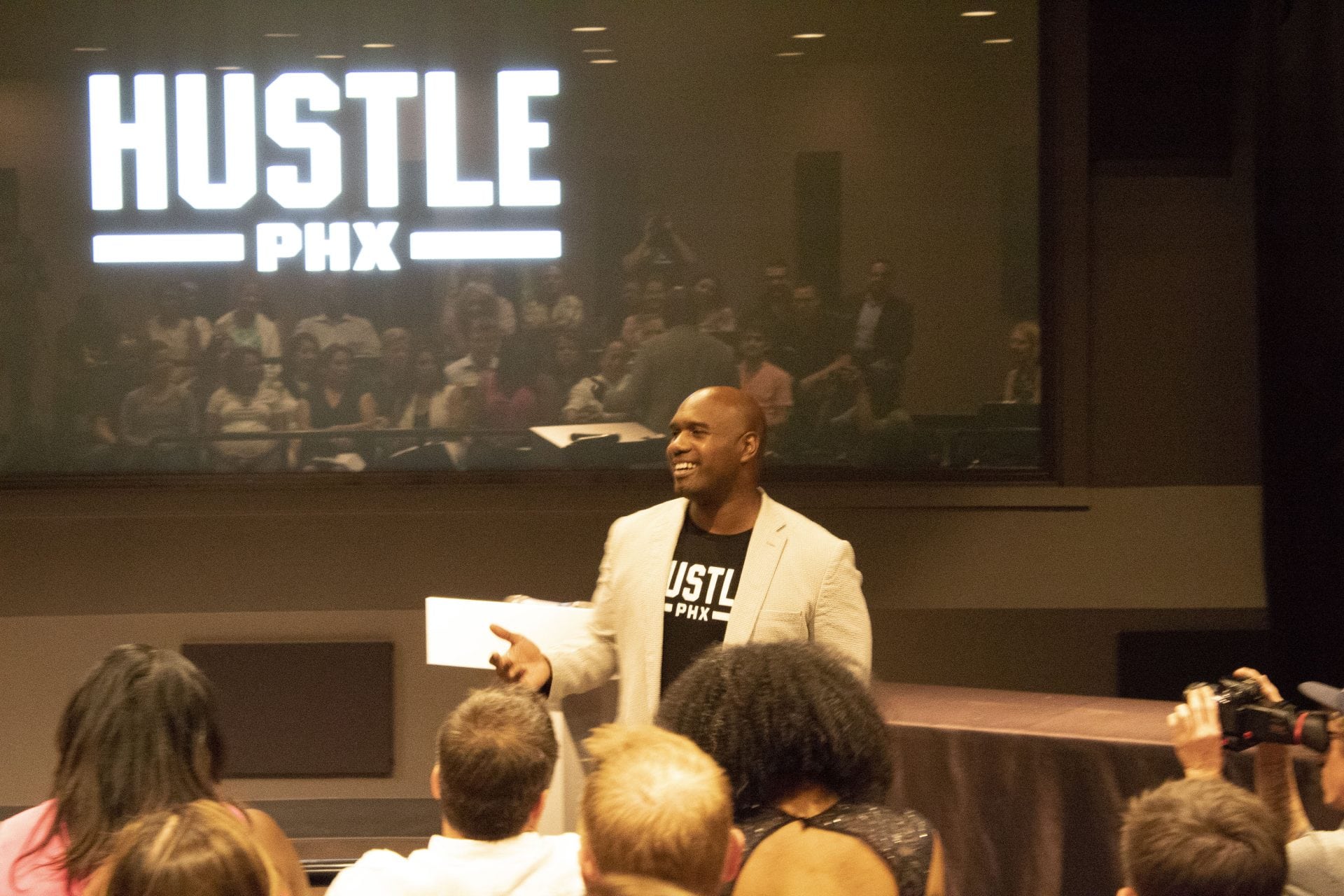 "There was a lot of gang violence in [the inner Los Angeles suburb of] Compton," he said. "There was a lot of infighting between African American and Latino gangs. We brought African American and Latino churches together and said, 'How do we use sports as a way to disciple young people at 6 and 7, so when they get to 15, they hopefully won't be killing each other?'"
Waddell ran Eternal Sports Outreach for nine years. Churches reached into their neighborhoods. Gyms were redone. Relationships were built. By the end, about 200 low-income kids were playing ball together and learning about Jesus.
Waddell was a father figure to nearly all of them, since most had fathers or uncles or grandfathers in prison. "I started reading more about millions of men going to prison," Waddell said. "You start studying, and you see that a lot of the prison population is connected to kids' reading scores."
Charter schools were part of the answer, Waddell thought. So he headed to Phoenix to learn how to start them.
He took his secret with him: The whole time he had been ministering in Los Angeles, Waddell had been running side hustles. He ran a sports marketing business, helped people get home loans, and invested in property.
"I did little things to scratch the itch," he said. "But I'd never tell anybody in the Christian community, because my theology at the time said, 'You can't serve God and money.'"
Faith and Work
Before he left Los Angeles, Waddell met Eric Knox, a church planter also working as a mortgage broker. ("That was because of expediency at first, not theology," Knox said. His wife wanted to stay home with the kids, and inner-city church planting is financially straining.)
"I saw him use business as a way to disciple people," Oye said. "I didn't know you could even do that. I thought you had to pick one [ministry or business] and that was it. I didn't know you could blend those together."
Knox made money at his business and prioritized people—he made "fair and reasonable loans," said Waddell's wife, Crys, who was also watching. "And sometimes he would talk people out of deals they couldn't afford."
"This was [Waddell's] first hint that, 'Wow. Christ is everywhere. There is no separation of Christ and business and life,'" Crys said.
Christ is everywhere. There is no separation of Christ and business and life.
When Waddell moved to Phoenix, Knox connected him with Tyler Johnson and Redemption Church, who were beginning to work on the Surge Network of like-minded churches in the city. One of Surge's initiatives is Faith, Work, and Rest, which helps people "discern their vocations and reimagine their occupations for the good of their neighbor and the glory of God."
"All those things blending together—Eric Knox, Tyler with Surge—started to give me a view of who God is and what he calls us to do," Waddell said. "I was seeing models of it, not just talking about it in an esoteric way."
Waddell got his master's degree in education from Arizona State University. He worked with schools in inner-city Phoenix. He was doing what he'd planned, but something was still bugging him.
"He used the term 'urban leadership,'" Johnson said. "He was like, 'I don't exactly know what that means, but I know this is what I want to do.'"
Waddell thought it might be planting churches. So Johnson hired him at Redemption as a resident to see the "back end of church ministry." He also gave Waddell "a lot of room for exploration in South Phoenix."
"All we did is provide him space," Johnson said. "I don't think any of us had any sense that it would turn into Hustle PHX."
Hustle PHX
South Phoenix is literally across the railroad tracks from the wealthier and whiter parts of Phoenix. For decades, it was the only area of the city where black or Latino families could purchase homes.
"Not the safest place in Phoenix," reads a review on StreetAdvisor.com, where South Phoenix only earned 2.9 out of 10 stars. "Can't wait to get out," reads another. In 2011, more than 80 percent of families with children younger than 5 were eligible for food stamps. Nearly 42 percent of people didn't graduate from high school (compared to 19 percent in Phoenix overall), and about 28 percent lived below the poverty line (compared to 20 percent in Phoenix overall).
Waddell saw the same sideways economy in South Phoenix that he had in L.A.
"All my friends in the inner city were doing business," he said. "Prisons are packed with folks not because they're killers, but because they're drug dealers. The prison population has grown more than 500 percent in the last 40 years, mostly because of economic crimes." (If you restrict that number to prisons and leave off jails, the growth is actually 600 percent.)
Waddell wanted to direct the imagination and drive of those hustlers to legitimate businesses—such as lawn care, flower shops, and food trucks—that would help people instead of hurting them.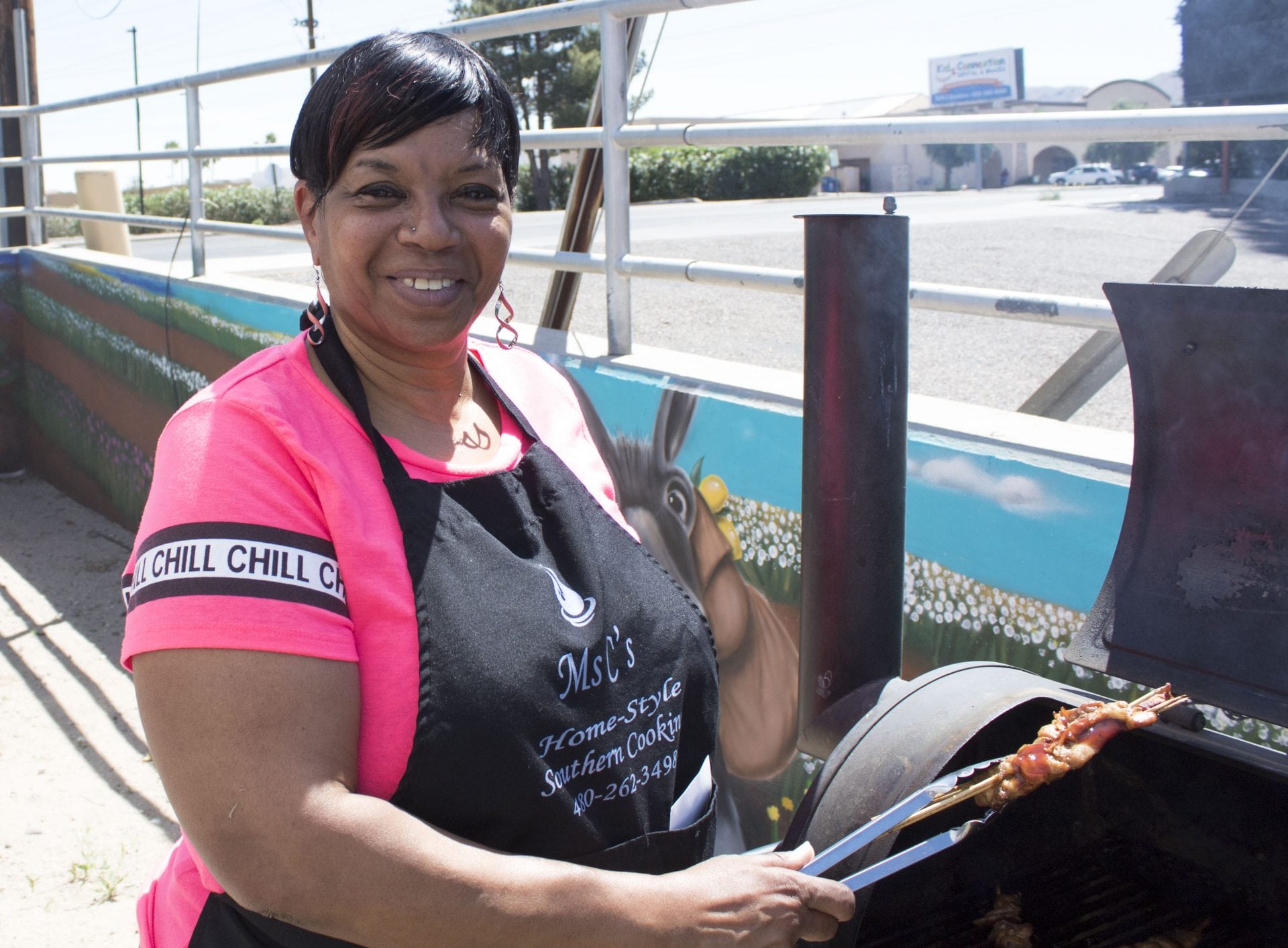 Those careers won't net you as much as selling drugs. But "if you're thinking long term, you'll realize how much it'll cost—your freedom, maybe your life—to stay in that game," Waddell said.
His first challenge was to get people to show up. "People have been told they can't do it for so long that they're afraid to take those risks," he said. He knew he couldn't tell them that he wanted to help them "start a business," which sounded formal and intimidating.
"We named [the organization] Hustle PHX because it resonated with the people we were trying to serve," he said. (The airport code also leaves space for growth—Waddell can foresee a Hustle ATL or a Hustle LAX.) "'If you have a hustle, come hustle with us.' That drew more people. They don't have a language for business, but they understand hustling."
Waddell started with six guys, a classroom downtown, and some business curriculum. He knew head knowledge doesn't get you too far without business contacts, so he started bringing in business owners to talk money and strategy.
"When people think about serving the urban community, they think, Let's give away things—food and clothing—or go on missions trips to build a house for people," he said. "It's never really about how to develop people to become economically self-sufficient and to use their gifts to be a blessing to themselves and others."
The obvious "others" are those in the community being served by legitimate businesses. But the unexpected "others" the entrepreneurs served were their own mentors.
When Helping Helps
"We are a parachurch ministry," Waddell said. "But every parachurch ministry needs to be connected to the local church."
Hustle PHX's church partners host classes in their physical space, which gives entrepreneurs an easier commute and gets them familiar with the local congregation. Hustle PHX also uses church members—lawyers, bankers, marketers, administrators, accountants, human resource personnel—as volunteer mentors.
"This has made me change how I think about faith and work," Waddell said. "We tell our volunteers that they have a lot to give, but also a lot to receive. They're rubbing shoulders with people who have everything stacked against them, but they're still moving. There is a mutuality [of learning] that happens."
By the time urban entrepreneurs have worked through Hustle PHX's 101 class (refining a business idea) and 202 class (moving the idea into a business) to its 303 class (scaling up), they each have six to seven mentors. "They get a lawyer and a person for sales, marketing, finances, and operations," Waddell said. "And they get a personal mentor, whowalks with them through understanding faith and work."
He hasn't had any trouble finding mentor volunteers. "The Christian ethic is to give," Waddell said. "Not all of us do that. But for most of us, the Spirit works and says, 'You need to be doing this.'"
Working at Blessing
Waddell keeps coming back to Genesis 12:1–3, where God tells Abraham that he will bless him, and that he will be a blessing.
"God has given Hustle PHX resources through relationships and connections," Waddell said. "We are bringing it to communities that have been disinvested for so long."
But it hasn't always been an easy blessing to receive. It can be hard for people in communities that seem to be failing in everything else—education, income, crime—to take a chance on starting a new business. It can even be hard for existing urban businesses to take a chance on themselves.
"There is a lot of trickery in the community," Crys said. "People have their guards up a lot of the time. When I did a fundraiser, I tried to hire food trucks to do our catering. But they didn't want to come, because they thought that since we were an entrepreneurship company, we'd say that we opened their businesses. I had to say, 'Hey, I just met you! I thought your food was good!'"
The fear of failing at a new venture isn't unreasonable. Most start-ups fail regardless of who's running them. Hustle PHX's numbers are similar to the (hard to figure) national average: About 20 percent of its businesses are thriving.
But that means more than 40 businesses have been started or expanded in South Phoenix since 2012. Hustle PHX has helped more than 300 people with their business ideas since 2012; of those, 100 have been in 2018.
Hustle PHX has helped more than 300 people with their business ideas since 2012; of those, 100 have been in 2018.
"Over the last year, things started moving quickly," Crys said. "This year we're on pace to train twice as many people as last year."
That's because once a person starts a business, his brother or friend or daughter gets excited about the possibilities, Waddell told the Faith, Work, and Rest podcast.
"We see it all the time in Hustle PHX," he said. "There's a change of paradigm. And all of a sudden it goes from 'Hey, I'm going to wait for someone to give something to me' to 'I'm going to go create and be able to bring something to the world that's creationally good in order to support and serve my neighbor.'"
Dignity and Hope
Waddell is "using very fundamental theological principles that are taught all throughout the Bible," Redemption Church pastor Tyler Johnson said.
That includes "human beings are made in the image of God, the value and dignity of humans creating, God's deep heart to do right by those who are underprivileged, and living in community that is symbiotic whether you like it or not," Johnson said. "The good of money is all throughout the Bible. . . . God gives possessions and capital to us as a means to serve other people."
Hustle PHX serves in a way that gives dignity and long-term hope.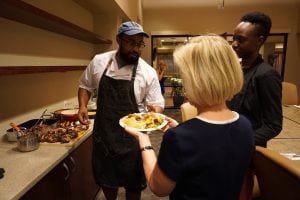 "From a pastor's standpoint, the church is always saying, 'We want to care for the least, the lost, and the left out,'" Stewart said. "But the reality is, outside of a food drive or some money given, people don't know how to connect. Hustle PHX creates an opportunity for the church to tangibly serve, and to do so in more than just relief, but to move into development of those in economically poor situations."
Offering intellectual and network capital is a way to be our brothers' keeper, Johnson said.
And keeping that brother is often a way of keeping ourselves.
"The biggest change within our churches is that [Waddell] consistently presents a beautiful picture of these neighborhoods," said Surge executive director Dennae Pierre. "He's done a great job of spotlighting the good that God is doing and really honoring it."
Waddell isn't asking anyone to rush in to save "terrible communities," she said. "He's saying, 'Let's look at what God is already doing. How do we partner with God here?'"