The Grinch is back.
The Christmas classic How the Grinch Stole Christmas! (1957), written by Theodor "Ted" Geisel (aka Dr. Seuss), has been adapted on film for the third time, this time in 3D animation with the voice of Benedict Cumberbatch as the Grinch.
This is a good occasion to reflect on the story behind the story—how Dr. Seuss stole Christmas.
The Story
The Grinch in the original book is a Scrooge-like curmudgeon who plots to steal Christmas from the happy Whos in Whoville. After stealing all the toys, food, and trees, the Grinch believes he has succeeded. But then he hears the Whos singing merrily.
It causes the Grinch to puzzle, and realize:
"Maybe Christmas," he thought, "doesn't come from a store."
"Maybe Christmas. . . perhaps. . . means a little bit more!"
And what happened then? Well. . . in Whoville they say,
That the Grinch's small heart Grew three sizes that day!
And the minute his heart didn't feel quite so tight,
He whizzed with his load through the bright morning light,
And he brought back the toys! And the food for the feast!
And he, HE HIMSELF! The Grinch carved the roast beast!
It is a tidy and fitting conclusion, but one Geisel puzzled over for months.
Story Behind the Story
In a biography by Judith and Neil Morgan, Dr. Seuss & Mr. Geisel, we learn that Grinch was "the easiest book of his career to write"—except for the ending. "I had gone through thousands of religious choices," Geisel explained, "and then after three months it came out like that" (emphasis added).
It's not hard to imagine "religious choices" Geisel may have considered—an angelic announcement; a Who prayer circle for the Grinch; a vision of the Nativity.
Christmas books and films of the period still often used overt Christian themes—think Charlie Brown's Christmas, or the many versions of Dickens's A Christmas Carol. Geisel, though, went to great lengths to keep the Christian themes of Christmas from creeping in.
The 1966 animated film adaptation offered a second chance for Geisel to consider religious choices—expanding the 10-minute book into a 60-minute film. Designer Maurice Noble remembers that "[Geisel didn't want] a star coming down from the sky, so I had it come from the hearts of the people of Who-ville." Seuss also wrote all the song lyrics, like "Welcome Christmas"—where the meaning of Christmas is all about the self in community: Christmas Day will always be / just as long as we have we!
The moral of The Grinch is clear: The REAL meaning of Christmas is inside us. God is not involved. We are saved by We.
The moral of The Grinch is clear: The REAL meaning of Christmas is inside us. God is not involved. We are saved by We.
When the 1966 animated version came out, his biographers note it was "a rare Christmas special without religiosity." Geisel was an early trendsetter: Christmas specials with no Jesus.
Ted Geisel was a persuasion expert, having made his initial living in the 1920s and '30s in advertising. During World War II he made propaganda films to support the Allied war effort. After the war Geisel, who relished being subversive, applied his considerable skills to children's books. Geisel has been celebrated for how he tackled Hitler's autocracy (Yertle the Turtle), environmental issues (The Lorax), nuclear proliferation (The Butter Battle Book), and discrimination (The Sneetches), just to name a few.
Geisel's subversive take on Christmas in The Grinch is in part biographical. In a 1957 interview, he recounted the book's origins:
I was brushing my teeth on the morning of the 26th of last December when I noticed a very Grinch-ish countenance in the mirror. It was Seuss! So I wrote about my sour friend, the Grinch, to see if I could rediscover something about Christmas that obviously I'd lost.
Geisel as Grinch
It's not clear when and where Geisel lost interest in the Christ of Christmas.
His childhood family were churchgoers. By age 6 he had memorized all the verses of "Holy, Holy, Holy, Lord God Almighty." He even invented a rhyme of the Pentateuch:
The great Jehovah speaks to us
In Genesis and Exodus
Leviticus and Numbers, three,
Followed by Deuteronomy
The word "three"—his biographers note—was merely tossed in for the rhyme: "a portent of nonsense to come."
Perhaps Geisel drifted from faith because of bitterness toward Prohibition advocates for costing his dad his livelihood (he was a brewer); or perhaps it was anger at his younger sister's death; or maybe he experienced intellectual and moral doubts during his days at Dartmouth and Oxford. Perhaps it was coming to terms with the evils of Hitler and World War II, or the sadness of never having children. Maybe it was all of these things.
Geisel and his first wife, Helen, were childless, but their first 35 years of marriage were happy ones. They settled in La Jolla, California, where Geisel's global fame grew. He worked tirelessly, and Helen's primary work was to support him—she was his best editor and shrewd business manager.
In 1962, however, Geisel began an affair with a close friend, Audrey Dimond. Five years later, on October 23, 1967, Helen committed suicide. She had struggled with partial paralysis from Guillain-Barré syndrome, and depression—but a primary cause was a broken heart.
Many of his friends blamed Ted for Helen's death. Ten months later he was married to Audrey. While shocked by Helen's death, Geisel showed little remorse. Defending himself, Geisel wrote an old roommate, "I have not flipped my lid. . . . This is an inevitable, inescapable conclusion to five years of four people's frustration. All I can ask you is to try to believe in me" (emphasis added).
'Believe in Me'
When Geisel's life and work touched on metaphysical human questions—What is wrong with humanity? What is the good, true, and beautiful?—his answers are, well, Seussian.
Where does a human heart find ultimate meaning? Again, Dr. Seuss answers: Christmas Day will always be / just as long as we have we.
What to say when we break a covenant? Geisel answers: "Believe in me!"
In Oh, the Places You'll Go!—Geisel's final book—life's source of hope turns on consuming experiences and social prestige. He writes: "Fame you'll be famous, as famous as can be, with everyone watching you win on TV, Except when they don't because sometimes they won't . . ." 
The New York Times columnist David Brooks sees in this popular graduation gift—where the word YOU appears 90 times—only a shallow and meritocratic mentality:
In this book, the boy is completely autonomous. He is free to choose exactly as he individually wishes. He is reminded how wonderful he is. He is not weighted down by any internal weakness.
Every Story Has a Moral
Don't get me wrong; there is much meat amid the Dr. Seuss gristle. He's the most celebrated American children's book writer for a reason. He blended memorable poetic whimsy, surprising storytelling, and captivating pictures in a way that does not condescend but takes children seriously. The fact that Christians find secret gospel in his work is a testament to his persuasive powers.
His books read like fables. The Horton books, Green Eggs and Ham, The Cat in the Hat, and others are fun and whimsical morality tales. Reflecting on criticism of his moralizing, Geisel shrugged and said, "It's impossible to tell a story without a moral—either the good guys win or the bad guys win."
Geisel tried to avoid sounding "didactic or like a preacher on a platform"—wanting the reader "to say 'surely' in their minds instead of my having to say it."
But every story has a moral; everyone is preaching something.
One "surely" I believe Geisel was wishing on readers of How the Grinch Stole Christmas and Oh, the Places You'll Go! is distinctively modern and American: we are our only source of hope.
Our family hasn't yet seen the newest The Grinch. But we will. Assuming it's faithful to the original, we'll be looking for how the film reflects a now-almost-omnipresent Look Within zeitgeist: instead of "God with us," it will celebrate "Us with us" and "Me with me." Human solidarity. Self-reliance. No need for a divine savior.
Geisel was ahead of his time in many ways. A brilliant wordsmith, a master of creative nonsense, and an expressive individualist with little interest in divine authority.
Geisel was ahead of his time in many ways. A brilliant wordsmith, a master of creative nonsense, and an expressive individualist with little interest in divine authority.
The Grinch (2018) will remind us again of his inventive genius. But it will probably not lead us to ponder the beautiful mystery of the incarnation. It will offer a secular hope—the hope of "Me" and "We." But God offers a better hope—one not achieved by us, but received from him: "To them God chose to make known how great among the Gentiles are the riches of the glory of this mystery, which is Christ in you, the hope of glory" (Col. 1:27).
Get your FREE 7-day devotional!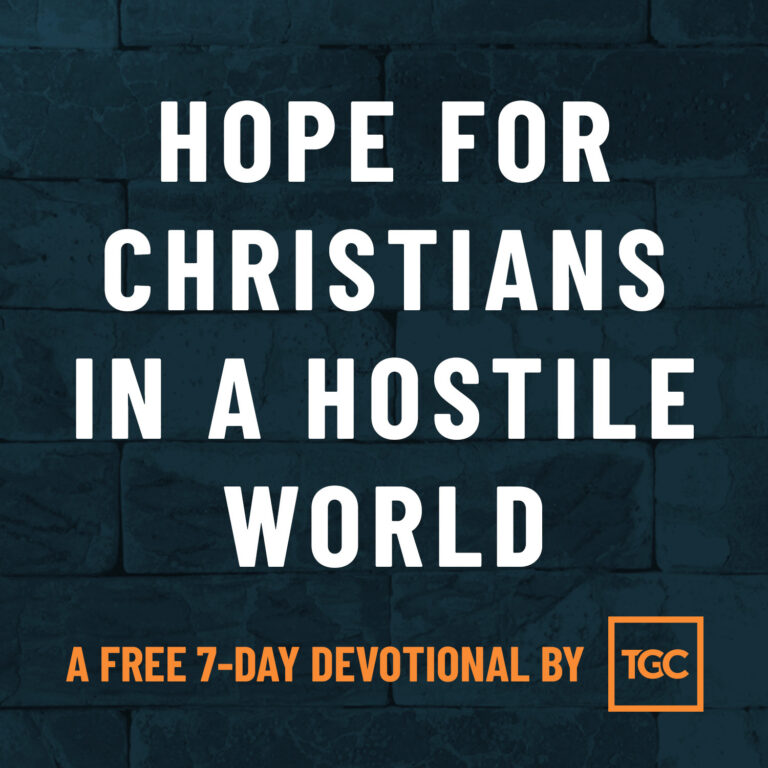 God's people have always been strangers and sojourners in this world. Do you feel that way, too?
You're not alone. Since the church's beginnings, Christians have often felt ostracized. And the Bible offers great encouragement for how to live with hope.
If you're feeling the weight of cultural exile today, our new 7-day devotional, Hope for Christians in a Hostile World, will encourage you.
If you sign up for this FREE resource, we'll send you an email each day for a week with a daily devotional featuring Bible readings and reflections written by TGC staff and friends.