David Brainerd (1718–1747) was an American missionary in the 18th century whose influence far outstripped his tenure on the field. Brainerd, who died at the age of 29, served as a Christian missionary to Native Americans prior to the founding of the United States.
Brainerd tellingly wrote in his diary, "Oh, I love to live on the brink of eternity." The spirit contained in this statement and the accompanying actions of a life well lived are remarkable.
Change in Course
Brainerd enrolled in Yale to study to become a preacher. While at Yale he began to first experience the symptoms of the tuberculosis that would ultimately claim his life. He was intelligent, passionate, and a little foolish during his time at Yale. His studies came to an abrupt halt when in 1742 he accused his tutor of having "no more grace than a chair." This controversy resulted in his expulsion from Yale.
Due to a Connecticut law at the time, Brainerd could not preach without a college degree. His desire to be a pastor was dead. Instead of serving as a pastor, it was suggested Brainerd devote himself to missionary work among the Native Americans.
Missions Work
On April 1, 1743, Brainerd began serving as a missionary to Native Americans. Much of his diary during the first portion of his missionary service is written in a self-deprecating tone. Brainerd referred to himself as a "worm" on no less than eight occasions and questioned his qualifications to serve as a missionary. Guilt over a lack of education, struggles with language and culture, and few tangible results caused Brainerd to question his calling to missions.
The tuberculosis Brainerd experienced at Yale worsened under the conditions of the mission field. He logged more than 3,000 miles on horseback. He battled a lack of sleep, food, and companionship. Brainerd suffered from what seems to have been depression and wished for his own death nearly two dozen times.
In his first year of missions, Brainerd worked in New York at a Housatonic Indian settlement with the Kaunaumeek tribe. Shortly after arriving to the mission field he wrote, "I scarce ever felt myself so unfit to exist as now: saw I was not worthy of a place among the Indians, where I am going, if God permit: thought I should be ashamed to look them in the face, and much more to have any respect shown me there." During this period he started a school for Native American children and began a translation of the Psalms.
Brainerd next served among the Delaware Indians in Pennsylvania for a year. Brainerd's first diary entry upon arriving at his new post bespoke of his deep commitment to prayer. "Spent much time in prayer in the woods; and seemed raised above the things of the world: my soul was strong in the Lord of Hosts; but was sensible of great barrenness."
For his final missions assignment, Brainerd went to New Jersey to work among the Crossweeksung tribe. Edwards adds in the diary that this was the period when Brainerd's ministry "had the greatest success." Before he left Crossweeksung, the church counted 130 Native American members.
Brainerd once prayed in a way that summarizes his desires for serving God. "Oh, that I might be a flaming fire in the service of the Lord. Here I am, Lord send me; send me to the ends of the earth . . . send me from all that is called earthly comfort; send me even to death itself if it be but in Thy service and to promote Thy Kingdom." With or without the ability to serve, Brainerd had the heart of a servant. He was willing to give and sacrifice all to glorify God as a missionary and as a disciple.
In November 1746, following a scant 43 months of missions service, David Brainerd become too ill to continue the rigors of missions life. Tuberculosis and hard missionary living were taking their toll on Brainerd's young body. Brainerd moved into Jonathan Edwards's home for a period of convalescence. On October 9, 1747, at the age of 29, David Brainerd died of tuberculosis in Edwards's home. His gravestone reads, "Sacred to the memory of the Rev. David Brainerd. A faithful and laborious missionary."
His Legacy
Certainly there were missionaries who served longer than Brainerd and missionaries who can point to greater tangible results. However, his missions work is not his legacy. His huge influence comes in the form of his diary, published by his friend Edwards. First published only two years after Brainerd's death, The Life of David Brainerd was simply Edwards's edited version of Brainerd's own handwritten diary.
Many great missionaries claim the book profoundly affected their faith and decision to serve as missionaries. This distinguished list includes Henry Martyn, who served in India in the 18th century; William Carey, who served in India in the 18th century; Adoniram Judson, who served in Burma in the 19th century; David Lyman, who served in Hawaii in the 19th century; and Jim Elliot, who served in Ecuador in the 20th century. Scholar Michael McClymond says, "The list of missionaries who testified to Brainerd's influence is a who's-who of Anglo-American missions in the last two centuries."
Brainerd bypassed personal gain, wealth, title, and even a long comfortable life in order to bring glory to God. His life was dedicated to and expended for the advancement of the kingdom. Brainerd's example is one every Christian should embrace and teach. It was not Brainerd's accomplishments as a missionary that influenced so many others. It was his acknowledgment of his weaknesses and his need to rely upon God that has drawn so many to his book.
Get a FREE eBook to strengthen your family discipleship!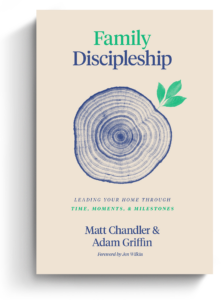 The back-to-school season is stressful for moms and dads. New rhythms of school, sports, and other extracurricular activities can quickly fill up a family's already busy calendar. Where do busy parents look for resources on discipling their family well? Aside from prioritizing church, what else can Christian parents do to instill healthy spiritual habits in their household?
Matt Chandler and Adam Griffin cover these questions and more in Family Discipleship: Leading Your Home through Time, Moments, and Milestones. And we're excited to offer this book to you for FREE as an eBook today.
Click on the link below to get instant access to your FREE Family Discipleship eBook now!