Church-organized missions conferences are a valuable tool for raising awareness about global evangelism and helping Christians better understand the urgency of reaching the lost. When done well, they can bring great glory to God. When done poorly, they can seriously impede a church's Great Commission impact.
Sharing the gospel is foundational to the Christian faith. According to Scripture, God intends to use the local church to train, support, and send missionaries for this end. A well-executed missions conference can greatly benefit this process.
But for every well-executed missions conference, you'll find a poorly executed one. Whether you're planning your church's first missions conference or wish to revitalize an existing conference, here are nine things for you to prayerfully consider:
1. Prepare Your Congregation 
Pastors and church leaders should start preparing their congregations months in advance of the conference. As it approaches, preach and teach on biblical examples of global evangelists. Abraham, Jonah, Paul, and most of Acts are great for this kind of instruction. Help people grasp God's passion for his global glory—and his desire to enlist them in reaching the nations.
2. Invite Your Community
In the months leading up, invite other churches in and around your community. Send postcards to the surrounding neighborhoods. Advertise on Christian radio. Contact your congregation via email and snail mail. Encourage them to invite co-workers and neighbors.
Missions is a priority for God, so highlight its importance through a breadth of invitations.
3. Cover Missionary Expenses
The missionaries who attend your conference are your valued guests. They're likely underfunded and overworked. Make sure you cover the costs of their travel, housing, and food. Money they use at your conference is being taken from their ministry. Be sure you are blessing their ministries and not burdening them.
4. Mix Mission Reports with Biblical Training
Balance speakers who teach on biblical missiology with missionaries who report on their labors. It's vital for people to hear reports from laborers doing real work in the lives of real people. It's also valuable for people to see the connection between biblical models and flesh-and-blood missionaries today. Weave these theological and practical connections throughout your conference.
5. Include a Panel on Missionary Life
Ask your missionary speakers to sit on a panel and tell stories and answer questions about day-to-day life. It's important to hear a school was built or a church was planted. It's also valuable for your congregation to realize these blessings don't happen on their own. Full-time missionaries are paying a personal cost. They struggle through culture, language, loneliness, and perhaps physical danger in order to glorify their King.
Encourage your congregation, then, to ask them about their personal lives. Most of us don't know what it's like to live and serve in a foreign land. The possible lessons are endless.
6. Pray Fervently
Make prayer the focus of your missions conference. Plan it by praying for the speakers by name. During it, make sure the missionaries and ministries are represented in corporate and small group prayer. And provide a way for the participants to continue praying for these missionaries in the years to come.
7. Challenge the Audience
Let the participants of your conference know missions doesn't just happen. Challenge your own congregation to take short-term trips, and maybe to become full-time missionaries. Encourage them to pray for missionaries and to support them generously.
Every disciple of Jesus is called to play a part in global evangelism. Make missions commitment a focal point of your missions conference.
8. Be Honest About Finances
A missions conference shouldn't center on finances, but it shouldn't avoid the topic either. Missionaries simply do not make it to the field—much less stay there—without money.
God supplies the resources for missions, yes, but he does so by calling local churches and individuals to financially support missionaries. Allow missionaries to make an appeal and then prayerfully consider taking an offering for their projects.
9. Incorporate Small Group Interaction
Schedule breakout sessions, meals, and prayer times to allow missionaries to interact with smaller groups. Facilitate several opportunities where attendees can mingle in intimate settings with missionaries. This will allow the participants to get to know several missionaries better and to ask burning questions they may not be willing to ask in a larger setting.
Seeking His Fame 
A missions conference is more than throwing a few missionaries and a bunch of Christians together in a room with pizza. Missions is important to God and therefore should be important to us. By intentionally planning and facilitating a more intimate and meaningful experience, your congregation will better grasp the Great Commission, and missionaries will feel they've spent their time well.
And, most importantly, the God of the nations will be glorified.
Get a FREE eBook to strengthen your family discipleship!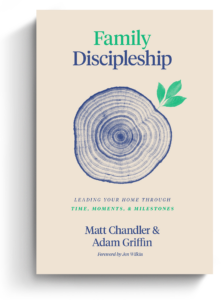 The back-to-school season is stressful for moms and dads. New rhythms of school, sports, and other extracurricular activities can quickly fill up a family's already busy calendar. Where do busy parents look for resources on discipling their family well? Aside from prioritizing church, what else can Christian parents do to instill healthy spiritual habits in their household?
Matt Chandler and Adam Griffin cover these questions and more in Family Discipleship: Leading Your Home through Time, Moments, and Milestones. And we're excited to offer this book to you for FREE as an eBook today.
Click on the link below to get instant access to your FREE Family Discipleship eBook now!